Petroliana and Redline Hot Wheels from an Estate in Lynnville, TN (98)
All items closed
This is the seventh of many auctions organized thematically of stoneware, collectible toys, sports and entertainment memorabilia, Americana and more from an estate in Lynnville, TN.
Auction Manager:
Keith Hodges
(615) 613-5529
keith@mclemoreauction.com
« Back to list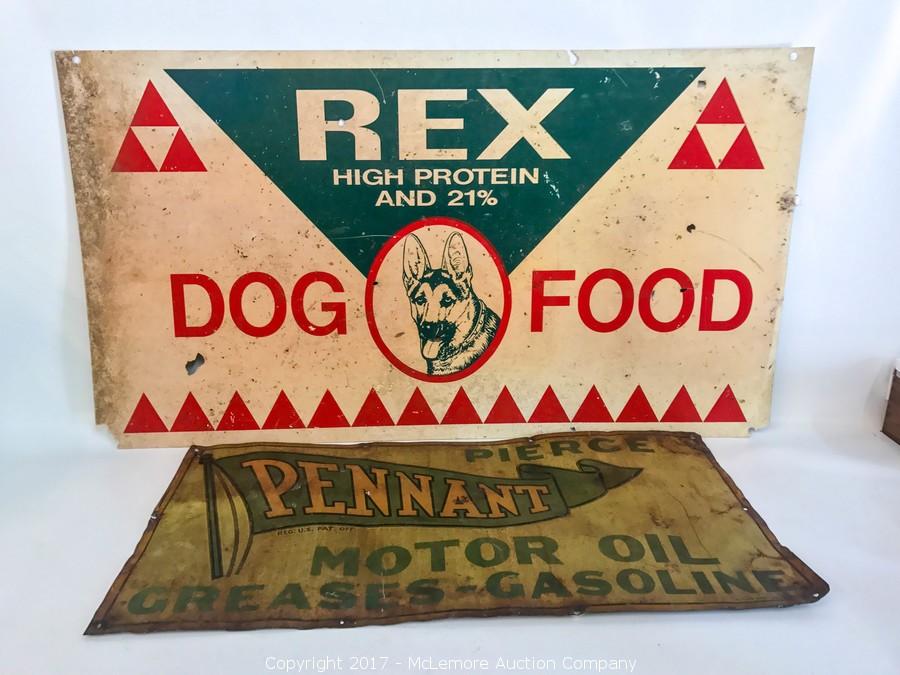 Lot #0018:
Vintage Motor Oil and Dog Food Signs

- Motor oil sign is made of metal.
- Dog food sign is made of plastic.
| | | |
| --- | --- | --- |
| Bid Date | Bid Amount | Bidder |
| Jun 21, 2017 - 2:00:51 PM | $184.00 | i29398 |
| Jun 21, 2017 - 2:00:39 PM | $174.00 | iAlexMcC53 |
| Jun 21, 2017 - 2:00:40 PM | $174.00 | i29398 |
| Jun 21, 2017 - 1:58:48 PM | $164.00 | iAlexMcC53 |
| Jun 21, 2017 - 1:58:48 PM | $155.00 | i29398 |
| Jun 21, 2017 - 1:58:27 PM | $150.00 | i29398 |
| Jun 21, 2017 - 1:58:27 PM | $140.00 | iAlexMcC53 |
| Jun 21, 2017 - 1:46:15 PM | $130.00 | i29398 |
| Jun 21, 2017 - 1:46:15 PM | $120.00 | iAlexMcC53 |
| Jun 21, 2017 - 1:45:24 PM | $115.00 | iAlexMcC53 |
| Jun 21, 2017 - 1:45:24 PM | $105.00 | i29398 |
| Jun 21, 2017 - 1:36:47 PM | $87.00 | iAlexMcC53 |
| Jun 21, 2017 - 1:33:53 PM | $82.00 | i29398 |
| Jun 21, 2017 - 1:33:53 PM | $78.00 | iAlexMcC53 |
| Jun 21, 2017 - 1:33:44 PM | $77.00 | iAlexMcC53 |
| Jun 21, 2017 - 1:33:44 PM | $72.00 | i29398 |
| Jun 21, 2017 - 12:31:35 PM | $67.00 | iAlexMcC53 |
| Jun 21, 2017 - 12:31:35 PM | $62.00 | iTommy Tig |
| Jun 21, 2017 - 12:31:20 PM | $57.00 | iAlexMcC53 |
| Jun 21, 2017 - 12:31:20 PM | $52.00 | iTommy Tig |
| Jun 19, 2017 - 10:04:25 PM | $47.00 | iAlexMcC53 |
| Jun 19, 2017 - 10:04:25 PM | $42.00 | i00923 |
| Jun 19, 2017 - 10:04:22 PM | $37.00 | iAlexMcC53 |
| Jun 19, 2017 - 10:04:22 PM | $32.00 | i00923 |
| Jun 19, 2017 - 10:04:20 PM | $27.00 | iAlexMcC53 |
| Jun 19, 2017 - 10:04:20 PM | $25.00 | i00923 |
| Jun 19, 2017 - 10:00:54 PM | $23.00 | iAlexMcC53 |
| Jun 19, 2017 - 9:54:48 PM | $21.00 | i00923 |
| Jun 19, 2017 - 9:54:48 PM | $20.00 | iAlexMcC53 |
| Jun 19, 2017 - 9:54:45 PM | $19.00 | iAlexMcC53 |
| Jun 19, 2017 - 9:54:45 PM | $17.00 | i00923 |
| Jun 19, 2017 - 9:54:42 PM | $15.00 | iAlexMcC53 |
| Jun 19, 2017 - 9:54:42 PM | $13.00 | i00923 |
| Jun 19, 2017 - 9:54:40 PM | $11.00 | iAlexMcC53 |
| Jun 19, 2017 - 9:54:40 PM | $10.00 | i00923 |
| Jun 19, 2017 - 9:54:37 PM | $9.00 | iAlexMcC53 |
| Jun 19, 2017 - 9:54:37 PM | $8.00 | i00923 |
| Jun 19, 2017 - 9:54:33 PM | $7.00 | iAlexMcC53 |
| Jun 19, 2017 - 9:54:33 PM | $6.00 | i00923 |
| Jun 19, 2017 - 9:45:42 PM | $5.00 | iAlexMcC53 |
| Jun 16, 2017 - 7:38:45 PM | $4.00 | i00923 |
| Jun 14, 2017 - 10:44:11 PM | $3.00 | ititanjoe |
| Jun 14, 2017 - 10:00:43 PM | $2.00 | i00923 |
| Jun 13, 2017 - 8:28:42 AM | $1.00 | iSnarajane |