Furniture, Mirrors, Art and Accessories from the Union Station Hotel in Nashville (160)
All items closed
American Hotel Liquidators is closing its doors and has hired McLemore Auction Company, LLC to liquidate the items from the Union Station Hotel in Nashville. All items remaining will sell to the highest bidder regardless of price.
« Back to list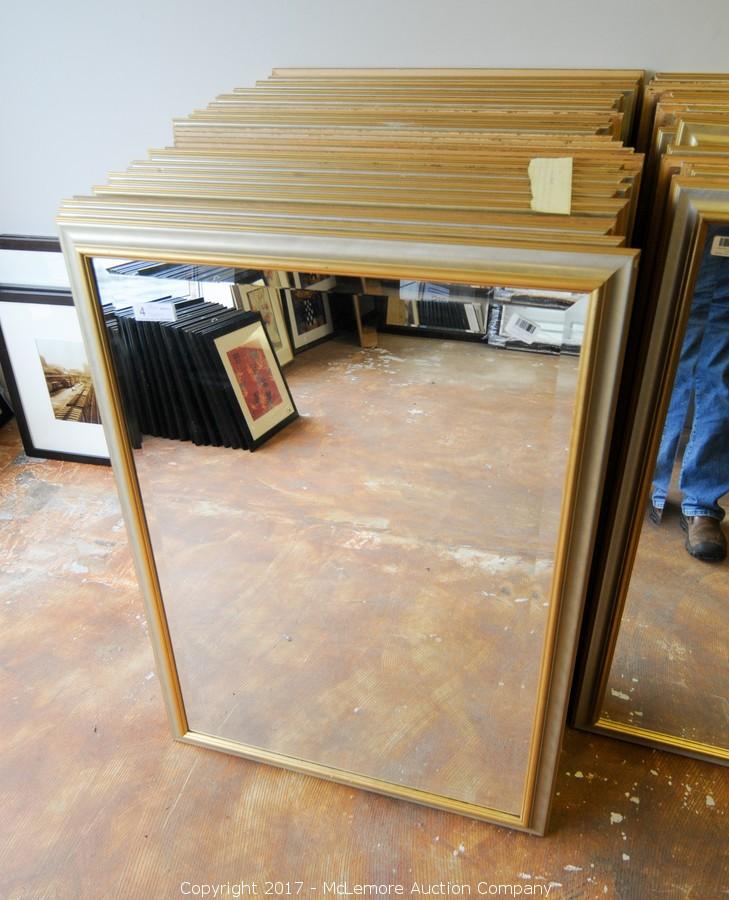 Lot #0004:
29 Mirrors with Beveled Edge and Silver Gold Frames
Bidding is

closed

.
High Bid:
$122.00
NA
Bidding Ended:
Wed, Jun 28 2:10:08 pm CT
High Bidder:
29719
Bid Increment:
$10.00
Starting Bid:
$1.00
Item Location:

219 Shady Grove Rd

,

Nashville

,

TN

37214

Item has been viewed 411 times.

| | | |
| --- | --- | --- |
| Bid Date | Bid Amount | Bidder |
| Jun 28, 2017 - 2:05:08 PM | $122.00 | i29719 |
| Jun 28, 2017 - 2:02:44 PM | $112.00 | i29267 |
| Jun 28, 2017 - 2:02:44 PM | $105.00 | i29719 |
| Jun 28, 2017 - 2:02:27 PM | $100.00 | i29267 |
| Jun 28, 2017 - 2:00:55 PM | $95.00 | i29719 |
| Jun 28, 2017 - 1:59:29 PM | $90.00 | iClarksvegas 72 |
| Jun 28, 2017 - 1:58:31 PM | $85.00 | i29719 |
| Jun 28, 2017 - 1:58:27 PM | $80.00 | iClarksvegas 72 |
| Jun 28, 2017 - 1:57:07 PM | $75.00 | i29719 |
| Jun 28, 2017 - 1:55:40 PM | $70.00 | iClarksvegas 72 |
| Jun 28, 2017 - 1:53:49 PM | $65.00 | i29719 |
| Jun 28, 2017 - 1:53:33 PM | $60.00 | iClarksvegas 72 |
| Jun 28, 2017 - 1:53:34 PM | $60.00 | i29719 |
| Jun 28, 2017 - 1:52:02 PM | $55.00 | iClarksvegas 72 |
| Jun 28, 2017 - 1:51:32 PM | $50.00 | i29719 |
| Jun 28, 2017 - 1:50:55 PM | $45.00 | i29267 |
| Jun 28, 2017 - 1:50:55 PM | $41.00 | iClarksvegas 72 |
| Jun 28, 2017 - 1:44:58 PM | $36.00 | i29267 |
| Jun 28, 2017 - 12:02:30 AM | $31.00 | iYwain1369 |
| Jun 27, 2017 - 7:32:53 PM | $26.00 | iHodgePodge |
| Jun 27, 2017 - 7:32:53 PM | $25.00 | i29719 |
| Jun 27, 2017 - 3:02:13 PM | $24.00 | i29719 |
| Jun 25, 2017 - 5:15:52 PM | $22.00 | ibeccajk |
| Jun 25, 2017 - 5:15:14 PM | $20.00 | i29719 |
| Jun 25, 2017 - 5:15:14 PM | $19.00 | ibeccajk |
| Jun 23, 2017 - 2:36:33 PM | $17.00 | i29719 |
| Jun 23, 2017 - 2:36:33 PM | $15.00 | iBillymike1969 |
| Jun 22, 2017 - 10:33:29 PM | $14.00 | iBillymike1969 |
| Jun 22, 2017 - 10:33:29 PM | $12.00 | i29719 |
| Jun 22, 2017 - 3:05:13 AM | $10.88 | i29719 |
| Jun 21, 2017 - 11:43:39 AM | $9.88 | ibeccajk |
| Jun 18, 2017 - 3:52:37 PM | $8.88 | igladys |
| Jun 18, 2017 - 3:52:37 PM | $8.00 | ijoboy719 |
| Jun 17, 2017 - 9:00:48 PM | $7.00 | igladys |
| Jun 17, 2017 - 6:48:25 PM | $6.00 | i29719 |
| Jun 17, 2017 - 6:48:06 PM | $5.00 | igladys |
| Jun 17, 2017 - 6:48:07 PM | $5.00 | i29719 |
| Jun 17, 2017 - 6:47:52 PM | $4.00 | igladys |
| Jun 17, 2017 - 6:47:52 PM | $3.00 | i29719 |
| Jun 16, 2017 - 4:48:19 PM | $2.00 | igladys |
| Jun 13, 2017 - 8:21:34 AM | $1.00 | ibeccajk |