Inventory Reduction of Cullum, Inc. (90)
All items closed
In more than 80 lots Cullum, Inc. is reducing some of their new old stock inventory. This assortment of commercial, residential and industrial items will sell to the highest bidders regardless of price, and features water heaters, a pull behind spreader, furniture, industrial electrical components, ladders and more.
Auction Manager:
Jamie Boyd
(615) 293-1108
jamie@mclemoreauction.com
« Back to list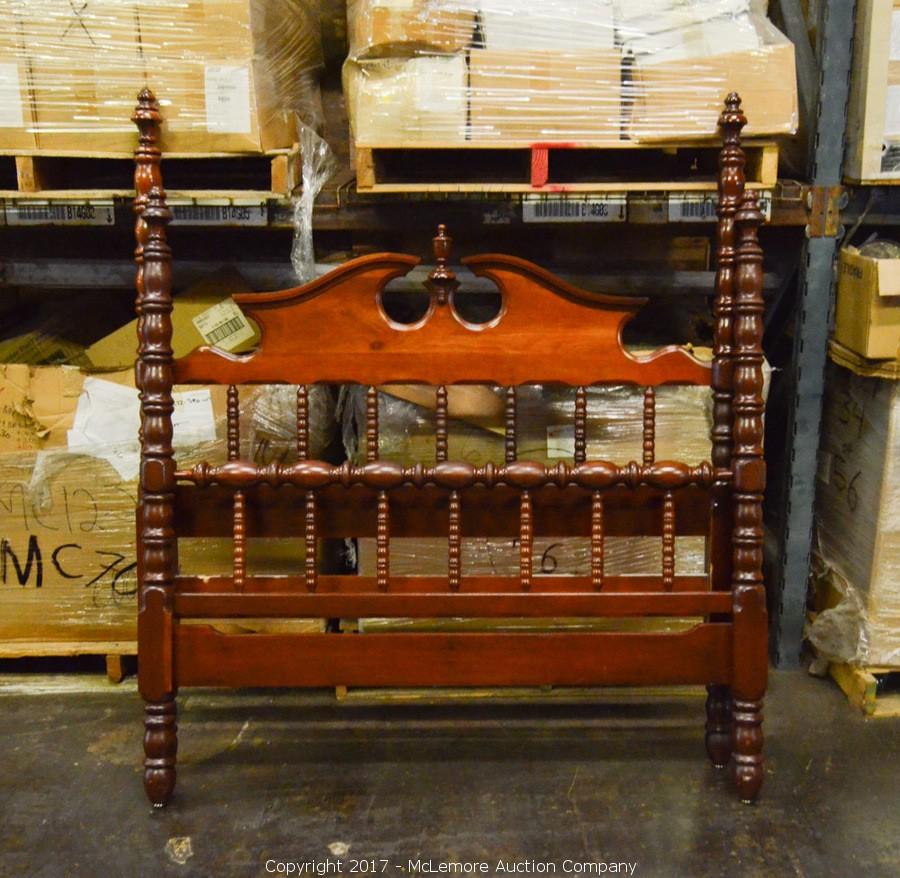 Lot #0092:
Davis Cabinet Solid Wood Full Bed
Bidding is

closed

.
High Bid:
$420.00
NA
Bidding Ended:
Thu, Aug 17 12:17:00 pm CT
High Bidder:
18754
Bid Increment:
$10.00
Starting Bid:
$1.00
Item Location:

6100 Centennial Blvd

,

Nashville

,

TN

37209

Item has been viewed 329 times.

| | | |
| --- | --- | --- |
| Bid Date | Bid Amount | Bidder |
| Aug 17, 2017 - 12:07:57 PM | $420.00 | i18754 |
| Aug 17, 2017 - 8:46:36 AM | $410.00 | iBeau |
| Aug 17, 2017 - 8:45:56 AM | $400.00 | i18754 |
| Aug 17, 2017 - 8:45:56 AM | $395.00 | iBeau |
| Aug 17, 2017 - 8:45:45 AM | $385.00 | i18754 |
| Aug 17, 2017 - 8:45:45 AM | $375.00 | iBeau |
| Aug 17, 2017 - 8:45:26 AM | $365.00 | i18754 |
| Aug 17, 2017 - 8:45:26 AM | $355.00 | iBeau |
| Aug 17, 2017 - 8:45:13 AM | $345.00 | i18754 |
| Aug 17, 2017 - 8:45:13 AM | $335.00 | iBeau |
| Aug 17, 2017 - 8:44:58 AM | $325.00 | i18754 |
| Aug 17, 2017 - 8:44:58 AM | $315.00 | iBeau |
| Aug 17, 2017 - 6:10:02 AM | $305.00 | i18754 |
| Aug 17, 2017 - 12:07:41 AM | $295.00 | iBeau |
| Aug 16, 2017 - 6:14:45 PM | $285.00 | iOcana1394 |
| Aug 16, 2017 - 6:08:36 PM | $275.00 | i9551947 |
| Aug 16, 2017 - 6:08:36 PM | $265.00 | iBeau |
| Aug 16, 2017 - 6:08:21 PM | $255.00 | i9551947 |
| Aug 16, 2017 - 6:08:21 PM | $245.00 | iBeau |
| Aug 16, 2017 - 6:08:07 PM | $235.00 | i9551947 |
| Aug 16, 2017 - 6:08:07 PM | $225.00 | iBeau |
| Aug 16, 2017 - 5:54:30 PM | $215.00 | i9551947 |
| Aug 16, 2017 - 2:19:31 PM | $205.00 | iBeau |
| Aug 16, 2017 - 2:19:31 PM | $200.00 | i18754 |
| Aug 16, 2017 - 2:19:24 PM | $195.00 | i18754 |
| Aug 16, 2017 - 2:19:24 PM | $185.00 | iBeau |
| Aug 16, 2017 - 2:19:16 PM | $175.00 | i18754 |
| Aug 16, 2017 - 2:19:16 PM | $165.00 | iBeau |
| Aug 16, 2017 - 2:19:03 PM | $155.00 | i18754 |
| Aug 16, 2017 - 2:19:03 PM | $145.00 | iBeau |
| Aug 16, 2017 - 11:13:19 AM | $135.00 | i18754 |
| Aug 16, 2017 - 11:13:19 AM | $125.00 | i28695 |
| Aug 16, 2017 - 9:11:35 AM | $115.00 | i18754 |
| Aug 16, 2017 - 9:11:35 AM | $113.00 | iYme6901 |
| Aug 16, 2017 - 9:10:27 AM | $101.00 | iYme6901 |
| Aug 16, 2017 - 9:08:01 AM | $96.00 | i18754 |
| Aug 16, 2017 - 8:39:48 AM | $91.00 | iYme6901 |
| Aug 15, 2017 - 7:46:12 PM | $86.00 | iBeau |
| Aug 15, 2017 - 5:37:33 PM | $81.00 | i15548 |
| Aug 15, 2017 - 10:28:19 AM | $76.00 | iBeau |
| Aug 15, 2017 - 10:12:20 AM | $71.00 | i27749 |
| Aug 13, 2017 - 12:00:03 PM | $66.00 | iBeau |
| Aug 13, 2017 - 11:59:05 AM | $61.00 | iPoplaracres |
| Aug 13, 2017 - 11:59:05 AM | $56.00 | iBeau |
| Aug 13, 2017 - 11:58:16 AM | $51.00 | iPoplaracres |
| Aug 13, 2017 - 11:58:16 AM | $46.00 | iBeau |
| Aug 13, 2017 - 9:21:17 AM | $41.00 | iPoplaracres |
| Aug 12, 2017 - 9:38:54 PM | $36.00 | iblue fish 260 |
| Aug 12, 2017 - 9:38:54 PM | $35.00 | iBeau |
| Aug 12, 2017 - 2:49:57 PM | $31.00 | iBeau |
| Aug 12, 2017 - 7:49:15 AM | $26.00 | iPoplaracres |
| Aug 12, 2017 - 7:49:15 AM | $25.00 | imatcmt |
| Aug 12, 2017 - 7:48:52 AM | $24.00 | imatcmt |
| Aug 12, 2017 - 7:48:52 AM | $22.00 | iPoplaracres |
| Aug 11, 2017 - 8:37:19 PM | $17.00 | imatcmt |
| Aug 11, 2017 - 8:37:19 PM | $15.00 | iChumphja |
| Aug 11, 2017 - 8:37:08 PM | $10.00 | imatcmt |
| Aug 11, 2017 - 8:37:08 PM | $9.00 | iChumphja |
| Aug 11, 2017 - 8:36:59 PM | $8.00 | imatcmt |
| Aug 11, 2017 - 8:36:59 PM | $7.00 | iChumphja |
| Aug 11, 2017 - 7:49:18 PM | $6.00 | imatcmt |
| Aug 11, 2017 - 7:49:18 PM | $5.00 | i1972 |
| Aug 11, 2017 - 7:48:52 PM | $3.00 | i1972 |
| Aug 11, 2017 - 7:48:52 PM | $2.00 | imatcmt |
| Aug 11, 2017 - 1:31:00 PM | $1.00 | i1972 |