Tools, Cabinets, Jacks, Lawn & Garden and Patio Furniture (81)
All items closed
Assorted tools, cabinets, chest, jacks, lawn & garden and patio furniture will sell to the highest bidders regardless of price. These items are overstock, shelf pulls, slight scratch and dent or store return items.
Auction Manager:
Dwayne Smith
(615) 509-2428
Dwayne@mclemoreauction.com
« Back to list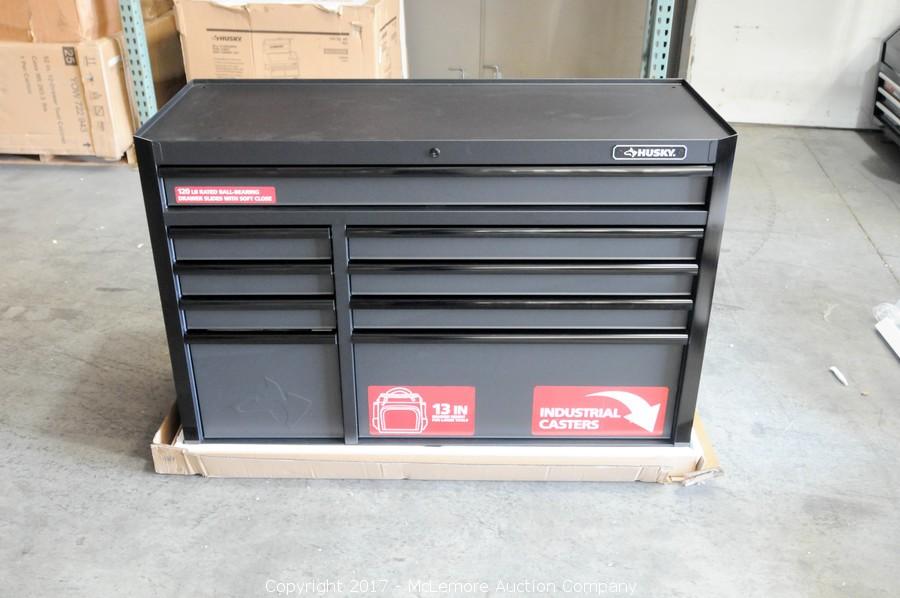 Lot #0047:
Husky 9 Drawer Tool Chest
Bidding is

closed

.
High Bid:
$270.00
NA
Bidding Ended:
Thu, Aug 31 2:53:14 pm CT
High Bidder:
spent21
Bid Increment:
$10.00
Starting Bid:
$1.00
Item Location:

104 Southeast Pkwy

,

Franklin

,

TN

37064

Item has been viewed 147 times.

| | | |
| --- | --- | --- |
| Bid Date | Bid Amount | Bidder |
| Aug 31, 2017 - 2:39:10 PM | $270.00 | ispent21 |
| Aug 31, 2017 - 2:35:33 PM | $260.00 | itheremin |
| Aug 31, 2017 - 2:35:33 PM | $255.00 | ispent21 |
| Aug 31, 2017 - 2:06:18 PM | $250.00 | ispent21 |
| Aug 31, 2017 - 2:06:18 PM | $240.00 | iKshale |
| Aug 31, 2017 - 2:03:49 PM | $235.00 | iKshale |
| Aug 31, 2017 - 2:03:49 PM | $225.00 | ispent21 |
| Aug 31, 2017 - 2:02:33 PM | $201.00 | iKshale |
| Aug 31, 2017 - 2:02:28 PM | $191.00 | iNorm |
| Aug 31, 2017 - 1:49:37 PM | $181.00 | itheremin |
| Aug 31, 2017 - 1:49:37 PM | $176.00 | i24371 |
| Aug 31, 2017 - 1:47:26 PM | $162.00 | itheremin |
| Aug 31, 2017 - 9:40:47 AM | $152.00 | i37015Home |
| Aug 24, 2017 - 4:09:40 AM | $142.00 | ijoshg |
| Aug 23, 2017 - 9:06:20 PM | $132.00 | ijeremy newton |
| Aug 22, 2017 - 12:43:40 PM | $122.00 | i37015Home |
| Aug 22, 2017 - 12:43:40 PM | $115.00 | ipatquick |
| Aug 21, 2017 - 10:45:13 AM | $103.00 | i37015Home |
| Aug 21, 2017 - 10:45:13 AM | $98.00 | iJFRAIM24 |
| Aug 21, 2017 - 10:34:11 AM | $74.00 | i37015Home |
| Aug 21, 2017 - 9:23:34 AM | $69.00 | iJFRAIM24 |
| Aug 18, 2017 - 8:44:13 PM | $64.00 | itcurtis |
| Aug 18, 2017 - 8:44:13 PM | $60.00 | itheremin |
| Aug 17, 2017 - 12:21:37 PM | $55.00 | itcurtis |
| Aug 17, 2017 - 12:21:37 PM | $50.00 | iEl Mexicano |
| Aug 16, 2017 - 2:35:08 PM | $45.00 | itcurtis |
| Aug 15, 2017 - 12:31:59 PM | $40.00 | iEl Mexicano |
| Aug 15, 2017 - 11:12:03 AM | $35.00 | iEmilylf08 |
| Aug 15, 2017 - 11:12:03 AM | $32.00 | itcurtis |
| Aug 14, 2017 - 6:56:40 PM | $27.00 | iEmilylf08 |
| Aug 14, 2017 - 6:56:40 PM | $25.00 | ijeremy newton |
| Aug 14, 2017 - 4:10:26 PM | $24.00 | ijeremy newton |
| Aug 14, 2017 - 4:10:13 PM | $22.00 | iEmilylf08 |
| Aug 14, 2017 - 4:10:13 PM | $20.00 | ijeremy newton |
| Aug 14, 2017 - 6:03:26 AM | $16.00 | iEmilylf08 |
| Aug 12, 2017 - 6:37:38 PM | $14.00 | izb1994 |
| Aug 12, 2017 - 5:42:47 PM | $12.00 | iEmilylf08 |
| Aug 12, 2017 - 5:42:47 PM | $11.00 | i14129 |
| Aug 12, 2017 - 5:35:54 PM | $10.00 | i14129 |
| Aug 12, 2017 - 5:35:54 PM | $9.00 | iEmilylf08 |
| Aug 12, 2017 - 5:35:43 PM | $6.00 | i14129 |
| Aug 12, 2017 - 5:35:43 PM | $5.00 | iEmilylf08 |
| Aug 12, 2017 - 2:25:24 PM | $1.00 | i14129 |