Complete Liquidation of Norbert's Home Decor (425)
All items closed
After 21 years in business, Norbert's Home Decor in Nashville, TN has closed. More than 420 lots of furniture, art, rugs, lamps and decor will sell to the highest bidders regardless of price.
Auction Manager:
Blake Kimball
(615) 686-1954
blake@mclemoreauction.com
« Back to list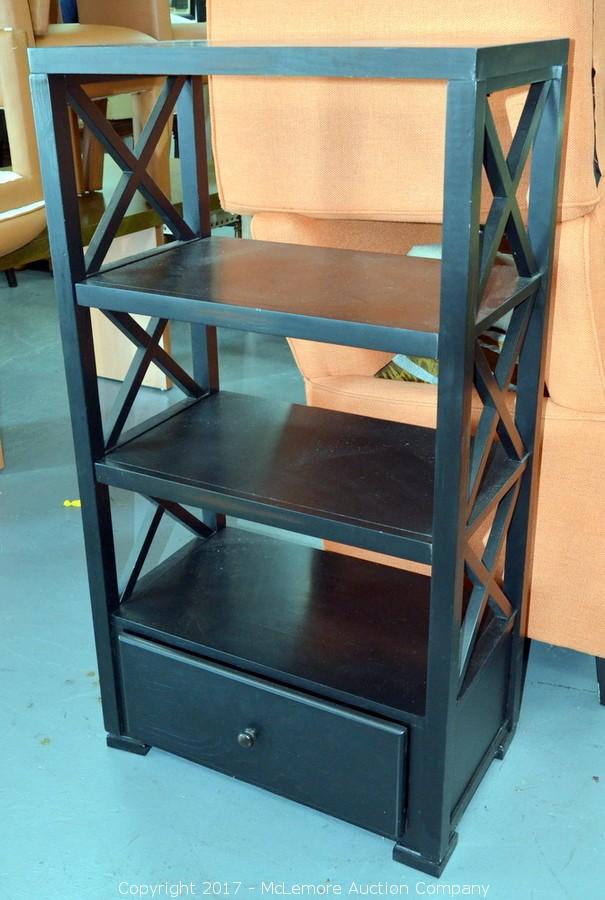 Lot #0428:
Black Bookshelf

Height 48", Width 26" & Depth 15"
| | | |
| --- | --- | --- |
| Bid Date | Bid Amount | Bidder |
| Sep 28, 2017 - 2:35:42 PM | $125.00 | ilovetoentertainatyahoo.com |
| Sep 28, 2017 - 2:35:19 PM | $115.00 | i16734 |
| Sep 28, 2017 - 2:35:19 PM | $110.00 | ilovetoentertainatyahoo.com |
| Sep 28, 2017 - 2:33:43 PM | $105.00 | ilovetoentertainatyahoo.com |
| Sep 28, 2017 - 2:32:18 PM | $100.00 | i16734 |
| Sep 28, 2017 - 2:31:49 PM | $95.00 | ilovetoentertainatyahoo.com |
| Sep 28, 2017 - 2:30:37 PM | $90.00 | i16734 |
| Sep 28, 2017 - 2:30:38 PM | $90.00 | ilovetoentertainatyahoo.com |
| Sep 28, 2017 - 2:28:52 PM | $85.00 | i16734 |
| Sep 28, 2017 - 2:28:18 PM | $80.00 | ilovetoentertainatyahoo.com |
| Sep 28, 2017 - 2:28:08 PM | $75.00 | i16734 |
| Sep 28, 2017 - 2:25:57 PM | $70.00 | ilovetoentertainatyahoo.com |
| Sep 28, 2017 - 2:22:36 PM | $65.00 | i16734 |
| Sep 28, 2017 - 2:22:36 PM | $62.00 | ilovetoentertainatyahoo.com |
| Sep 27, 2017 - 3:21:13 PM | $60.00 | ilovetoentertainatyahoo.com |
| Sep 14, 2017 - 12:24:54 PM | $55.00 | i27109 |
| Sep 14, 2017 - 12:24:54 PM | $51.95 | icharityfurniture |
| Sep 13, 2017 - 7:53:18 AM | $46.00 | icharityfurniture |
| Sep 13, 2017 - 7:53:18 AM | $41.00 | istkennedy2 |
| Sep 12, 2017 - 7:50:11 PM | $27.00 | icharityfurniture |
| Sep 12, 2017 - 7:50:11 PM | $25.00 | i27109 |
| Sep 12, 2017 - 7:05:20 PM | $17.00 | icharityfurniture |
| Sep 12, 2017 - 7:05:20 PM | $15.00 | ihpamy |
| Sep 12, 2017 - 3:25:18 PM | $3.00 | ihpamy |
| Sep 12, 2017 - 1:26:05 PM | $2.00 | iElliemae13 |
| Sep 11, 2017 - 5:24:09 PM | $1.00 | iMaxMaxMax |