316.9 ± Acres Selling in 5 Tracts Located on Nance Bend Rd in Hardin County, TN (5)
All items closed
McLemore Auction Company, LLC, in conjunction with Heritage Auction and Real Estate Company, Inc., is pleased to offer this large tract near the Tennessee River between Grandview and Clifton.
Auction Manager:
Jeff Wilkes
(731) 607-8213

« Back to list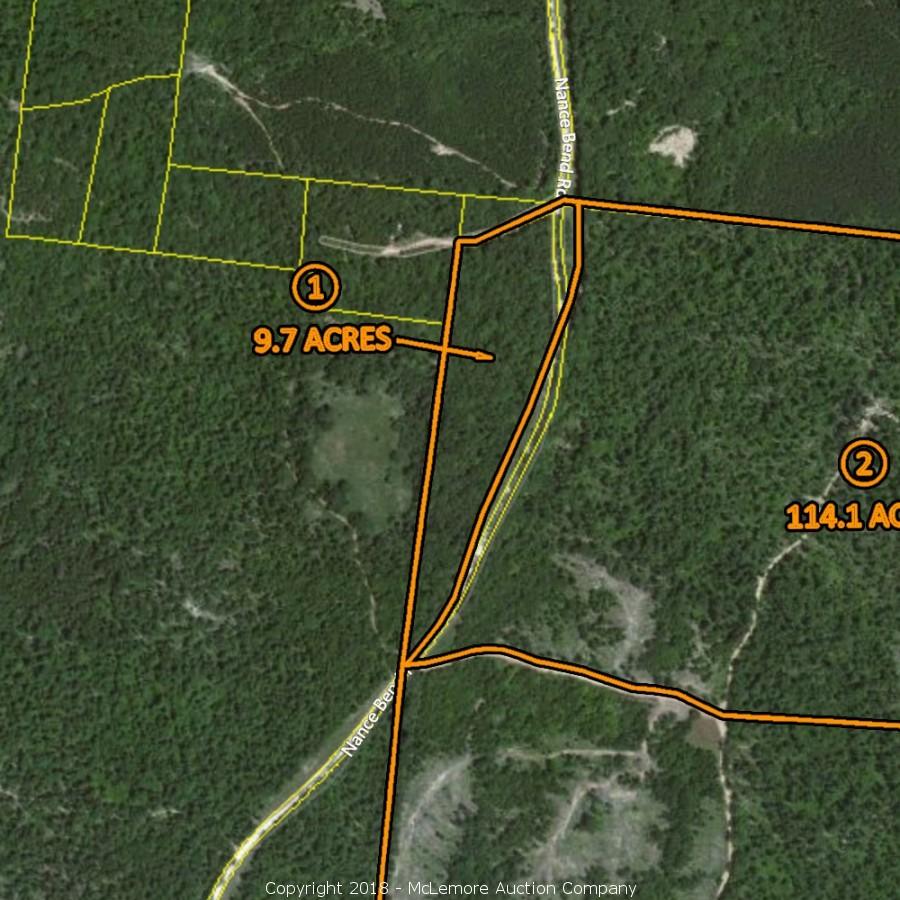 Lot #0001:
9.7 ± Acres NOW SELLING ABSOLUTE
Bidding is

closed

.
Bidding Ended:
Thu, Jan 18 1:02:14 pm CT
Item has been viewed 694 times.

This property is currently leased for hunting and the hunters are active on the premises. Please notify the auction manager if you intend to visit the property. We will accommodate you but want to inform the hunters for safety's sake. Thank you.
Access to electricity
Great hunting for deer and turkey
Good building sites

| | | |
| --- | --- | --- |
| Bid Date | Bid Amount | Bidder |
| Jan 18, 2018 - 12:41:17 PM | $15,800.00 | iMarcia |
| Jan 18, 2018 - 12:41:17 PM | $15,650.00 | ifolaf110 |
| Jan 18, 2018 - 12:30:33 PM | $15,550.00 | ifolaf110 |
| Jan 18, 2018 - 12:20:05 PM | $15,300.00 | iMarcia |
| Jan 18, 2018 - 12:20:05 PM | $15,100.00 | ifolaf110 |
| Jan 18, 2018 - 12:18:25 PM | $15,050.00 | ifolaf110 |
| Jan 18, 2018 - 12:11:31 PM | $14,800.00 | iMarcia |
| Jan 18, 2018 - 12:11:19 PM | $14,550.00 | ifolaf110 |
| Jan 18, 2018 - 12:11:20 PM | $14,550.00 | iMarcia |
| Jan 18, 2018 - 12:07:28 PM | $14,300.00 | ifolaf110 |
| Jan 18, 2018 - 12:06:14 PM | $14,050.00 | iMarcia |
| Jan 18, 2018 - 12:06:14 PM | $14,000.00 | i25423 |
| Jan 18, 2018 - 12:05:22 PM | $13,800.00 | i25423 |
| Jan 18, 2018 - 12:05:03 PM | $13,550.00 | ifolaf110 |
| Jan 18, 2018 - 12:05:03 PM | $13,500.00 | iMarcia |
| Jan 18, 2018 - 12:00:55 PM | $13,250.00 | ifolaf110 |
| Jan 18, 2018 - 12:00:55 PM | $13,000.00 | i25423 |
| Jan 18, 2018 - 12:00:08 PM | $12,800.00 | i25423 |
| Jan 18, 2018 - 11:57:35 AM | $12,550.00 | ifolaf110 |
| Jan 18, 2018 - 11:57:36 AM | $12,550.00 | iMarcia |
| Jan 18, 2018 - 11:44:17 AM | $12,250.00 | ifolaf110 |
| Jan 18, 2018 - 11:43:49 AM | $12,000.00 | iamerican6 |
| Jan 18, 2018 - 11:43:50 AM | $12,000.00 | ifolaf110 |
| Jan 18, 2018 - 11:35:08 AM | $11,500.00 | iamerican6 |
| Jan 18, 2018 - 11:29:07 AM | $11,250.00 | ifolaf110 |
| Jan 18, 2018 - 11:29:07 AM | $11,000.00 | i25423 |
| Jan 18, 2018 - 11:24:12 AM | $10,900.00 | i25423 |
| Jan 18, 2018 - 11:24:12 AM | $10,650.00 | iMarcia |
| Jan 18, 2018 - 11:22:15 AM | $10,350.00 | i25423 |
| Jan 17, 2018 - 3:55:04 PM | $10,100.00 | iTraum |
| Jan 17, 2018 - 3:55:04 PM | $10,000.00 | i25423 |
| Jan 17, 2018 - 2:50:12 PM | $9,800.00 | i25423 |
| Jan 17, 2018 - 2:50:12 PM | $9,700.00 | iTraum |
| Jan 17, 2018 - 2:49:36 PM | $9,100.00 | iTraum |
| Jan 17, 2018 - 2:49:36 PM | $9,000.00 | i25423 |
| Jan 14, 2018 - 2:54:58 PM | $8,600.00 | iTraum |
| Jan 14, 2018 - 2:54:58 PM | $8,500.00 | i25423 |
| Jan 14, 2018 - 2:54:12 PM | $8,100.00 | iTraum |
| Jan 14, 2018 - 2:54:12 PM | $8,000.00 | i25423 |
| Jan 12, 2018 - 4:59:57 PM | $7,099.00 | iTraum |
| Jan 12, 2018 - 4:59:57 PM | $6,999.00 | iTreeman58 |
| Jan 12, 2018 - 4:21:51 PM | $5,450.00 | iTraum |
| Jan 12, 2018 - 4:21:51 PM | $5,350.00 | i29532 |
| Jan 12, 2018 - 4:21:47 PM | $5,250.00 | iTraum |
| Jan 12, 2018 - 4:21:47 PM | $5,150.00 | i29532 |
| Jan 12, 2018 - 10:47:46 AM | $5,050.00 | iTraum |
| Jan 12, 2018 - 10:40:30 AM | $5,000.00 | ifolaf110 |
| Jan 12, 2018 - 10:40:30 AM | $4,999.00 | iTreeman58 |
| Jan 11, 2018 - 7:42:43 PM | $4,400.00 | iTreeman58 |
| Jan 11, 2018 - 7:42:43 PM | $4,350.00 | i29532 |
| Jan 11, 2018 - 7:42:39 PM | $4,300.00 | iTreeman58 |
| Jan 11, 2018 - 7:42:39 PM | $4,250.00 | i29532 |
| Jan 11, 2018 - 7:42:35 PM | $4,200.00 | iTreeman58 |
| Jan 11, 2018 - 7:42:35 PM | $4,150.00 | i29532 |
| Jan 11, 2018 - 7:42:29 PM | $4,100.00 | iTreeman58 |
| Jan 11, 2018 - 7:42:29 PM | $4,050.00 | i29532 |
| Jan 11, 2018 - 6:59:15 PM | $4,000.00 | iTreeman58 |
| Jan 11, 2018 - 6:59:15 PM | $3,950.00 | i29532 |
| Jan 11, 2018 - 6:59:09 PM | $3,900.00 | iTreeman58 |
| Jan 11, 2018 - 6:59:09 PM | $3,850.00 | i29532 |
| Jan 11, 2018 - 6:59:06 PM | $3,800.00 | iTreeman58 |
| Jan 11, 2018 - 6:59:06 PM | $3,750.00 | i29532 |
| Jan 11, 2018 - 6:59:03 PM | $3,700.00 | iTreeman58 |
| Jan 11, 2018 - 6:59:03 PM | $3,650.00 | i29532 |
| Jan 11, 2018 - 6:58:59 PM | $3,600.00 | iTreeman58 |
| Jan 11, 2018 - 6:58:59 PM | $3,550.00 | i29532 |
| Jan 11, 2018 - 6:58:56 PM | $3,500.00 | iTreeman58 |
| Jan 11, 2018 - 6:58:56 PM | $3,450.00 | i29532 |
| Jan 11, 2018 - 6:58:53 PM | $3,400.00 | iTreeman58 |
| Jan 11, 2018 - 6:58:53 PM | $3,350.00 | i29532 |
| Jan 11, 2018 - 6:57:58 PM | $3,300.00 | iTreeman58 |
| Jan 11, 2018 - 6:57:58 PM | $3,250.00 | i29532 |
| Jan 11, 2018 - 6:57:54 PM | $3,200.00 | iTreeman58 |
| Jan 11, 2018 - 6:57:54 PM | $3,150.00 | i29532 |
| Jan 11, 2018 - 6:57:47 PM | $3,100.00 | iTreeman58 |
| Jan 11, 2018 - 6:57:47 PM | $3,050.00 | i29532 |
| Jan 11, 2018 - 6:57:42 PM | $3,000.00 | iTreeman58 |
| Jan 11, 2018 - 6:57:42 PM | $2,950.00 | i29532 |
| Jan 11, 2018 - 6:57:39 PM | $2,900.00 | iTreeman58 |
| Jan 11, 2018 - 6:57:39 PM | $2,850.00 | i29532 |
| Jan 11, 2018 - 6:57:36 PM | $2,800.00 | iTreeman58 |
| Jan 11, 2018 - 6:57:36 PM | $2,750.00 | i29532 |
| Jan 11, 2018 - 6:57:32 PM | $2,700.00 | iTreeman58 |
| Jan 11, 2018 - 6:57:32 PM | $2,650.00 | i29532 |
| Jan 11, 2018 - 4:03:05 PM | $2,600.00 | iTreeman58 |
| Jan 5, 2018 - 11:50:46 AM | $2,550.00 | i29532 |
| Jan 5, 2018 - 11:50:42 AM | $2,500.00 | iMontgomery |
| Jan 5, 2018 - 11:50:43 AM | $2,500.00 | i29532 |
| Jan 5, 2018 - 11:50:39 AM | $2,450.00 | iMontgomery |
| Jan 5, 2018 - 11:50:39 AM | $2,400.00 | i29532 |
| Jan 5, 2018 - 11:50:35 AM | $2,350.00 | iMontgomery |
| Jan 5, 2018 - 11:50:35 AM | $2,300.00 | i29532 |
| Jan 5, 2018 - 11:50:32 AM | $2,250.00 | iMontgomery |
| Jan 5, 2018 - 11:50:32 AM | $2,200.00 | i29532 |
| Jan 5, 2018 - 11:50:29 AM | $2,150.00 | iMontgomery |
| Jan 5, 2018 - 11:50:29 AM | $2,100.00 | i29532 |
| Jan 2, 2018 - 2:47:14 PM | $2,050.00 | iMontgomery |
| Jan 2, 2018 - 2:47:14 PM | $2,000.00 | i29532 |
| Jan 2, 2018 - 1:11:04 PM | $1,850.00 | i29532 |
| Jan 2, 2018 - 1:11:04 PM | $1,800.00 | i30355 |
| Dec 28, 2017 - 3:21:13 PM | $1,600.00 | i29532 |
| Dec 28, 2017 - 3:21:13 PM | $1,550.00 | iKramer |
| Dec 27, 2017 - 6:03:42 PM | $1,025.00 | i29532 |
| Dec 27, 2017 - 6:03:22 PM | $1,000.00 | idlcarroll58 |
| Dec 27, 2017 - 6:03:23 PM | $1,000.00 | i29532 |
| Dec 27, 2017 - 1:10:49 PM | $1.00 | idlcarroll58 |