Surplus Appliances, Fixtures, Lighting and Hardware (115)
All items closed
Top of the line appliances, ventilation fans, sinks, vanities, bathroom fixtures, lighting and hardware from manufacturers KitchenAid, Bosch, Thermador, Kohler, Frigidaire, and many others will sell to the highest bidders regardless of price.
Auction Manager: 
Jamie Boyd
(615) 293-1108
jamie@mclemoreauction.com
« Back to list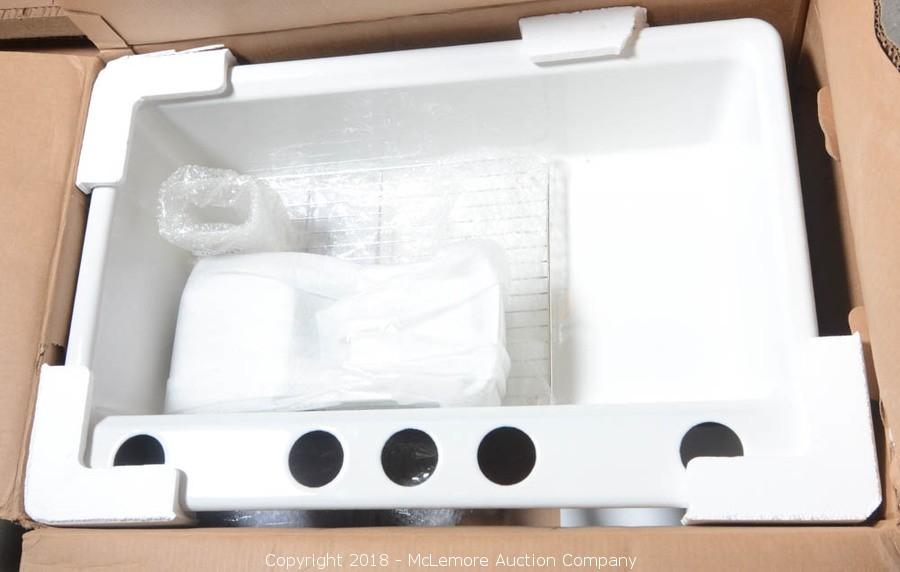 Lot #0011:
Kohler Enameled Cast-Iron Riverby Farm Sink
Bidding is

closed

.
High Bid:
$420.00
NA
Bidding Ended:
Thu, Feb 22 12:01:00 pm CT
High Bidder:
fscorte4
Bid Increment:
$10.00
Starting Bid:
$1.00
Item Location:

511 Cave Rd

,

Nashville

,

TN

37210

Item has been viewed 480 times.

| | | |
| --- | --- | --- |
| Bid Date | Bid Amount | Bidder |
| Feb 22, 2018 - 11:40:29 AM | $420.00 | ifscorte4 |
| Feb 22, 2018 - 11:39:19 AM | $410.00 | iOnlymopars4me |
| Feb 22, 2018 - 11:39:13 AM | $400.00 | ifscorte4 |
| Feb 22, 2018 - 11:39:13 AM | $391.00 | iOnlymopars4me |
| Feb 22, 2018 - 11:39:10 AM | $381.00 | ifscorte4 |
| Feb 22, 2018 - 11:39:10 AM | $371.00 | iOnlymopars4me |
| Feb 22, 2018 - 11:39:07 AM | $361.00 | ifscorte4 |
| Feb 22, 2018 - 11:39:07 AM | $351.00 | iOnlymopars4me |
| Feb 22, 2018 - 11:39:02 AM | $341.00 | ifscorte4 |
| Feb 22, 2018 - 11:39:02 AM | $331.00 | iOnlymopars4me |
| Feb 21, 2018 - 11:03:10 PM | $321.00 | ifscorte4 |
| Feb 19, 2018 - 9:15:45 PM | $311.00 | iOnlymopars4me |
| Feb 19, 2018 - 9:15:45 PM | $302.00 | iYvonnern1013 |
| Feb 19, 2018 - 9:13:43 PM | $301.00 | iYvonnern1013 |
| Feb 19, 2018 - 9:13:43 PM | $291.00 | iOnlymopars4me |
| Feb 19, 2018 - 9:13:35 PM | $281.00 | iYvonnern1013 |
| Feb 19, 2018 - 9:13:35 PM | $271.00 | iOnlymopars4me |
| Feb 19, 2018 - 6:28:14 PM | $261.00 | iYvonnern1013 |
| Feb 19, 2018 - 5:31:12 PM | $251.00 | iOnlymopars4me |
| Feb 19, 2018 - 5:31:12 PM | $245.00 | iYvonnern1013 |
| Feb 19, 2018 - 5:31:06 PM | $241.00 | iYvonnern1013 |
| Feb 19, 2018 - 5:31:06 PM | $231.00 | iOnlymopars4me |
| Feb 19, 2018 - 2:59:40 PM | $221.00 | iYvonnern1013 |
| Feb 19, 2018 - 2:34:19 PM | $211.00 | iOnlymopars4me |
| Feb 18, 2018 - 8:37:59 PM | $201.00 | iYvonnern1013 |
| Feb 18, 2018 - 8:37:59 PM | $195.00 | iOnlymopars4me |
| Feb 18, 2018 - 8:37:54 PM | $185.00 | iYvonnern1013 |
| Feb 18, 2018 - 8:37:54 PM | $175.00 | iOnlymopars4me |
| Feb 18, 2018 - 8:29:34 PM | $165.00 | iYvonnern1013 |
| Feb 18, 2018 - 8:27:40 PM | $155.00 | iOnlymopars4me |
| Feb 18, 2018 - 8:27:40 PM | $150.00 | iYvonnern1013 |
| Feb 18, 2018 - 8:27:31 PM | $145.00 | iYvonnern1013 |
| Feb 18, 2018 - 8:27:31 PM | $135.00 | iOnlymopars4me |
| Feb 18, 2018 - 1:15:47 PM | $125.00 | iYvonnern1013 |
| Feb 18, 2018 - 1:15:47 PM | $115.00 | ibLOVESr |
| Feb 18, 2018 - 1:15:00 PM | $105.00 | iYvonnern1013 |
| Feb 18, 2018 - 1:15:00 PM | $100.00 | ibLOVESr |
| Feb 18, 2018 - 1:14:41 PM | $95.00 | iYvonnern1013 |
| Feb 18, 2018 - 1:14:41 PM | $90.00 | ibLOVESr |
| Feb 18, 2018 - 1:04:52 PM | $85.00 | iYvonnern1013 |
| Feb 18, 2018 - 1:00:03 PM | $80.00 | ibLOVESr |
| Feb 18, 2018 - 12:59:53 PM | $75.00 | iYvonnern1013 |
| Feb 18, 2018 - 12:59:53 PM | $71.00 | ibLOVESr |
| Feb 18, 2018 - 12:58:05 PM | $66.00 | iYvonnern1013 |
| Feb 18, 2018 - 12:58:05 PM | $61.00 | ibLOVESr |
| Feb 18, 2018 - 12:58:01 PM | $56.00 | iYvonnern1013 |
| Feb 18, 2018 - 12:58:01 PM | $51.00 | ibLOVESr |
| Feb 18, 2018 - 7:02:20 AM | $46.00 | iYvonnern1013 |
| Feb 16, 2018 - 3:59:11 PM | $41.00 | iOnlymopars4me |
| Feb 15, 2018 - 1:39:11 PM | $36.00 | imahalialou |
| Feb 14, 2018 - 9:18:27 PM | $31.00 | iMsanchez9 |
| Feb 14, 2018 - 9:18:27 PM | $28.00 | i16997 |
| Feb 14, 2018 - 9:18:25 PM | $26.00 | i16997 |
| Feb 14, 2018 - 9:18:25 PM | $24.00 | iMsanchez9 |
| Feb 14, 2018 - 11:02:00 AM | $22.00 | i16997 |
| Feb 14, 2018 - 11:02:00 AM | $20.00 | iDUrekew |
| Feb 13, 2018 - 7:19:29 PM | $7.00 | i16997 |
| Feb 13, 2018 - 3:20:59 PM | $6.00 | iDUrekew |
| Feb 13, 2018 - 12:39:18 PM | $5.00 | i16997 |
| Feb 13, 2018 - 12:39:19 PM | $5.00 | i28887 |
| Feb 13, 2018 - 12:34:58 PM | $1.00 | i16997 |