Single Axle Trailer, Tools, Electronics and Other Items from a Home in Smyrna, TN (119)
All items closed
The owner of this home is moving, and more than 115 lots of home decor, audio equipment, electronics, tools. lawn and garden equipment and other items must stay behind. Everything will sell to the highest bidders regardless of price.
Auction Manager: 
Jamie Boyd
(615) 293-1108
jamie@mclemoreauction.com
« Back to list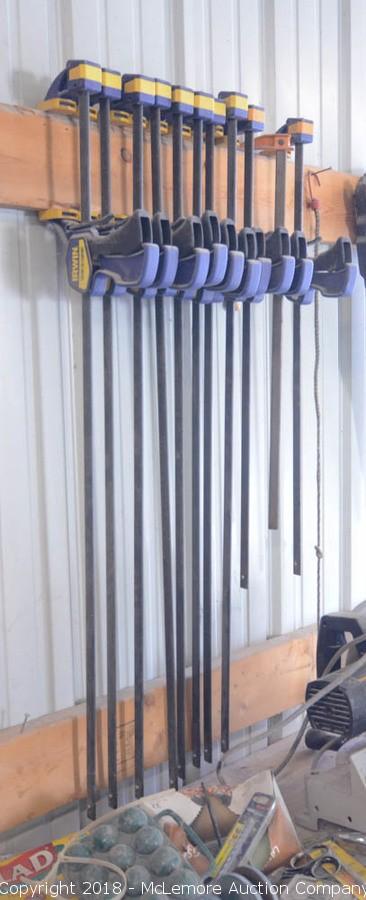 Lot #0053:
Wood Clamps and Handsaws
Bidding is

closed

.
High Bid:
$190.00
NA
Bidding Ended:
Thu, Feb 15 1:10:00 pm CT
High Bidder:
20900
Bid Increment:
$10.00
Starting Bid:
$1.00
Item Location:

8286 Rocky Fork Almaville Rd

,

Smyrna

,

TN

37167

Item has been viewed 401 times.

| | | |
| --- | --- | --- |
| Bid Date | Bid Amount | Bidder |
| Feb 15, 2018 - 12:37:53 PM | $190.00 | i20900 |
| Feb 15, 2018 - 12:37:53 PM | $180.00 | iFritz |
| Feb 15, 2018 - 12:36:18 PM | $170.00 | i20900 |
| Feb 15, 2018 - 12:36:18 PM | $160.00 | iFritz |
| Feb 15, 2018 - 9:00:53 AM | $150.00 | i20900 |
| Feb 12, 2018 - 8:04:11 PM | $140.00 | iWoodchuck |
| Feb 12, 2018 - 8:03:41 PM | $130.00 | iFritz |
| Feb 12, 2018 - 8:03:42 PM | $130.00 | iWoodchuck |
| Feb 12, 2018 - 7:42:11 PM | $120.00 | iFritz |
| Feb 12, 2018 - 7:42:11 PM | $110.00 | iWoodchuck |
| Feb 12, 2018 - 7:40:45 PM | $105.00 | iWoodchuck |
| Feb 12, 2018 - 7:39:56 PM | $100.00 | iFritz |
| Feb 12, 2018 - 7:39:57 PM | $100.00 | iWoodchuck |
| Feb 10, 2018 - 12:56:53 AM | $95.00 | iFritz |
| Feb 10, 2018 - 12:56:04 AM | $90.00 | iCanfciv |
| Feb 10, 2018 - 12:56:05 AM | $90.00 | iFritz |
| Feb 10, 2018 - 12:55:22 AM | $80.00 | iCanfciv |
| Feb 10, 2018 - 12:55:22 AM | $75.00 | iFritz |
| Feb 6, 2018 - 3:18:17 PM | $70.00 | iCanfciv |
| Feb 6, 2018 - 10:56:54 AM | $65.00 | i25669 |
| Feb 6, 2018 - 10:56:54 AM | $60.00 | i18043 |
| Feb 6, 2018 - 10:17:46 AM | $52.00 | i25669 |
| Feb 6, 2018 - 10:04:51 AM | $47.00 | i18043 |
| Feb 6, 2018 - 9:32:06 AM | $42.00 | i91163 |
| Feb 6, 2018 - 9:32:06 AM | $40.00 | iCanfciv |
| Feb 6, 2018 - 9:20:03 AM | $37.00 | iCanfciv |
| Feb 6, 2018 - 9:20:03 AM | $32.00 | i1129 |
| Feb 6, 2018 - 9:14:47 AM | $27.00 | iCanfciv |
| Feb 6, 2018 - 9:14:47 AM | $25.00 | iTrackman |
| Feb 6, 2018 - 3:18:00 AM | $17.00 | iTrackman |
| Feb 6, 2018 - 3:18:00 AM | $15.00 | ijwarrenevans |
| Feb 5, 2018 - 4:06:28 PM | $1.00 | ijwarrenevans |