Industrial Equipment, Material Handling Equipment, Conveyor Systems and Components, Supplies, Scissor Lifts, and Forklifts (636)
All items closed
More than 400 lots of industrial equipment, material handling equipment, conveyor systems and components, supplies, scissor lifts, forklifts and other surplus equipment from a Nashville company will sell to the highest bidders regardless of price.
Auction Manager:
Dwayne Smith
(615) 241-5756
dwayne@mclemoreauction.com
« Back to list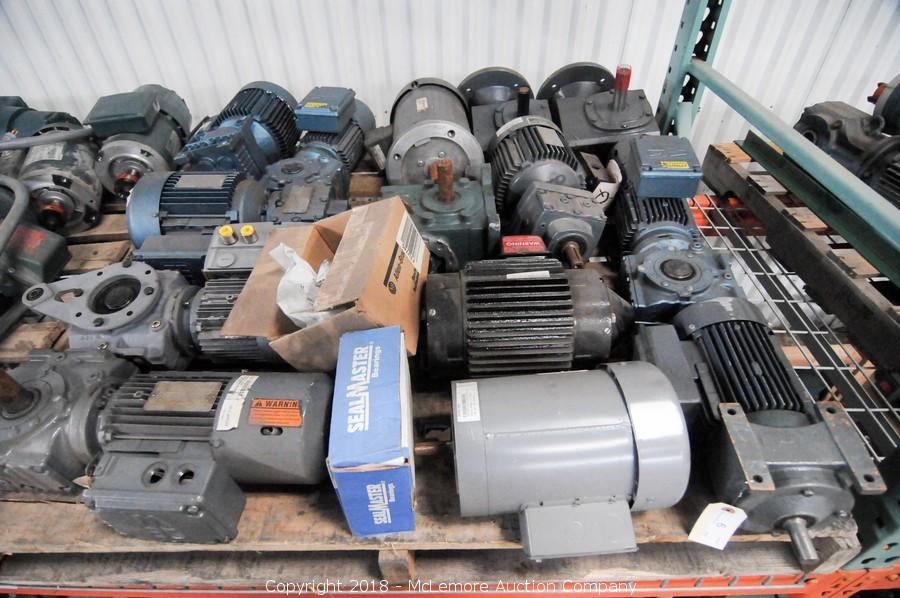 Lot #0006:
Pallet with 14 Electric Motors
Bidding is

closed

.
High Bid:
$115.00
NA
Bidding Ended:
Wed, Mar 28 2:40:49 pm CT
High Bidder:
jthig51
Bid Increment:
$10.00
Starting Bid:
$1.00
Item Location:

515 Foster St

,

Nashville

,

TN

37207

Item has been viewed 352 times.

| | | |
| --- | --- | --- |
| Bid Date | Bid Amount | Bidder |
| Mar 28, 2018 - 2:01:23 PM | $115.00 | ijthig51 |
| Mar 28, 2018 - 2:01:09 PM | $105.00 | iBuyer123456789 |
| Mar 28, 2018 - 2:01:03 PM | $100.00 | ijthig51 |
| Mar 28, 2018 - 2:01:04 PM | $100.00 | iBuyer123456789 |
| Mar 28, 2018 - 2:00:53 PM | $95.00 | ijthig51 |
| Mar 28, 2018 - 2:00:53 PM | $90.00 | iBuyer123456789 |
| Mar 28, 2018 - 1:43:15 PM | $85.00 | ijthig51 |
| Mar 28, 2018 - 1:43:15 PM | $80.00 | iPilkinj22 |
| Mar 28, 2018 - 1:32:31 PM | $75.00 | ijthig51 |
| Mar 28, 2018 - 1:32:31 PM | $74.00 | iBuyer123456789 |
| Mar 28, 2018 - 1:32:21 PM | $70.00 | iBuyer123456789 |
| Mar 28, 2018 - 1:32:21 PM | $65.00 | ijthig51 |
| Mar 28, 2018 - 1:32:12 PM | $60.00 | iBuyer123456789 |
| Mar 28, 2018 - 1:32:12 PM | $55.00 | ijthig51 |
| Mar 28, 2018 - 1:32:04 PM | $50.00 | iBuyer123456789 |
| Mar 28, 2018 - 1:32:04 PM | $45.00 | ijthig51 |
| Mar 28, 2018 - 1:31:53 PM | $40.00 | iBuyer123456789 |
| Mar 28, 2018 - 1:31:53 PM | $35.00 | ijthig51 |
| Mar 28, 2018 - 1:31:41 PM | $27.00 | iBuyer123456789 |
| Mar 28, 2018 - 1:31:41 PM | $25.00 | ijthig51 |
| Mar 28, 2018 - 11:38:58 AM | $23.00 | iBuyer123456789 |
| Mar 27, 2018 - 8:58:26 PM | $21.00 | iComradeTrump |
| Mar 25, 2018 - 9:25:41 PM | $19.00 | iJunkman1050 |
| Mar 23, 2018 - 12:20:42 PM | $17.00 | iBHunter17 |
| Mar 23, 2018 - 12:20:37 PM | $15.00 | iJunkman1050 |
| Mar 23, 2018 - 12:20:38 PM | $15.00 | iBHunter17 |
| Mar 18, 2018 - 10:25:26 AM | $13.00 | iJunkman1050 |
| Mar 18, 2018 - 10:25:26 AM | $11.00 | iabmccommon |
| Mar 15, 2018 - 6:59:10 AM | $10.00 | iJunkman1050 |
| Mar 15, 2018 - 6:59:10 AM | $9.00 | itkahn800 |
| Mar 12, 2018 - 10:56:50 PM | $8.00 | iJunkman1050 |
| Mar 10, 2018 - 5:08:58 AM | $7.00 | iabmccommon |
| Mar 10, 2018 - 5:08:58 AM | $6.00 | izb1994 |
| Mar 10, 2018 - 5:06:12 AM | $5.00 | iabmccommon |
| Mar 10, 2018 - 5:06:12 AM | $4.00 | izb1994 |
| Mar 9, 2018 - 7:40:40 AM | $3.00 | iabmccommon |
| Mar 8, 2018 - 2:49:04 PM | $2.00 | izb1994 |
| Mar 7, 2018 - 3:51:22 PM | $1.00 | iJunkman1050 |