Surplus Tools, Equipment, Light Fixtures, Parts, Ladders and More
From an Electrical Contractor in Nashville, TN (260)
All items closed
Elmore Electrical and Mechanical is moving and must sell their surplus by March 21. More than 260 lots of trailers, a trencher, light fixtures, power tools, equipment, spools of wire, job boxes, ladders, parts, electronics and more will sell to the highest bidders regardless of price. In addition, office furniture, decor, and household items will also sell.
Auction Manager:
Wilson Land
(615) 431-8853
wilson@mclemoreauction.com
« Back to list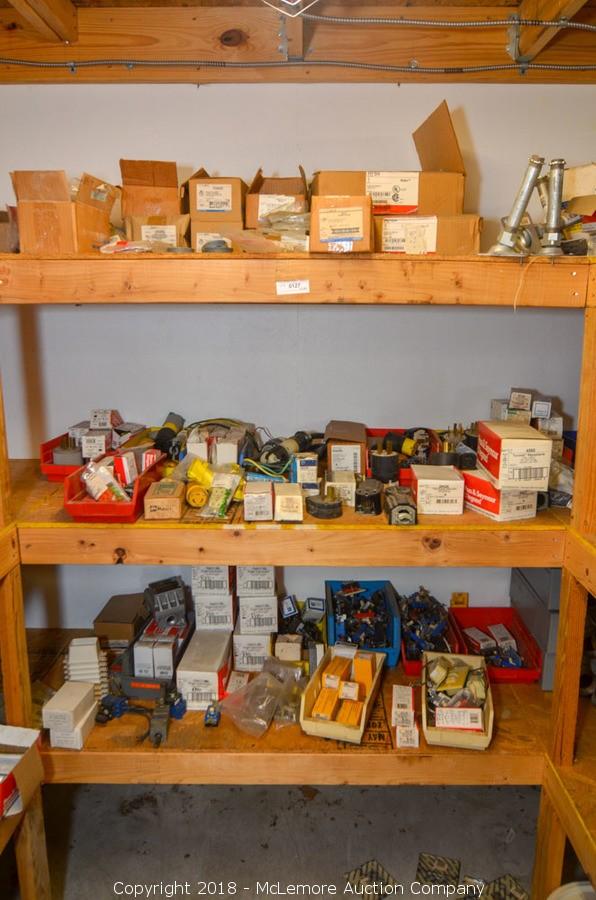 Lot #0127:
Shelves of Electrical Parts and Equipment
Bidding is

closed

.
High Bid:
$151.00
NA
Bidding Ended:
Wed, Mar 21 2:16:57 pm CT
High Bidder:
17672
Bid Increment:
$10.00
Starting Bid:
$1.00
Item Location:

401 Swinging Bridge Rd

,

Old Hickory

,

TN

37138

Item has been viewed 338 times.

Three shelves and contents on floor underneath bottom shelf.
| | | |
| --- | --- | --- |
| Bid Date | Bid Amount | Bidder |
| Mar 21, 2018 - 2:09:18 PM | $151.00 | i17672 |
| Mar 21, 2018 - 2:09:18 PM | $144.00 | i20479 |
| Mar 21, 2018 - 2:09:13 PM | $132.00 | i17672 |
| Mar 21, 2018 - 2:09:13 PM | $122.00 | i20479 |
| Mar 21, 2018 - 2:09:05 PM | $93.00 | i17672 |
| Mar 21, 2018 - 2:09:05 PM | $88.00 | i20479 |
| Mar 21, 2018 - 2:08:59 PM | $83.00 | i17672 |
| Mar 21, 2018 - 2:08:59 PM | $78.00 | i20479 |
| Mar 21, 2018 - 3:31:20 AM | $67.00 | i17672 |
| Mar 21, 2018 - 3:31:20 AM | $62.00 | iIWillFindACenterInYou |
| Mar 21, 2018 - 1:23:53 AM | $57.00 | i17672 |
| Mar 21, 2018 - 1:23:53 AM | $52.00 | iHarley2007 |
| Mar 21, 2018 - 1:23:49 AM | $47.00 | i17672 |
| Mar 21, 2018 - 1:23:49 AM | $42.00 | iHarley2007 |
| Mar 21, 2018 - 1:23:44 AM | $37.00 | i17672 |
| Mar 21, 2018 - 1:23:44 AM | $32.00 | iHarley2007 |
| Mar 20, 2018 - 6:41:12 PM | $27.00 | i17672 |
| Mar 20, 2018 - 4:56:15 PM | $25.00 | irboissonneault |
| Mar 20, 2018 - 4:56:16 PM | $25.00 | i21991 |
| Mar 20, 2018 - 4:56:05 PM | $23.00 | irboissonneault |
| Mar 20, 2018 - 4:56:05 PM | $21.00 | i21991 |
| Mar 20, 2018 - 1:45:27 PM | $19.00 | irboissonneault |
| Mar 20, 2018 - 1:45:27 PM | $17.00 | i18036 |
| Mar 16, 2018 - 10:03:55 PM | $15.00 | irboissonneault |
| Mar 16, 2018 - 10:03:55 PM | $13.00 | ichatelaine |
| Mar 16, 2018 - 10:03:54 PM | $11.00 | irboissonneault |
| Mar 16, 2018 - 10:03:54 PM | $10.00 | ichatelaine |
| Mar 16, 2018 - 10:03:53 PM | $9.00 | irboissonneault |
| Mar 16, 2018 - 10:03:53 PM | $8.00 | ichatelaine |
| Mar 16, 2018 - 10:03:51 PM | $7.00 | irboissonneault |
| Mar 16, 2018 - 10:03:51 PM | $6.00 | ichatelaine |
| Mar 16, 2018 - 10:03:50 PM | $5.00 | irboissonneault |
| Mar 16, 2018 - 10:03:50 PM | $4.00 | ichatelaine |
| Mar 16, 2018 - 10:03:48 PM | $3.00 | irboissonneault |
| Mar 16, 2018 - 10:03:48 PM | $2.00 | ichatelaine |
| Mar 15, 2018 - 7:43:44 PM | $1.00 | irboissonneault |