118± Acres Selling in 5 Tracts with Historic Cabin and Barn in Wayne and Hardin Counties (5)
All items closed
McLemore Auction Company, LLC is pleased to offer these 118± Acres in 5 tracts at online auction. A part of the Claude and Katherine Cole Estate, this historic property includes a log home and log barn believed to be approximately 200 years old. The property also features excellent hardwood timber, beautiful pasture ground, plentiful running water, and an abundance of wildlife. The tracts are located in both Hardin and Wayne Counties. The property features frontage on Norwood Road and Hardin Creek Road. Brashier Branch, a year-round stream, flows through the property. Electricity is available to each tract. This auction is a rare opportunity to purchase a quality farm near the Tennessee River and historic Clifton, TN. The property is also convenient to Savannah and Waynesboro. In conjunction with Heritage Real Estate and Auction Company, Inc.
Auction Manager:
Jeff Wilkes
(731) 607-8213
jeff@mclemoreauction.com

« Back to list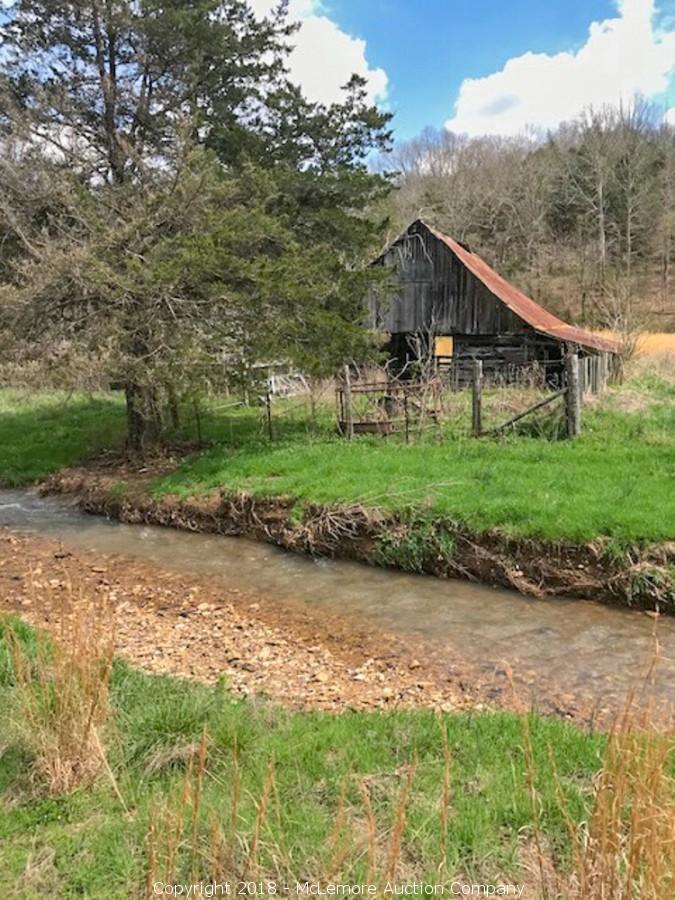 Lot #0002:
33.24± Acres with Historic Log Barn
Bidding is

closed

.
High Bid:
$115,500.00
NA
Bidding Ended:
Thu, May 3 1:02:30 pm CT
High Bidder:
chrisinjackson
Bid Increment:
$2,500.00
Starting Bid:
$1.00
Item Location:

Hardin Creek Rd

,

Clifton

,

TN

38425

Item has been viewed 2,122 times.

Includes historic log barn believed to be approximately 200 years old

Former home of notorious soldier, gunslinger, and outlaw, Clay Allison

A portion of Wayne County, TN Tax ID 071 002.00 and/or Hardin County TN Tax ID 041 002.00
Electricity available
| | | |
| --- | --- | --- |
| Bid Date | Bid Amount | Bidder |
| May 3, 2018 - 12:57:24 PM | $115,500.00 | ichrisinjackson |
| May 3, 2018 - 12:49:19 PM | $113,000.00 | iD & D YOUNG |
| May 3, 2018 - 12:49:03 PM | $110,500.00 | ichrisinjackson |
| May 3, 2018 - 12:40:34 PM | $108,000.00 | iD & D YOUNG |
| May 3, 2018 - 12:40:08 PM | $105,500.00 | ichrisinjackson |
| May 3, 2018 - 12:36:21 PM | $103,000.00 | iD & D YOUNG |
| May 3, 2018 - 12:35:32 PM | $100,500.00 | ichrisinjackson |
| May 3, 2018 - 12:34:18 PM | $99,500.00 | iD & D YOUNG |
| May 3, 2018 - 12:34:01 PM | $98,500.00 | ichrisinjackson |
| May 3, 2018 - 12:33:24 PM | $97,500.00 | iD & D YOUNG |
| May 3, 2018 - 12:33:12 PM | $96,500.00 | ichrisinjackson |
| May 3, 2018 - 12:32:48 PM | $95,500.00 | iD & D YOUNG |
| May 3, 2018 - 12:32:29 PM | $94,500.00 | ichrisinjackson |
| May 3, 2018 - 12:32:01 PM | $93,500.00 | iD & D YOUNG |
| May 3, 2018 - 12:31:41 PM | $92,500.00 | ichrisinjackson |
| May 3, 2018 - 12:30:02 PM | $91,500.00 | iD & D YOUNG |
| May 3, 2018 - 12:29:38 PM | $90,500.00 | ichrisinjackson |
| May 3, 2018 - 12:25:29 PM | $89,500.00 | iD & D YOUNG |
| May 3, 2018 - 12:25:13 PM | $88,500.00 | ichrisinjackson |
| May 3, 2018 - 12:21:11 PM | $87,500.00 | iD & D YOUNG |
| May 3, 2018 - 12:20:56 PM | $86,500.00 | ichrisinjackson |
| May 3, 2018 - 12:17:48 PM | $85,500.00 | iD & D YOUNG |
| May 3, 2018 - 12:17:34 PM | $84,500.00 | ichrisinjackson |
| May 3, 2018 - 12:14:27 PM | $83,500.00 | iD & D YOUNG |
| May 3, 2018 - 12:13:45 PM | $82,500.00 | iOlfarmer |
| May 3, 2018 - 12:12:39 PM | $81,500.00 | iD & D YOUNG |
| May 3, 2018 - 12:12:39 PM | $81,000.00 | iOlfarmer |
| May 3, 2018 - 12:12:08 PM | $80,000.00 | iOlfarmer |
| May 3, 2018 - 12:10:59 PM | $79,000.00 | iD & D YOUNG |
| May 3, 2018 - 12:10:44 PM | $78,000.00 | iOlfarmer |
| May 3, 2018 - 12:10:44 PM | $77,500.00 | iD & D YOUNG |
| May 3, 2018 - 12:10:29 PM | $76,500.00 | iOlfarmer |
| May 3, 2018 - 12:08:34 PM | $75,500.00 | iD & D YOUNG |
| May 3, 2018 - 12:08:34 PM | $75,000.00 | iOlfarmer |
| May 3, 2018 - 12:08:01 PM | $74,500.00 | iOlfarmer |
| May 3, 2018 - 12:08:01 PM | $73,500.00 | iD & D YOUNG |
| May 3, 2018 - 12:07:46 PM | $72,000.00 | iOlfarmer |
| May 3, 2018 - 12:04:44 PM | $71,000.00 | iD & D YOUNG |
| May 3, 2018 - 12:04:44 PM | $70,000.00 | iOlfarmer |
| May 3, 2018 - 12:04:33 PM | $69,500.00 | iOlfarmer |
| May 3, 2018 - 12:03:47 PM | $68,500.00 | iD & D YOUNG |
| May 3, 2018 - 12:03:47 PM | $68,000.00 | iOlfarmer |
| May 3, 2018 - 12:03:35 PM | $67,000.00 | iOlfarmer |
| May 3, 2018 - 12:03:14 PM | $66,000.00 | iD & D YOUNG |
| May 3, 2018 - 12:03:15 PM | $66,000.00 | iOlfarmer |
| May 3, 2018 - 12:02:59 PM | $65,000.00 | iD & D YOUNG |
| May 3, 2018 - 12:02:41 PM | $64,000.00 | iOlfarmer |
| May 3, 2018 - 12:02:42 PM | $64,000.00 | iD & D YOUNG |
| May 3, 2018 - 12:02:24 PM | $62,500.00 | iOlfarmer |
| May 3, 2018 - 12:02:24 PM | $61,500.00 | iD & D YOUNG |
| May 3, 2018 - 12:01:48 PM | $61,000.00 | iD & D YOUNG |
| May 3, 2018 - 12:01:29 PM | $60,000.00 | i29006 |
| May 3, 2018 - 12:01:29 PM | $59,000.00 | iOlfarmer |
| May 3, 2018 - 12:01:13 PM | $58,000.00 | iOlfarmer |
| May 3, 2018 - 12:00:07 PM | $57,000.00 | iD & D YOUNG |
| May 3, 2018 - 12:00:07 PM | $56,000.00 | iOlfarmer |
| May 3, 2018 - 11:59:52 AM | $55,500.00 | iOlfarmer |
| May 3, 2018 - 11:58:39 AM | $54,500.00 | iD & D YOUNG |
| May 3, 2018 - 11:58:39 AM | $54,000.00 | iKenlyons |
| May 3, 2018 - 11:56:58 AM | $53,050.00 | iKenlyons |
| May 3, 2018 - 11:56:58 AM | $52,050.00 | iIRT |
| May 3, 2018 - 11:55:54 AM | $51,050.00 | iKenlyons |
| May 3, 2018 - 11:55:54 AM | $50,050.00 | iIRT |
| May 3, 2018 - 11:55:30 AM | $49,550.00 | iKenlyons |
| May 3, 2018 - 11:54:55 AM | $49,050.00 | ichrisinjackson |
| May 3, 2018 - 11:54:52 AM | $48,550.00 | iKenlyons |
| May 3, 2018 - 11:54:52 AM | $48,500.00 | ichrisinjackson |
| May 3, 2018 - 11:54:50 AM | $48,000.00 | iKenlyons |
| May 3, 2018 - 11:54:50 AM | $47,500.00 | ichrisinjackson |
| May 3, 2018 - 11:54:47 AM | $47,000.00 | iKenlyons |
| May 3, 2018 - 11:54:47 AM | $46,500.00 | ichrisinjackson |
| May 3, 2018 - 11:54:40 AM | $46,000.00 | iKenlyons |
| May 3, 2018 - 11:54:40 AM | $45,500.00 | ichrisinjackson |
| May 3, 2018 - 11:54:33 AM | $45,000.00 | iKenlyons |
| May 3, 2018 - 11:49:17 AM | $44,500.00 | ichrisinjackson |
| May 3, 2018 - 11:49:14 AM | $44,000.00 | iOlfarmer |
| May 3, 2018 - 11:49:15 AM | $44,000.00 | ichrisinjackson |
| May 3, 2018 - 11:49:11 AM | $43,500.00 | iOlfarmer |
| May 3, 2018 - 11:49:11 AM | $43,000.00 | ichrisinjackson |
| May 3, 2018 - 11:49:05 AM | $42,500.00 | iOlfarmer |
| May 3, 2018 - 11:46:59 AM | $42,000.00 | ichrisinjackson |
| May 3, 2018 - 11:46:49 AM | $41,500.00 | iOlfarmer |
| May 3, 2018 - 11:20:04 AM | $41,000.00 | ichrisinjackson |
| May 3, 2018 - 11:19:02 AM | $40,500.00 | i29006 |
| May 3, 2018 - 11:19:02 AM | $40,000.00 | ichrisinjackson |
| May 3, 2018 - 11:16:08 AM | $39,500.00 | i29006 |
| May 3, 2018 - 11:16:08 AM | $39,000.00 | ichrisinjackson |
| May 3, 2018 - 10:54:04 AM | $38,500.00 | i29006 |
| May 3, 2018 - 10:54:04 AM | $38,000.00 | i83289 |
| Apr 29, 2018 - 12:41:34 PM | $37,500.00 | i29006 |
| Apr 29, 2018 - 12:41:34 PM | $37,000.00 | i17516 Old Gringo |
| Apr 25, 2018 - 9:07:56 PM | $35,500.00 | i17516 Old Gringo |
| Apr 25, 2018 - 9:07:30 PM | $35,000.00 | i29006 |
| Apr 25, 2018 - 9:07:31 PM | $35,000.00 | i17516 Old Gringo |
| Apr 24, 2018 - 12:05:10 PM | $32,500.00 | i29006 |
| Apr 24, 2018 - 12:04:12 PM | $32,000.00 | i8971 |
| Apr 24, 2018 - 12:04:13 PM | $32,000.00 | i29006 |
| Apr 23, 2018 - 1:48:31 PM | $20,250.00 | i8971 |
| Apr 23, 2018 - 1:48:31 PM | $20,000.00 | iLesupc |
| Apr 23, 2018 - 1:47:44 PM | $18,250.00 | i8971 |
| Apr 23, 2018 - 1:47:44 PM | $18,000.00 | iLesupc |
| Apr 16, 2018 - 9:52:23 AM | $15,260.00 | i8971 |
| Apr 16, 2018 - 7:44:02 AM | $15,010.00 | i29532 |
| Apr 16, 2018 - 7:44:02 AM | $15,000.00 | i17516 Old Gringo |
| Apr 16, 2018 - 7:43:49 AM | $13,250.00 | i17516 Old Gringo |
| Apr 16, 2018 - 7:43:49 AM | $13,000.00 | i29532 |
| Apr 16, 2018 - 7:43:36 AM | $10,600.00 | i17516 Old Gringo |
| Apr 16, 2018 - 7:43:36 AM | $10,350.00 | i29532 |
| Apr 16, 2018 - 1:55:56 AM | $10,100.00 | i17516 Old Gringo |
| Apr 16, 2018 - 1:55:34 AM | $10,000.00 | i29532 |
| Apr 16, 2018 - 1:55:35 AM | $10,000.00 | i17516 Old Gringo |
| Apr 15, 2018 - 8:28:58 PM | $5,050.00 | i29532 |
| Apr 15, 2018 - 8:28:58 PM | $5,000.00 | i17516 Old Gringo |
| Apr 15, 2018 - 8:28:36 PM | $2,150.00 | i17516 Old Gringo |
| Apr 15, 2018 - 8:28:36 PM | $2,100.00 | i29532 |
| Apr 12, 2018 - 7:32:05 AM | $2,050.00 | i17516 Old Gringo |
| Apr 12, 2018 - 7:32:05 AM | $2,000.00 | iTailgateworkbench |
| Apr 11, 2018 - 1:10:18 PM | $1,025.00 | iTailgateworkbench |
| Apr 11, 2018 - 1:10:18 PM | $1,000.00 | i17516 Old Gringo |
| Apr 11, 2018 - 9:43:17 AM | $1.00 | iTailgateworkbench |