Antique and Fine Furniture, Original Artwork, Table Service and Decor in Nashville, TN (98)
All items closed
Almost 100 lots of fine and antique furniture, original artwork including oil paintings by Nashville artist Robert Witherspoon, sterling silver, fine table service, books and home decor will sell to the highest bidders regardless of price.
Auction Manager:
Wilson Land
(615) 972-4254
wilson@mclemoreauction.com
« Back to list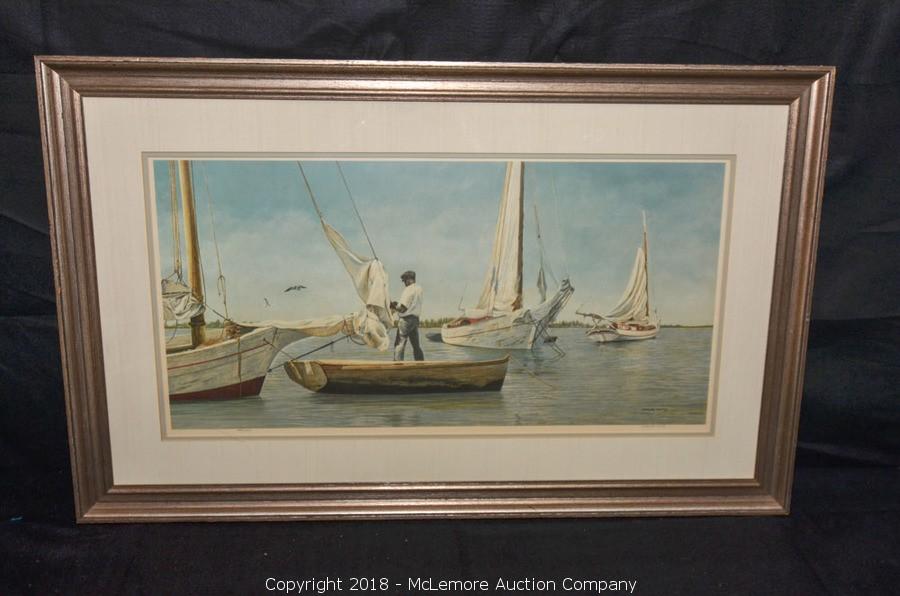 Lot #0060:
Framed Print of "Bahamian Sloop" by Wellington Ward. Jr.

L 25" x W 40"
Measurements include frame.
| | | |
| --- | --- | --- |
| Bid Date | Bid Amount | Bidder |
| May 2, 2018 - 2:19:09 PM | $65.00 | iIraq0311 |
| May 2, 2018 - 2:19:10 PM | $65.00 | iTimrob |
| May 2, 2018 - 2:17:14 PM | $60.00 | iIraq0311 |
| May 2, 2018 - 2:17:15 PM | $60.00 | iTimrob |
| May 2, 2018 - 2:17:06 PM | $55.00 | iIraq0311 |
| May 2, 2018 - 2:17:06 PM | $50.00 | iTimrob |
| May 2, 2018 - 2:15:17 PM | $45.00 | iIraq0311 |
| May 2, 2018 - 2:15:12 PM | $40.00 | iTimrob |
| May 2, 2018 - 2:15:08 PM | $35.00 | iIraq0311 |
| May 2, 2018 - 2:15:08 PM | $32.00 | iTimrob |
| May 2, 2018 - 2:10:50 PM | $27.00 | iIraq0311 |
| May 2, 2018 - 2:10:50 PM | $25.00 | iTimrob |
| May 2, 2018 - 2:10:47 PM | $23.00 | iIraq0311 |
| May 2, 2018 - 2:10:47 PM | $21.00 | iTimrob |
| May 2, 2018 - 10:59:28 AM | $19.00 | iIraq0311 |
| May 2, 2018 - 10:59:28 AM | $17.00 | i9551947 |
| May 2, 2018 - 6:40:06 AM | $15.00 | iIraq0311 |
| May 2, 2018 - 6:40:06 AM | $13.00 | i21418 |
| May 1, 2018 - 9:49:40 PM | $11.00 | iIraq0311 |
| May 1, 2018 - 9:49:38 PM | $10.00 | i17292 |
| May 1, 2018 - 9:49:39 PM | $10.00 | iIraq0311 |
| May 1, 2018 - 9:49:35 PM | $9.00 | i17292 |
| May 1, 2018 - 9:49:35 PM | $8.00 | iIraq0311 |
| May 1, 2018 - 4:06:15 PM | $7.00 | i17292 |
| May 1, 2018 - 4:06:15 PM | $6.00 | i13196 |
| Apr 29, 2018 - 8:57:48 PM | $4.00 | i17292 |
| Apr 21, 2018 - 6:57:06 AM | $3.00 | iblue fish 260 |
| Apr 18, 2018 - 4:33:39 PM | $2.00 | iGovnah |
| Apr 17, 2018 - 10:24:36 PM | $1.00 | iMaxMaxMax |