Nutter Equipment Business Liquidation of Heavy Equipment, Toro Mowers, Tools, Parts, Supplies and Shelving (713)
All items closed
Jim Nutter of Nutter Equipment, Rental, Sales and Service is retiring and has contracted McLemore Auction Company, LLC to liquidate all the equipment, mowers, lawn and garden, tools, parts, supplies and shelving used in the business. A Kubota B26 tractor with loader and backhoe, Kubota mini excavator, 2 Bobcat S530 skid steers, Vermeer trenchers, stump grinders, Echo BearCat chipper shredders, man lifts, new Toro zero turn mowers, Shindaiwa chain saws, Echo chain saws plus much more will sell to the highest bidders regardless of price.
Auction Manager:
Dwayne Smith
(615) 509-2428
dwayne@mclemoreauction.com
« Back to list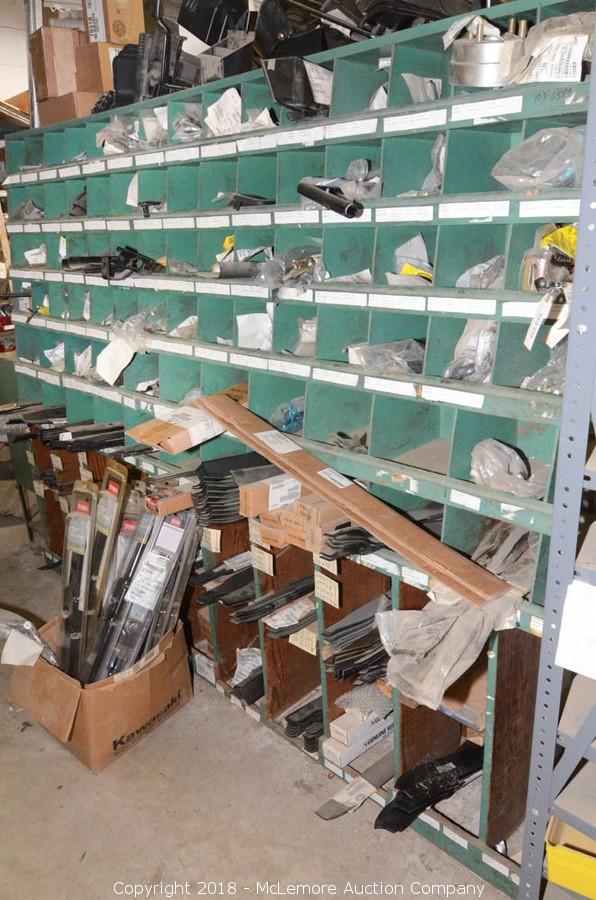 Lot #0379:
Assortment of Toro Mower Parts and Blades
Bidding is

closed

.
High Bid:
$300.00
NA
Bidding Ended:
Thu, Aug 2 3:10:41 pm CT
High Bidder:
Jimbo777
Bid Increment:
$10.00
Starting Bid:
$1.00
Item Location:

101 Jennings Ave

,

Lebanon

,

TN

37087

Item has been viewed 345 times.

Does NOT include shelving. Does NOT include items on top of shelf.
| | | |
| --- | --- | --- |
| Bid Date | Bid Amount | Bidder |
| Aug 2, 2018 - 3:05:35 PM | $300.00 | iJimbo777 |
| Aug 2, 2018 - 3:05:35 PM | $290.00 | iDsanders |
| Aug 2, 2018 - 3:01:38 PM | $280.00 | iJimbo777 |
| Aug 2, 2018 - 3:01:18 PM | $270.00 | iDsanders |
| Aug 2, 2018 - 3:00:26 PM | $260.00 | iJimbo777 |
| Aug 2, 2018 - 3:00:26 PM | $251.00 | iDsanders |
| Aug 2, 2018 - 2:45:48 PM | $250.00 | iDsanders |
| Aug 2, 2018 - 2:45:48 PM | $240.00 | i20479 |
| Aug 2, 2018 - 2:44:59 PM | $230.00 | iDsanders |
| Aug 2, 2018 - 2:44:59 PM | $220.00 | i20479 |
| Aug 2, 2018 - 2:42:46 PM | $210.00 | iDsanders |
| Aug 2, 2018 - 2:42:46 PM | $200.00 | i20479 |
| Aug 2, 2018 - 2:41:53 PM | $190.00 | iDsanders |
| Aug 2, 2018 - 2:41:26 PM | $180.00 | iStang15 |
| Aug 2, 2018 - 2:41:27 PM | $180.00 | iDsanders |
| Aug 2, 2018 - 2:40:42 PM | $170.00 | iStang15 |
| Aug 2, 2018 - 2:33:26 PM | $160.00 | iDsanders |
| Aug 2, 2018 - 2:33:26 PM | $150.00 | i28036 |
| Aug 2, 2018 - 2:32:48 PM | $120.00 | i28036 |
| Aug 2, 2018 - 2:32:48 PM | $110.00 | iDsanders |
| Aug 2, 2018 - 5:09:22 AM | $95.00 | iDsanders |
| Aug 1, 2018 - 11:24:01 PM | $90.00 | i28862 |
| Jul 29, 2018 - 1:16:51 PM | $85.00 | iDsanders |
| Jul 29, 2018 - 1:16:51 PM | $80.00 | iStang15 |
| Jul 29, 2018 - 10:48:52 AM | $60.00 | iStang15 |
| Jul 27, 2018 - 10:27:02 PM | $55.00 | iDsanders |
| Jul 27, 2018 - 10:27:03 PM | $55.00 | ihibbsprinting |
| Jul 27, 2018 - 10:25:18 PM | $31.00 | iDsanders |
| Jul 27, 2018 - 10:25:18 PM | $26.00 | ihibbsprinting |
| Jul 25, 2018 - 8:47:54 PM | $11.00 | iDsanders |
| Jul 25, 2018 - 8:47:54 PM | $10.00 | i23980 |
| Jul 25, 2018 - 8:47:49 PM | $9.00 | iDsanders |
| Jul 25, 2018 - 8:47:49 PM | $8.00 | i23980 |
| Jul 18, 2018 - 5:54:17 AM | $7.00 | iDsanders |
| Jul 18, 2018 - 5:54:17 AM | $6.00 | inewby1 |
| Jul 17, 2018 - 9:05:32 PM | $3.00 | inewby1 |
| Jul 17, 2018 - 9:05:32 PM | $2.00 | iDsanders |
| Jul 13, 2018 - 6:44:29 AM | $1.00 | iDsanders |