65 Lots in Beechview Development Including Waterfront and Waterview Lots (65)
All items closed
McLemore Auction Company, LLC and Heritage Auction and Real Estate, Inc. are pleased to offer these 65 building lots in the Beechview Development on the Tennessee River near Clifton, TN at auction. All lots feature city water and access to electric service. The development offers a community boat ramp. Beechview is known as one of the premier camping and home sites on the Tennessee River. Conveniently located near historic Clifton, Tennessee.
Auction Manager:
Jeff Wilkes
(866) 938-1124
jeff@mclemoreauction.com

« Back to list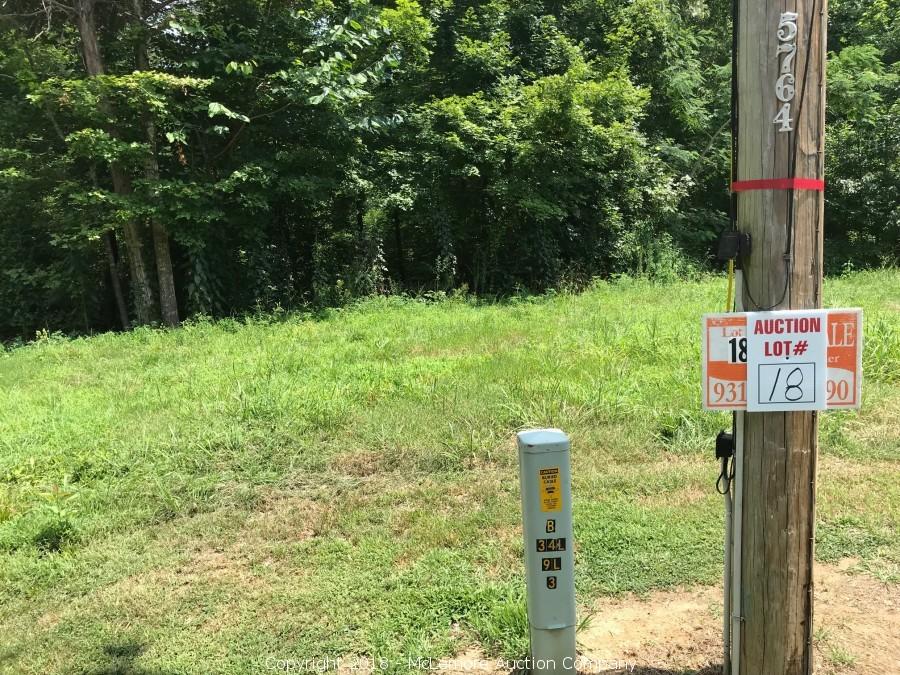 Lot #0018:
0.50± Acres - Permitted for 2 Bedrooms
Bidding is

closed

.
High Bid:
$1,575.00
NA
Bidding Ended:
Thu, Aug 16 2:59:17 pm CT
High Bidder:
Nwhite
Bid Increment:
$50.00
Starting Bid:
$1.00
Item Location:

Beechview Dr

,

Clifton

,

TN

38425

Item has been viewed 616 times.

Section 3-D, Plat Cabinet A, Page 35
Lot 18, T.M. 12N GP. B PL. 8
East Side Beechview Drive
Wooded 100' X 225'
| | | |
| --- | --- | --- |
| Bid Date | Bid Amount | Bidder |
| Aug 16, 2018 - 11:52:15 AM | $1,575.00 | iNwhite |
| Aug 16, 2018 - 11:52:15 AM | $1,525.00 | idj21t |
| Aug 16, 2018 - 11:51:43 AM | $1,475.00 | iNwhite |
| Aug 16, 2018 - 11:51:43 AM | $1,425.00 | idj21t |
| Aug 16, 2018 - 11:40:07 AM | $1,375.00 | iNwhite |
| Aug 16, 2018 - 11:40:07 AM | $1,325.00 | idj21t |
| Aug 16, 2018 - 11:27:12 AM | $1,275.00 | iNwhite |
| Aug 16, 2018 - 11:27:12 AM | $1,225.00 | idj21t |
| Aug 16, 2018 - 11:26:35 AM | $1,175.00 | iNwhite |
| Aug 16, 2018 - 11:26:35 AM | $1,125.00 | idj21t |
| Aug 16, 2018 - 11:07:36 AM | $1,075.00 | iNwhite |
| Aug 16, 2018 - 11:03:52 AM | $1,025.00 | idj21t |
| Aug 16, 2018 - 11:03:47 AM | $1,000.00 | iNwhite |
| Aug 16, 2018 - 11:03:47 AM | $975.00 | idj21t |
| Aug 16, 2018 - 11:03:43 AM | $950.00 | iNwhite |
| Aug 16, 2018 - 11:03:43 AM | $925.00 | idj21t |
| Aug 16, 2018 - 11:03:39 AM | $900.00 | iNwhite |
| Aug 16, 2018 - 11:03:39 AM | $875.00 | idj21t |
| Aug 16, 2018 - 11:03:35 AM | $850.00 | iNwhite |
| Aug 16, 2018 - 11:03:35 AM | $825.00 | idj21t |
| Aug 16, 2018 - 11:03:31 AM | $800.00 | iNwhite |
| Aug 16, 2018 - 11:03:31 AM | $775.00 | idj21t |
| Aug 16, 2018 - 11:03:26 AM | $750.00 | iNwhite |
| Aug 16, 2018 - 11:03:26 AM | $725.00 | idj21t |
| Aug 16, 2018 - 11:03:22 AM | $700.00 | iNwhite |
| Aug 16, 2018 - 11:03:22 AM | $675.00 | idj21t |
| Aug 16, 2018 - 11:03:17 AM | $650.00 | iNwhite |
| Aug 16, 2018 - 11:03:17 AM | $625.00 | idj21t |
| Aug 16, 2018 - 9:27:06 AM | $600.00 | iNwhite |
| Aug 16, 2018 - 9:26:00 AM | $575.00 | i18143 |
| Aug 16, 2018 - 9:26:00 AM | $550.00 | iNwhite |
| Aug 16, 2018 - 9:23:44 AM | $535.00 | iNwhite |
| Aug 16, 2018 - 9:18:06 AM | $510.00 | i18143 |
| Aug 16, 2018 - 9:18:05 AM | $500.00 | iMlangley |
| Aug 16, 2018 - 9:18:05 AM | $490.00 | i18143 |
| Aug 16, 2018 - 9:18:03 AM | $480.00 | iMlangley |
| Aug 16, 2018 - 9:18:03 AM | $470.00 | i18143 |
| Aug 16, 2018 - 9:12:10 AM | $460.00 | iMlangley |
| Aug 16, 2018 - 9:12:10 AM | $450.00 | iNwhite |
| Aug 16, 2018 - 8:24:59 AM | $420.00 | iNwhite |
| Aug 16, 2018 - 7:15:28 AM | $410.00 | i18143 |
| Aug 16, 2018 - 7:15:28 AM | $400.00 | iJeremywash |
| Aug 15, 2018 - 10:29:55 PM | $360.00 | iJeremywash |
| Aug 15, 2018 - 10:29:55 PM | $350.00 | iNwhite |
| Aug 15, 2018 - 9:27:25 PM | $310.00 | iNwhite |
| Aug 15, 2018 - 9:26:43 PM | $300.00 | irudolph |
| Aug 15, 2018 - 9:26:44 PM | $300.00 | iNwhite |
| Aug 15, 2018 - 9:24:40 PM | $285.00 | irudolph |
| Aug 15, 2018 - 9:24:40 PM | $275.00 | iNwhite |
| Aug 15, 2018 - 8:59:45 PM | $241.00 | irudolph |
| Aug 15, 2018 - 6:36:36 PM | $231.00 | iJeremywash |
| Aug 15, 2018 - 8:56:55 AM | $221.00 | iNwhite |
| Aug 15, 2018 - 7:08:15 AM | $211.00 | i18143 |
| Aug 15, 2018 - 7:08:15 AM | $201.00 | i19201 |
| Aug 14, 2018 - 7:35:21 PM | $155.00 | i19201 |
| Aug 13, 2018 - 9:13:05 AM | $145.00 | i18143 |
| Aug 7, 2018 - 2:49:05 PM | $135.00 | iDgrove |
| Aug 7, 2018 - 2:49:00 PM | $125.00 | iJeremywash |
| Aug 7, 2018 - 2:49:00 PM | $115.00 | iDgrove |
| Aug 7, 2018 - 2:48:52 PM | $105.00 | iJeremywash |
| Aug 7, 2018 - 2:48:52 PM | $100.00 | iDgrove |
| Aug 7, 2018 - 2:48:47 PM | $95.00 | iJeremywash |
| Aug 7, 2018 - 2:48:47 PM | $90.00 | iDgrove |
| Aug 7, 2018 - 2:48:42 PM | $85.00 | iJeremywash |
| Aug 7, 2018 - 2:48:42 PM | $80.00 | iDgrove |
| Aug 7, 2018 - 2:48:37 PM | $75.00 | iJeremywash |
| Aug 7, 2018 - 2:48:37 PM | $70.00 | iDgrove |
| Aug 5, 2018 - 8:44:47 AM | $65.00 | iJeremywash |
| Aug 5, 2018 - 8:44:47 AM | $60.00 | igladys |
| Jul 27, 2018 - 6:05:01 PM | $55.00 | igladys |
| Jul 27, 2018 - 6:05:01 PM | $50.00 | i19201 |
| Jul 27, 2018 - 2:31:13 PM | $6.00 | i19201 |
| Jul 27, 2018 - 2:31:13 PM | $5.00 | igladys |
| Jul 22, 2018 - 6:39:25 PM | $1.00 | igladys |