Quality Filtration Surplus Equipment, Shelving, Tools and Office Furniture Liquidation (101)
All items closed
DesCase Corporation has acquired Quality Filtration and has contracted with McLemore Auction Company, LLC to liquidate all surplus equipment, shelving, tools and office furniture. Everything will sell to the highest bidders regardless of price.
Auction Manager:
Dwayne Smith
615-509-2428
dwayne@mclemoreauction.com
« Back to list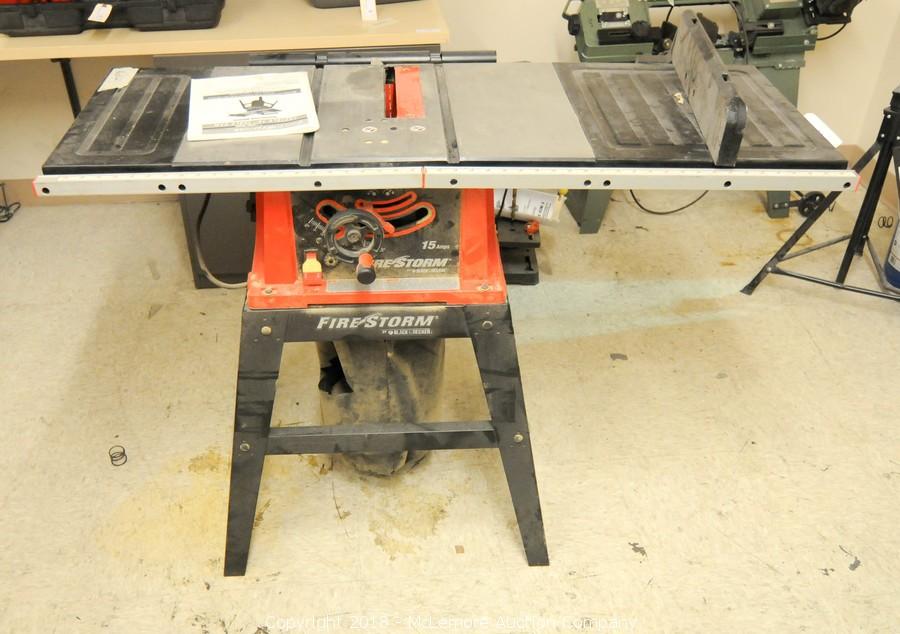 Lot #0030:
Black & Decker Firestorm Model FS210LS 10" Table Saw
Bidding is

closed

.
High Bid:
$145.00
NA
Bidding Ended:
Thu, Jul 26 2:03:22 pm CT
High Bidder:
Stacy
Bid Increment:
$10.00
Starting Bid:
$1.00
Item Location:

5215 Linbar Dr

,

Nashville

,

TN

37211

Item has been viewed 592 times.

15amp, 120volt, Powers on when plugged in. Power switch needs work but saw does power on.
| | | |
| --- | --- | --- |
| Bid Date | Bid Amount | Bidder |
| Jul 26, 2018 - 1:58:22 PM | $145.00 | iStacy |
| Jul 26, 2018 - 1:58:22 PM | $135.00 | iRH2016 |
| Jul 26, 2018 - 1:57:36 PM | $125.00 | iStacy |
| Jul 26, 2018 - 1:57:36 PM | $115.00 | iRH2016 |
| Jul 22, 2018 - 7:38:35 PM | $105.00 | iStacy |
| Jul 22, 2018 - 7:37:44 PM | $100.00 | iJimmysparts |
| Jul 22, 2018 - 7:37:45 PM | $100.00 | iStacy |
| Jul 22, 2018 - 7:37:16 PM | $66.56 | iJimmysparts |
| Jul 22, 2018 - 7:37:16 PM | $61.56 | iStacy |
| Jul 20, 2018 - 8:02:35 PM | $56.56 | iJimmysparts |
| Jul 20, 2018 - 8:02:35 PM | $51.56 | iColintiger59 |
| Jul 12, 2018 - 10:31:45 AM | $40.00 | iColintiger59 |
| Jul 10, 2018 - 6:59:21 PM | $35.00 | iLpayne |
| Jul 10, 2018 - 6:59:16 PM | $30.00 | i1guignol |
| Jul 10, 2018 - 6:59:16 PM | $27.00 | iLpayne |
| Jul 10, 2018 - 6:59:11 PM | $25.00 | i1guignol |
| Jul 10, 2018 - 6:59:11 PM | $23.00 | iLpayne |
| Jul 10, 2018 - 6:59:02 PM | $21.00 | i1guignol |
| Jul 10, 2018 - 6:59:02 PM | $19.00 | iLpayne |
| Jul 10, 2018 - 6:58:53 PM | $17.00 | i1guignol |
| Jul 10, 2018 - 6:58:53 PM | $15.00 | iLpayne |
| Jul 10, 2018 - 6:58:47 PM | $13.00 | i1guignol |
| Jul 10, 2018 - 6:58:47 PM | $11.00 | iLpayne |
| Jul 10, 2018 - 6:58:41 PM | $10.00 | i1guignol |
| Jul 10, 2018 - 6:58:41 PM | $9.00 | iLpayne |
| Jul 10, 2018 - 6:58:36 PM | $8.00 | i1guignol |
| Jul 10, 2018 - 6:58:36 PM | $7.00 | iLpayne |
| Jul 10, 2018 - 6:58:29 PM | $6.00 | i1guignol |
| Jul 10, 2018 - 6:58:29 PM | $5.00 | iLpayne |
| Jul 10, 2018 - 5:00:20 PM | $4.00 | i1guignol |
| Jul 10, 2018 - 4:24:10 PM | $3.00 | i1129 |
| Jul 9, 2018 - 11:50:09 PM | $2.00 | i1guignol |
| Jul 9, 2018 - 6:50:51 PM | $1.00 | i1129 |