131.68± Acres in 3 Tracts - Scenic Property on the Duck River near Williamsport, TN (Maury County) (3)
All items closed

McLemore Auction Company, LLC is pleased to offer this magnificent rural getaway in three tracts at online auction. Tract 1 fronts Williamsport Pike and offers panoramic views, a metal building, a tobacco barn and a grain bin. Tract 2 includes a pond and 6 stall horse barn. Tract 3 provides an incredible river cabin site near the former Middle Tennessee Railroad Company Bridge, ca. 1905. Tracts 2 and 3 offer Duck River frontage and building sites out of the flood plain with superb views. All tracts feature access to public water and electricity.
Auction Manager:
Will McLemore
(615) 235-0998
will@mclemoreauction.com

« Back to list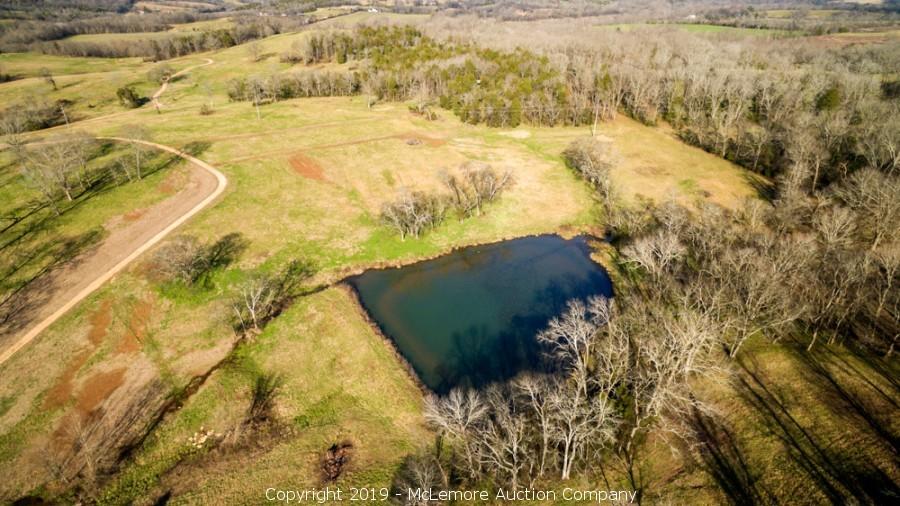 Lot #0002:
75.8± Acres with Pond and Duck River Frontage
Bidding is

closed

.
High Bid:
$202,500.00
NA
Bidding Ended:
Thu, Mar 28 12:32:29 pm CT
High Bidder:
Dke39110
Bid Increment:
$2,500.00
Starting Bid:
$1.00
Item Location:

3148 Williamsport Pike

,

Williamsport

,

TN

38487

Item has been viewed 2,847 times.

Raw Scenic Beauty
Multiple Building Sites Including "Pinnacle Hill"
Incredible Views
Public Water (See Easement Section in Auction Terms)
Electricity (See Easement Section in Auction Terms)
20' x 70' Metal Clad 6 Stall Horse Barn
200' Frontage on Williamsport Pk
Duck River Frontage 
Existing Drive on Tract also Provides Access to Tract 3 via Easement
See Property Information Package for Restrictive Covenants to be Recorded if the Property Sells in Tracts
| | | |
| --- | --- | --- |
| Bid Date | Bid Amount | Bidder |
| Mar 28, 2019 - 12:27:29 PM | $202,500.00 | iDke39110 |
| Mar 28, 2019 - 12:21:33 PM | $200,000.00 | itellis |
| Mar 28, 2019 - 12:16:41 PM | $197,500.00 | iDke39110 |
| Mar 28, 2019 - 12:16:02 PM | $195,000.00 | itellis |
| Mar 28, 2019 - 12:06:39 PM | $192,500.00 | iDke39110 |
| Mar 28, 2019 - 12:06:12 PM | $190,000.00 | itellis |
| Mar 28, 2019 - 12:02:48 PM | $187,500.00 | iDke39110 |
| Mar 28, 2019 - 12:02:18 PM | $185,000.00 | itellis |
| Mar 28, 2019 - 11:59:34 AM | $182,500.00 | iDke39110 |
| Mar 28, 2019 - 11:58:00 AM | $180,000.00 | iMgwfire5 |
| Mar 28, 2019 - 11:58:01 AM | $180,000.00 | iDke39110 |
| Mar 28, 2019 - 11:57:31 AM | $177,500.00 | iMgwfire5 |
| Mar 28, 2019 - 11:57:31 AM | $175,000.00 | iDke39110 |
| Mar 28, 2019 - 11:56:13 AM | $172,500.00 | iMgwfire5 |
| Mar 28, 2019 - 11:56:13 AM | $170,000.00 | itellis |
| Mar 28, 2019 - 11:55:52 AM | $167,500.00 | iMgwfire5 |
| Mar 28, 2019 - 11:55:52 AM | $165,000.00 | itellis |
| Mar 28, 2019 - 11:55:51 AM | $162,500.00 | iMgwfire5 |
| Mar 28, 2019 - 11:55:51 AM | $160,000.00 | iDke39110 |
| Mar 28, 2019 - 11:39:12 AM | $157,500.00 | iMgwfire5 |
| Mar 28, 2019 - 11:39:12 AM | $155,000.00 | iDke39110 |
| Mar 28, 2019 - 10:16:39 AM | $152,500.00 | iMgwfire5 |
| Mar 28, 2019 - 10:16:39 AM | $150,000.00 | iJClark |
| Mar 28, 2019 - 10:16:27 AM | $147,500.00 | iMgwfire5 |
| Mar 28, 2019 - 10:16:27 AM | $145,000.00 | iJClark |
| Mar 28, 2019 - 10:16:21 AM | $142,500.00 | iMgwfire5 |
| Mar 28, 2019 - 10:16:21 AM | $140,000.00 | iJClark |
| Mar 28, 2019 - 7:28:11 AM | $137,500.00 | iMgwfire5 |
| Mar 28, 2019 - 7:28:11 AM | $135,000.00 | iBravoyankee |
| Mar 28, 2019 - 7:22:56 AM | $132,500.00 | iMgwfire5 |
| Mar 28, 2019 - 7:22:56 AM | $130,000.00 | iJClark |
| Mar 28, 2019 - 7:07:18 AM | $127,500.00 | iMgwfire5 |
| Mar 28, 2019 - 7:07:18 AM | $125,000.00 | iJClark |
| Mar 27, 2019 - 7:26:37 PM | $118,500.00 | iJClark |
| Mar 27, 2019 - 7:25:47 PM | $116,000.00 | ipdaugherty |
| Mar 27, 2019 - 7:25:47 PM | $115,000.00 | iJClark |
| Mar 27, 2019 - 7:25:41 PM | $113,500.00 | iJClark |
| Mar 27, 2019 - 7:25:41 PM | $111,000.00 | ipdaugherty |
| Mar 27, 2019 - 7:25:33 PM | $108,500.00 | iJClark |
| Mar 27, 2019 - 7:25:33 PM | $106,000.00 | ipdaugherty |
| Mar 27, 2019 - 7:25:19 PM | $103,500.00 | iJClark |
| Mar 27, 2019 - 7:25:19 PM | $101,000.00 | ipdaugherty |
| Mar 27, 2019 - 7:25:10 PM | $100,000.00 | iJClark |
| Mar 27, 2019 - 7:25:10 PM | $99,000.00 | ipdaugherty |
| Mar 27, 2019 - 7:24:09 PM | $98,000.00 | iJClark |
| Mar 27, 2019 - 7:24:09 PM | $97,000.00 | ipdaugherty |
| Mar 27, 2019 - 7:22:37 PM | $96,000.00 | ipdaugherty |
| Mar 27, 2019 - 7:15:12 PM | $95,000.00 | ishov0109 |
| Mar 27, 2019 - 7:13:50 PM | $94,000.00 | ipdaugherty |
| Mar 27, 2019 - 7:13:51 PM | $94,000.00 | ishov0109 |
| Mar 27, 2019 - 6:31:21 PM | $93,000.00 | ipdaugherty |
| Mar 27, 2019 - 3:25:46 PM | $92,000.00 | iLefty |
| Mar 27, 2019 - 10:55:48 AM | $91,000.00 | i16679 |
| Mar 27, 2019 - 10:55:43 AM | $90,000.00 | imarkfromtn |
| Mar 27, 2019 - 10:55:44 AM | $90,000.00 | i16679 |
| Mar 27, 2019 - 10:55:37 AM | $89,000.00 | imarkfromtn |
| Mar 27, 2019 - 10:55:37 AM | $88,000.00 | i16679 |
| Mar 27, 2019 - 10:55:23 AM | $87,000.00 | imarkfromtn |
| Mar 27, 2019 - 10:55:23 AM | $86,000.00 | i16679 |
| Mar 26, 2019 - 1:40:19 PM | $85,000.00 | imarkfromtn |
| Mar 26, 2019 - 1:39:13 PM | $84,000.00 | ipdaugherty |
| Mar 26, 2019 - 1:39:13 PM | $83,000.00 | imarkfromtn |
| Mar 23, 2019 - 7:23:18 PM | $82,000.00 | ipdaugherty |
| Mar 16, 2019 - 4:23:29 PM | $81,000.00 | iCLS |
| Mar 15, 2019 - 10:57:59 PM | $80,000.00 | iwhenley554 |
| Mar 15, 2019 - 10:58:00 PM | $80,000.00 | iCLS |
| Mar 13, 2019 - 7:00:43 PM | $79,000.00 | iwhenley554 |
| Mar 12, 2019 - 5:04:31 PM | $78,000.00 | i26809 |
| Mar 12, 2019 - 5:04:32 PM | $78,000.00 | iwhenley554 |
| Mar 12, 2019 - 1:20:13 PM | $77,000.00 | i26809 |
| Mar 12, 2019 - 8:28:14 AM | $76,000.00 | iJClark |
| Mar 12, 2019 - 8:27:59 AM | $75,000.00 | i26809 |
| Mar 12, 2019 - 8:27:59 AM | $74,000.00 | iJClark |
| Mar 10, 2019 - 6:59:54 PM | $73,000.00 | i26809 |
| Mar 10, 2019 - 6:59:54 PM | $72,000.00 | imarkfromtn |
| Mar 10, 2019 - 6:58:06 PM | $71,000.00 | i26809 |
| Mar 10, 2019 - 6:58:06 PM | $70,000.00 | imarkfromtn |
| Feb 26, 2019 - 3:20:47 PM | $65,000.00 | i26809 |
| Feb 26, 2019 - 3:20:47 PM | $64,000.00 | i16401 |
| Feb 26, 2019 - 3:20:26 PM | $63,000.00 | i26809 |
| Feb 26, 2019 - 3:20:26 PM | $62,000.00 | i16401 |
| Feb 17, 2019 - 4:51:14 PM | $61,000.00 | i26809 |
| Feb 17, 2019 - 4:51:14 PM | $60,000.00 | i23219 |
| Feb 17, 2019 - 4:46:52 PM | $56,000.00 | i23219 |
| Feb 17, 2019 - 4:46:52 PM | $55,000.00 | i26809 |
| Feb 3, 2019 - 5:44:03 PM | $49,500.00 | i23219 |
| Feb 3, 2019 - 5:44:03 PM | $49,000.00 | idps |
| Feb 3, 2019 - 3:03:07 PM | $36,500.00 | i23219 |
| Feb 3, 2019 - 3:03:07 PM | $36,000.00 | idps |
| Feb 3, 2019 - 2:59:39 PM | $25,250.00 | i23219 |
| Feb 3, 2019 - 2:59:39 PM | $25,000.00 | idps |
| Jan 29, 2019 - 8:03:15 PM | $15,250.00 | i23219 |
| Jan 29, 2019 - 8:03:15 PM | $15,000.00 | i17516 Old Gringo |
| Jan 26, 2019 - 8:21:01 AM | $11,250.00 | i17516 Old Gringo |
| Jan 26, 2019 - 8:21:01 AM | $11,000.00 | i23434 |
| Jan 24, 2019 - 2:33:49 PM | $10,100.00 | i23434 |
| Jan 24, 2019 - 2:33:49 PM | $10,000.00 | i23695 |
| Jan 24, 2019 - 2:25:54 PM | $5,050.00 | i23695 |
| Jan 24, 2019 - 2:25:54 PM | $5,000.00 | i23434 |
| Jan 24, 2019 - 2:25:19 PM | $1,250.00 | i23695 |
| Jan 24, 2019 - 2:25:19 PM | $1,200.00 | i23434 |
| Jan 23, 2019 - 9:53:20 PM | $105.00 | i23695 |
| Jan 23, 2019 - 9:53:20 PM | $100.00 | i23434 |
| Jan 23, 2019 - 4:54:08 PM | $2.00 | i23434 |
| Jan 23, 2019 - 12:07:25 AM | $1.00 | iBucketlist |