39,120± sf Industrial Warehouse on 5.0± Acres in Dowelltown, TN
All items closed
McLemore Auction Company, LLC is pleased to offer this 39,120± sf industrial warehouse on 5.0± acres in Dowelltown, TN. This property is conveniently located to Smithville, TN and is only 30 minutes from Murfeesboro, Lebanon, I-24 and I-40. This facility would be ideal for a variety of manufacturing, distribution, automotive, a cabinet shop or storage for nearby Center Hill Lake users.
Auction Manager:
Dwayne Smith
(615) 455-5876
dwayne@mclemoreauction.com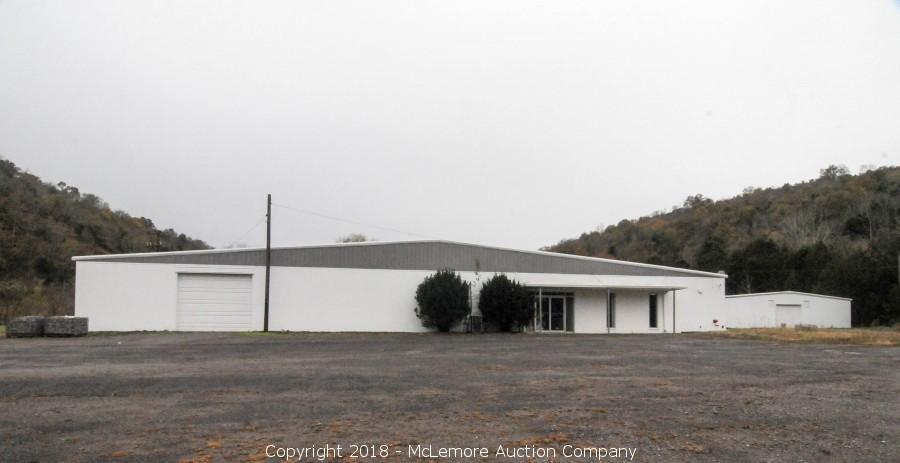 39,120± sf Industrial Warehouse on 5.0± Acres
Bidding is

closed

.
High Bid:
$340,000.00
NA
Bidding Ended:
Fri, Dec 14 12:24:52 pm CT
High Bidder:
27333
Bid Increment:
$5,000.00
Starting Bid:
$1.00
Item Location:

450 South Mill Street

,

Dowelltown

,

TN

37059

Item has been viewed 6,755 times.

ASK ABOUT THIS ITEM

3 connected building
3 truck level docks with roll up doors and 2 ground level roll up doors
Interior features office area, restrooms, break room, workshop areas in 2 buildings
Natural Gas available with gas heaters installed
Front office area has HVAC unit
230 volt 3 phase electric.
Large functioning Air Compressor included with building.  (see video of operating)
Include natural gas boiler
Main building is 200' x 120' approximately 
Building 2 is 125' x 61' approximately 
Building 3 is 125' x 61' approximately 
All buildings connected along back.
Front foyer is 10' x 14'
Office with guest window is 15' x 14'
Office with private bath is 10' x 14'
Large front office area is 23' x 14'
Office area 16' x 14'
2017 Taxes - $2,561
| | | |
| --- | --- | --- |
| Bid Date | Bid Amount | Bidder |
| Dec 14, 2018 - 12:19:52 PM | $340,000.00 | i27333 |
| Dec 14, 2018 - 12:19:52 PM | $335,000.00 | iBIDDER |
| Dec 14, 2018 - 12:15:09 PM | $330,000.00 | i27333 |
| Dec 14, 2018 - 12:15:10 PM | $330,000.00 | iBIDDER |
| Dec 14, 2018 - 12:14:49 PM | $325,000.00 | i27333 |
| Dec 14, 2018 - 12:14:49 PM | $320,000.00 | iBIDDER |
| Dec 14, 2018 - 12:10:54 PM | $315,000.00 | i27333 |
| Dec 14, 2018 - 12:10:54 PM | $313,000.00 | iBIDDER |
| Dec 14, 2018 - 12:09:31 PM | $308,000.00 | i27333 |
| Dec 14, 2018 - 12:08:33 PM | $303,000.00 | iBIDDER |
| Dec 14, 2018 - 12:08:33 PM | $300,000.00 | i27333 |
| Dec 14, 2018 - 12:08:17 PM | $298,000.00 | i27333 |
| Dec 14, 2018 - 12:08:17 PM | $293,000.00 | iBIDDER |
| Dec 14, 2018 - 12:03:57 PM | $287,000.00 | i27333 |
| Dec 14, 2018 - 12:03:57 PM | $282,000.00 | iBIDDER |
| Dec 14, 2018 - 12:03:40 PM | $277,000.00 | i27333 |
| Dec 14, 2018 - 12:03:40 PM | $272,000.00 | iBIDDER |
| Dec 14, 2018 - 12:03:14 PM | $267,000.00 | i27333 |
| Dec 14, 2018 - 12:03:14 PM | $262,000.00 | iBIDDER |
| Dec 14, 2018 - 12:02:35 PM | $257,000.00 | i27333 |
| Dec 14, 2018 - 12:02:35 PM | $252,000.00 | iBIDDER |
| Dec 14, 2018 - 12:02:19 PM | $248,500.00 | i27333 |
| Dec 14, 2018 - 12:02:19 PM | $246,000.00 | iBIDDER |
| Dec 14, 2018 - 12:02:05 PM | $241,500.00 | i27333 |
| Dec 14, 2018 - 12:02:05 PM | $239,000.00 | iBIDDER |
| Dec 14, 2018 - 12:01:53 PM | $237,500.00 | iBIDDER |
| Dec 14, 2018 - 12:01:18 PM | $235,000.00 | i27333 |
| Dec 14, 2018 - 12:01:18 PM | $233,000.00 | iBIDDER |
| Dec 14, 2018 - 12:01:02 PM | $232,500.00 | iBIDDER |
| Dec 14, 2018 - 12:01:02 PM | $230,000.00 | i27333 |
| Dec 14, 2018 - 11:59:26 AM | $228,100.00 | i27333 |
| Dec 14, 2018 - 11:58:49 AM | $225,600.00 | iEddiejacksoncpa@aol.com |
| Dec 14, 2018 - 11:58:49 AM | $225,000.00 | i27333 |
| Dec 14, 2018 - 11:58:23 AM | $222,500.00 | iEddiejacksoncpa@aol.com |
| Dec 14, 2018 - 11:58:23 AM | $220,000.00 | i27333 |
| Dec 14, 2018 - 11:58:09 AM | $217,500.00 | iEddiejacksoncpa@aol.com |
| Dec 14, 2018 - 11:58:09 AM | $215,000.00 | i27333 |
| Dec 14, 2018 - 11:57:44 AM | $207,500.00 | i27333 |
| Dec 14, 2018 - 11:57:31 AM | $205,000.00 | iEddiejacksoncpa@aol.com |
| Dec 14, 2018 - 11:57:32 AM | $205,000.00 | i27333 |
| Dec 14, 2018 - 11:57:16 AM | $202,500.00 | iEddiejacksoncpa@aol.com |
| Dec 14, 2018 - 11:57:16 AM | $200,000.00 | i27333 |
| Dec 14, 2018 - 11:57:00 AM | $198,000.00 | i27333 |
| Dec 14, 2018 - 11:56:43 AM | $195,500.00 | iEddiejacksoncpa@aol.com |
| Dec 14, 2018 - 11:56:25 AM | $193,000.00 | iBIDDER |
| Dec 14, 2018 - 11:56:25 AM | $192,500.00 | iEddiejacksoncpa@aol.com |
| Dec 14, 2018 - 11:55:49 AM | $190,000.00 | iBIDDER |
| Dec 14, 2018 - 11:55:50 AM | $190,000.00 | iEddiejacksoncpa@aol.com |
| Dec 14, 2018 - 11:55:33 AM | $185,000.00 | iBIDDER |
| Dec 14, 2018 - 11:55:22 AM | $182,500.00 | i19951 |
| Dec 14, 2018 - 11:55:21 AM | $180,000.00 | iEddiejacksoncpa@aol.com |
| Dec 14, 2018 - 11:55:21 AM | $178,000.00 | iBIDDER |
| Dec 14, 2018 - 11:55:13 AM | $175,000.00 | iBIDDER |
| Dec 14, 2018 - 11:55:14 AM | $175,000.00 | i19951 |
| Dec 14, 2018 - 11:54:51 AM | $172,500.00 | iBIDDER |
| Dec 14, 2018 - 11:54:51 AM | $170,000.00 | iEddiejacksoncpa@aol.com |
| Dec 14, 2018 - 11:54:32 AM | $160,000.00 | iEddiejacksoncpa@aol.com |
| Dec 14, 2018 - 11:54:32 AM | $157,500.00 | i19951 |
| Dec 14, 2018 - 11:54:24 AM | $155,000.00 | iEddiejacksoncpa@aol.com |
| Dec 14, 2018 - 11:54:15 AM | $152,500.00 | i19951 |
| Dec 14, 2018 - 11:54:10 AM | $150,000.00 | iEddiejacksoncpa@aol.com |
| Dec 14, 2018 - 11:54:10 AM | $147,500.00 | i19951 |
| Dec 14, 2018 - 11:53:55 AM | $145,000.00 | iEddiejacksoncpa@aol.com |
| Dec 14, 2018 - 11:53:43 AM | $142,500.00 | i19951 |
| Dec 14, 2018 - 11:53:37 AM | $140,000.00 | iEddiejacksoncpa@aol.com |
| Dec 14, 2018 - 11:53:38 AM | $140,000.00 | i19951 |
| Dec 14, 2018 - 11:53:30 AM | $137,500.00 | iEddiejacksoncpa@aol.com |
| Dec 14, 2018 - 11:53:30 AM | $135,000.00 | i19951 |
| Dec 14, 2018 - 11:49:10 AM | $132,500.00 | iEddiejacksoncpa@aol.com |
| Dec 14, 2018 - 11:30:57 AM | $130,000.00 | i19951 |
| Dec 14, 2018 - 11:30:57 AM | $128,000.00 | iHydro511 |
| Dec 14, 2018 - 11:19:38 AM | $127,500.00 | iHydro511 |
| Dec 14, 2018 - 11:08:38 AM | $125,000.00 | iM&M |
| Dec 14, 2018 - 11:08:39 AM | $125,000.00 | iHydro511 |
| Dec 14, 2018 - 11:08:10 AM | $118,500.00 | iM&M |
| Dec 14, 2018 - 11:08:10 AM | $116,000.00 | iHydro511 |
| Dec 14, 2018 - 9:19:33 AM | $113,500.00 | iM&M |
| Dec 14, 2018 - 9:19:33 AM | $111,000.00 | i17497 |
| Dec 14, 2018 - 8:17:03 AM | $108,500.00 | iM&M |
| Dec 14, 2018 - 8:17:03 AM | $106,000.00 | iHydro511 |
| Dec 14, 2018 - 5:21:18 AM | $103,500.00 | iM&M |
| Dec 14, 2018 - 12:48:15 AM | $101,000.00 | i27333 |
| Dec 13, 2018 - 8:08:31 PM | $100,000.00 | iEddiejacksoncpa@aol.com |
| Dec 13, 2018 - 8:08:31 PM | $99,000.00 | iwoodpecker55 |
| Dec 13, 2018 - 5:50:37 PM | $96,000.00 | iEddiejacksoncpa@aol.com |
| Dec 13, 2018 - 5:50:37 PM | $95,000.00 | iwoodpecker55 |
| Dec 13, 2018 - 5:47:42 PM | $91,000.00 | iwoodpecker55 |
| Dec 13, 2018 - 5:47:24 PM | $90,000.00 | iEddiejacksoncpa@aol.com |
| Dec 13, 2018 - 5:47:25 PM | $90,000.00 | iwoodpecker55 |
| Dec 13, 2018 - 4:55:40 PM | $82,000.00 | iEddiejacksoncpa@aol.com |
| Dec 13, 2018 - 4:32:17 PM | $81,000.00 | iwoodpecker55 |
| Dec 13, 2018 - 4:31:57 PM | $80,000.00 | isentinel17 |
| Dec 13, 2018 - 4:31:58 PM | $80,000.00 | iwoodpecker55 |
| Dec 13, 2018 - 2:57:13 PM | $79,000.00 | isentinel17 |
| Dec 13, 2018 - 2:55:55 PM | $78,000.00 | iEddiejacksoncpa@aol.com |
| Dec 13, 2018 - 2:55:55 PM | $77,000.00 | isentinel17 |
| Dec 13, 2018 - 7:29:14 AM | $76,000.00 | iEddiejacksoncpa@aol.com |
| Dec 13, 2018 - 7:28:25 AM | $75,000.00 | iNpatel |
| Dec 13, 2018 - 7:28:26 AM | $75,000.00 | iEddiejacksoncpa@aol.com |
| Dec 12, 2018 - 7:57:15 PM | $72,000.00 | iNpatel |
| Dec 12, 2018 - 5:37:54 PM | $71,000.00 | iwoodpecker55 |
| Dec 12, 2018 - 12:38:05 PM | $70,000.00 | iNpatel |
| Dec 12, 2018 - 12:38:05 PM | $69,000.00 | iEddiejacksoncpa@aol.com |
| Dec 12, 2018 - 6:32:36 AM | $68,000.00 | iEddiejacksoncpa@aol.com |
| Dec 11, 2018 - 3:34:04 PM | $67,000.00 | iwoodpecker55 |
| Dec 11, 2018 - 3:19:12 PM | $66,000.00 | iEddiejacksoncpa@aol.com |
| Dec 11, 2018 - 3:18:10 PM | $65,000.00 | iwoodpecker55 |
| Dec 11, 2018 - 3:18:11 PM | $65,000.00 | iEddiejacksoncpa@aol.com |
| Dec 10, 2018 - 11:23:06 AM | $63,000.00 | iwoodpecker55 |
| Dec 7, 2018 - 1:11:48 PM | $62,000.00 | iEddiejacksoncpa@aol.com |
| Dec 7, 2018 - 1:11:48 PM | $61,100.00 | i17497 |
| Dec 7, 2018 - 1:11:27 PM | $61,000.00 | i17497 |
| Dec 7, 2018 - 1:11:27 PM | $60,000.00 | iEddiejacksoncpa@aol.com |
| Dec 7, 2018 - 11:43:03 AM | $59,000.00 | i17497 |
| Dec 7, 2018 - 11:43:03 AM | $58,000.00 | iEddiejacksoncpa@aol.com |
| Dec 4, 2018 - 8:30:46 PM | $56,100.00 | iEddiejacksoncpa@aol.com |
| Dec 1, 2018 - 10:09:58 PM | $55,100.00 | i19951 |
| Dec 1, 2018 - 10:09:58 PM | $55,000.00 | iwoodpecker55 |
| Dec 1, 2018 - 10:09:50 PM | $54,100.00 | iwoodpecker55 |
| Dec 1, 2018 - 10:09:50 PM | $53,100.00 | i19951 |
| Dec 1, 2018 - 9:25:14 AM | $52,100.00 | iwoodpecker55 |
| Dec 1, 2018 - 9:25:14 AM | $51,100.00 | i17497 |
| Dec 1, 2018 - 9:24:48 AM | $45,500.00 | i17497 |
| Dec 1, 2018 - 9:24:48 AM | $45,000.00 | iwoodpecker55 |
| Dec 1, 2018 - 9:24:20 AM | $38,500.00 | i17497 |
| Dec 1, 2018 - 9:24:20 AM | $38,000.00 | iwoodpecker55 |
| Nov 30, 2018 - 7:59:10 AM | $37,500.00 | i17497 |
| Nov 28, 2018 - 8:09:09 PM | $37,000.00 | iBidwinner |
| Nov 27, 2018 - 12:39:42 PM | $36,500.00 | iBIDDER |
| Nov 27, 2018 - 7:25:16 AM | $36,000.00 | iRobert austin |
| Nov 27, 2018 - 7:25:17 AM | $36,000.00 | iTerry Allison |
| Nov 27, 2018 - 7:25:11 AM | $35,500.00 | iRobert austin |
| Nov 27, 2018 - 7:25:11 AM | $35,000.00 | iTerry Allison |
| Nov 27, 2018 - 7:25:04 AM | $34,500.00 | iRobert austin |
| Nov 27, 2018 - 7:25:04 AM | $34,000.00 | iTerry Allison |
| Nov 27, 2018 - 7:24:57 AM | $33,500.00 | iRobert austin |
| Nov 27, 2018 - 7:24:57 AM | $33,000.00 | iTerry Allison |
| Nov 27, 2018 - 7:24:50 AM | $32,500.00 | iRobert austin |
| Nov 27, 2018 - 7:24:50 AM | $32,000.00 | iTerry Allison |
| Nov 27, 2018 - 7:24:38 AM | $31,500.00 | iRobert austin |
| Nov 27, 2018 - 7:24:38 AM | $31,000.00 | iTerry Allison |
| Nov 26, 2018 - 10:11:24 PM | $30,500.00 | iRobert austin |
| Nov 26, 2018 - 10:10:50 PM | $30,000.00 | iMsm2137 |
| Nov 26, 2018 - 10:10:51 PM | $30,000.00 | iRobert austin |
| Nov 25, 2018 - 2:37:45 PM | $25,250.00 | iMsm2137 |
| Nov 25, 2018 - 2:37:27 PM | $25,000.00 | iRobert austin |
| Nov 25, 2018 - 2:37:28 PM | $25,000.00 | iMsm2137 |
| Nov 25, 2018 - 2:37:03 PM | $20,250.00 | iRobert austin |
| Nov 25, 2018 - 2:37:03 PM | $20,000.00 | iMsm2137 |
| Nov 23, 2018 - 8:12:47 AM | $17,250.00 | iRobert austin |
| Nov 23, 2018 - 8:12:47 AM | $17,000.00 | iwhenley554 |
| Nov 23, 2018 - 7:24:11 AM | $16,750.00 | iRobert austin |
| Nov 23, 2018 - 7:24:11 AM | $16,500.00 | iwhenley554 |
| Nov 22, 2018 - 8:52:47 PM | $16,250.00 | iRobert austin |
| Nov 22, 2018 - 8:52:47 PM | $16,000.00 | i22154 |
| Nov 18, 2018 - 7:57:43 PM | $11,251.00 | i22154 |
| Nov 16, 2018 - 7:57:05 PM | $11,001.00 | iRenorutledge |
| Nov 16, 2018 - 7:57:05 PM | $11,000.00 | i22154 |
| Nov 16, 2018 - 7:56:50 PM | $10,751.00 | i22154 |
| Nov 16, 2018 - 7:56:50 PM | $10,501.00 | iRenorutledge |
| Nov 16, 2018 - 7:56:20 PM | $10,251.00 | i22154 |
| Nov 16, 2018 - 7:56:20 PM | $10,001.00 | iRenorutledge |
| Nov 16, 2018 - 7:56:15 PM | $9,901.00 | i22154 |
| Nov 16, 2018 - 7:56:15 PM | $9,801.00 | iRenorutledge |
| Nov 16, 2018 - 7:56:11 PM | $9,701.00 | i22154 |
| Nov 16, 2018 - 7:56:11 PM | $9,601.00 | iRenorutledge |
| Nov 16, 2018 - 7:56:07 PM | $9,501.00 | i22154 |
| Nov 16, 2018 - 7:56:07 PM | $9,401.00 | iRenorutledge |
| Nov 16, 2018 - 7:56:02 PM | $9,301.00 | i22154 |
| Nov 16, 2018 - 7:56:02 PM | $9,201.00 | iRenorutledge |
| Nov 16, 2018 - 7:55:57 PM | $9,101.00 | i22154 |
| Nov 16, 2018 - 7:55:57 PM | $9,001.00 | iRenorutledge |
| Nov 16, 2018 - 7:55:52 PM | $8,901.00 | i22154 |
| Nov 16, 2018 - 7:55:52 PM | $8,801.00 | iRenorutledge |
| Nov 16, 2018 - 7:55:46 PM | $8,701.00 | i22154 |
| Nov 16, 2018 - 7:55:46 PM | $8,601.00 | iRenorutledge |
| Nov 16, 2018 - 7:55:42 PM | $8,501.00 | i22154 |
| Nov 16, 2018 - 7:55:42 PM | $8,401.00 | iRenorutledge |
| Nov 16, 2018 - 7:55:38 PM | $8,301.00 | i22154 |
| Nov 16, 2018 - 7:55:38 PM | $8,201.00 | iRenorutledge |
| Nov 16, 2018 - 7:55:33 PM | $8,101.00 | i22154 |
| Nov 16, 2018 - 7:55:33 PM | $8,001.00 | iRenorutledge |
| Nov 16, 2018 - 7:55:28 PM | $7,901.00 | i22154 |
| Nov 16, 2018 - 7:55:28 PM | $7,801.00 | iRenorutledge |
| Nov 16, 2018 - 7:55:23 PM | $7,701.00 | i22154 |
| Nov 16, 2018 - 7:55:23 PM | $7,601.00 | iRenorutledge |
| Nov 16, 2018 - 7:55:17 PM | $7,501.00 | i22154 |
| Nov 16, 2018 - 7:55:17 PM | $7,401.00 | iRenorutledge |
| Nov 16, 2018 - 7:55:13 PM | $7,301.00 | i22154 |
| Nov 16, 2018 - 7:55:13 PM | $7,201.00 | iRenorutledge |
| Nov 16, 2018 - 7:55:08 PM | $7,101.00 | i22154 |
| Nov 16, 2018 - 7:55:08 PM | $7,001.00 | iRenorutledge |
| Nov 16, 2018 - 7:55:03 PM | $6,901.00 | i22154 |
| Nov 16, 2018 - 7:55:03 PM | $6,801.00 | iRenorutledge |
| Nov 16, 2018 - 7:54:58 PM | $6,701.00 | i22154 |
| Nov 16, 2018 - 7:54:58 PM | $6,601.00 | iRenorutledge |
| Nov 16, 2018 - 7:54:53 PM | $6,501.00 | i22154 |
| Nov 16, 2018 - 7:54:53 PM | $6,401.00 | iRenorutledge |
| Nov 16, 2018 - 7:54:46 PM | $6,301.00 | i22154 |
| Nov 16, 2018 - 7:54:46 PM | $6,201.00 | iRenorutledge |
| Nov 16, 2018 - 7:54:41 PM | $6,101.00 | i22154 |
| Nov 16, 2018 - 7:54:41 PM | $6,001.00 | iRenorutledge |
| Nov 16, 2018 - 7:54:33 PM | $5,901.00 | i22154 |
| Nov 16, 2018 - 7:54:33 PM | $5,801.00 | iRenorutledge |
| Nov 16, 2018 - 7:54:20 PM | $5,701.00 | i22154 |
| Nov 16, 2018 - 7:54:20 PM | $5,601.00 | iRenorutledge |
| Nov 16, 2018 - 7:54:03 PM | $5,501.00 | i22154 |
| Nov 16, 2018 - 7:54:03 PM | $5,401.00 | iRenorutledge |
| Nov 16, 2018 - 7:53:26 PM | $5,301.00 | i22154 |
| Nov 16, 2018 - 7:51:42 PM | $5,201.00 | iRenorutledge |
| Nov 14, 2018 - 2:38:59 PM | $5,101.00 | i29629 |
| Nov 13, 2018 - 4:08:29 PM | $5,001.00 | iVBS6288 |
| Nov 13, 2018 - 4:08:29 PM | $5,000.00 | iGREENB1 |
| Nov 13, 2018 - 4:08:17 PM | $3,550.00 | iGREENB1 |
| Nov 13, 2018 - 4:08:17 PM | $3,500.00 | iVBS6288 |
| Nov 13, 2018 - 4:08:09 PM | $2,550.00 | iGREENB1 |
| Nov 13, 2018 - 4:08:09 PM | $2,500.00 | iVBS6288 |
| Nov 13, 2018 - 4:07:55 PM | $2,050.00 | iGREENB1 |
| Nov 13, 2018 - 4:07:55 PM | $2,000.00 | iVBS6288 |
| Nov 13, 2018 - 3:53:44 PM | $1,025.00 | iGREENB1 |
| Nov 13, 2018 - 3:53:44 PM | $1,000.00 | i22154 |
| Nov 13, 2018 - 2:12:55 PM | $560.00 | i22154 |
| Nov 13, 2018 - 2:12:55 PM | $535.00 | irehooper |
| Nov 12, 2018 - 10:39:26 PM | $510.00 | i22154 |
| Nov 12, 2018 - 10:39:26 PM | $500.00 | iMichaelp |
| Nov 12, 2018 - 7:43:56 PM | $1.00 | iMichaelp |