5.005± Acres Zoned RM-2 in Columbia, TN
All items closed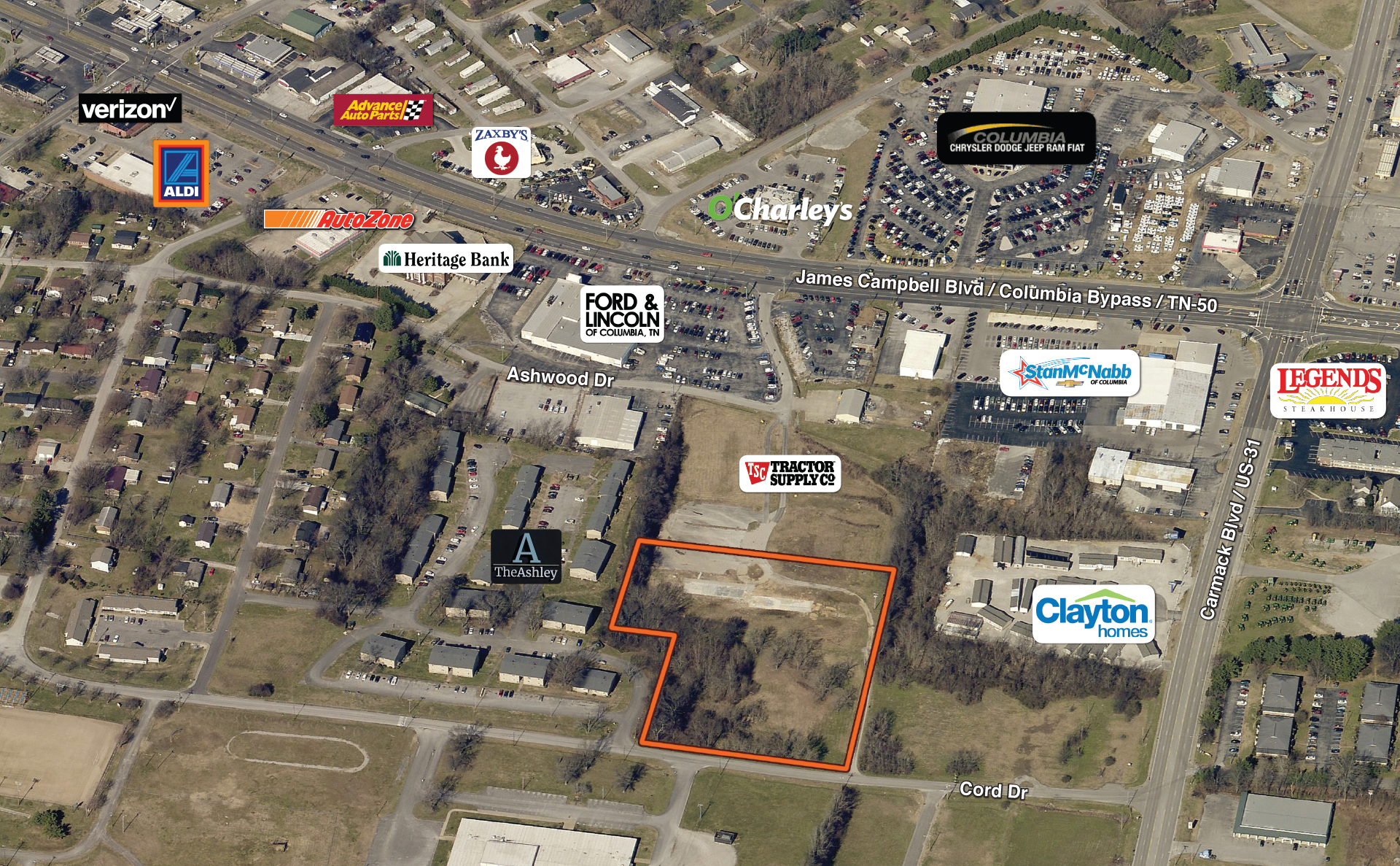 McLemore Auction Company, LLC and Heritage Auction and Real Estate, Inc. are pleased to offer this 5± acre tract suitable for development in the heart of Columbia, TN at online auction.
Auction Manager:
Will McLemore
(615) 235-0987
will@mclemoreauction.com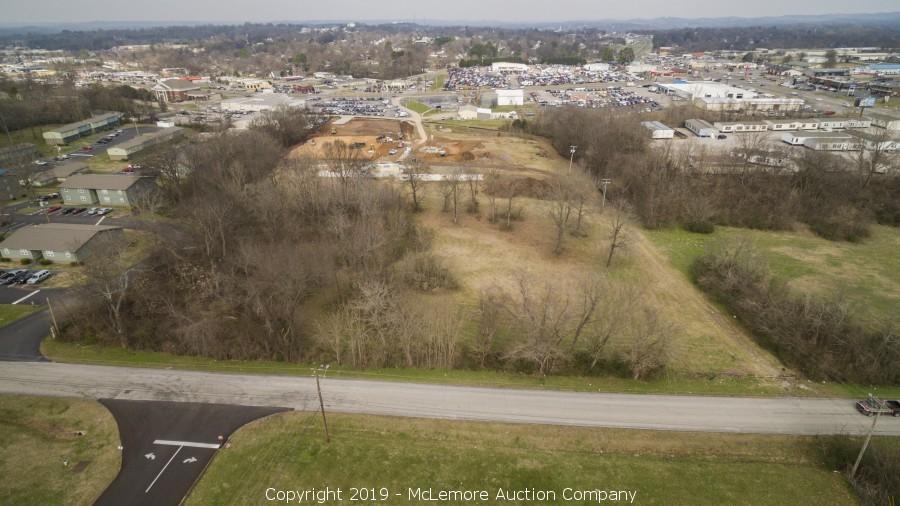 5.005± Acres Zoned RM-2 in Columbia, TN - NOW SELLING ABSOLUTE
Bidding is

closed

.
High Bid:
$232,222.22
NA
Bidding Ended:
Thu, Feb 14 12:12:48 pm CT
High Bidder:
23219
Bid Increment:
$2,500.00
Starting Bid:
$1.00
Item Location:

Cord Drive

,

Columbia

,

TN

38401

Item has been viewed 4,319 times.

ASK ABOUT THIS ITEM

Zoned RM-2 High-Density Residential
Easement Across Tractor Supply Company Property Provides Access to Ashwood Dr
Tractor Supply Company Currently Building on Tract to North of Property
| | | |
| --- | --- | --- |
| Bid Date | Bid Amount | Bidder |
| Feb 14, 2019 - 12:07:48 PM | $232,222.22 | i23219 |
| Feb 14, 2019 - 12:07:48 PM | $229,722.22 | iColumbia1 |
| Feb 14, 2019 - 12:03:12 PM | $227,222.22 | i23219 |
| Feb 14, 2019 - 12:01:36 PM | $224,722.22 | iColumbia1 |
| Feb 14, 2019 - 11:56:42 AM | $222,222.22 | i23219 |
| Feb 14, 2019 - 11:56:42 AM | $220,000.00 | i28636 |
| Feb 14, 2019 - 11:55:39 AM | $217,500.00 | i23219 |
| Feb 14, 2019 - 11:55:39 AM | $215,000.00 | i28636 |
| Feb 14, 2019 - 11:54:30 AM | $210,000.00 | i23219 |
| Feb 14, 2019 - 11:54:30 AM | $207,500.00 | i28636 |
| Feb 6, 2019 - 11:28:29 AM | $205,000.00 | i23219 |
| Jan 31, 2019 - 11:25:17 PM | $202,500.00 | i28636 |
| Jan 31, 2019 - 11:24:57 PM | $200,000.00 | i23219 |
| Jan 31, 2019 - 11:24:58 PM | $200,000.00 | i28636 |
| Jan 31, 2019 - 11:24:37 PM | $177,500.00 | i23219 |
| Jan 31, 2019 - 11:24:37 PM | $175,000.00 | i28636 |
| Jan 31, 2019 - 11:19:34 PM | $152,500.00 | i23219 |
| Jan 31, 2019 - 11:19:34 PM | $150,000.00 | i28636 |
| Jan 31, 2019 - 11:19:17 PM | $127,500.00 | i28636 |
| Jan 31, 2019 - 11:19:17 PM | $125,000.00 | i23219 |
| Jan 31, 2019 - 11:18:19 PM | $101,000.00 | i28636 |
| Jan 30, 2019 - 3:02:34 PM | $100,000.00 | i23219 |
| Jan 30, 2019 - 3:02:34 PM | $99,000.00 | i28636 |
| Jan 30, 2019 - 3:02:19 PM | $98,000.00 | i23219 |
| Jan 30, 2019 - 3:02:19 PM | $97,000.00 | i28636 |
| Jan 30, 2019 - 3:01:59 PM | $96,000.00 | i23219 |
| Jan 30, 2019 - 3:01:59 PM | $95,000.00 | i28636 |
| Jan 30, 2019 - 2:55:03 PM | $94,000.00 | i23219 |
| Jan 30, 2019 - 2:55:03 PM | $93,000.00 | i28636 |
| Jan 30, 2019 - 2:54:03 PM | $92,000.00 | i23219 |
| Jan 30, 2019 - 2:54:03 PM | $91,000.00 | i28636 |
| Jan 30, 2019 - 2:53:45 PM | $90,000.00 | i23219 |
| Jan 30, 2019 - 2:53:45 PM | $89,000.00 | i28636 |
| Jan 30, 2019 - 2:53:28 PM | $88,000.00 | i23219 |
| Jan 30, 2019 - 2:53:28 PM | $87,000.00 | i28636 |
| Jan 30, 2019 - 2:52:56 PM | $86,000.00 | i23219 |
| Jan 30, 2019 - 2:52:56 PM | $85,000.00 | i28636 |
| Jan 30, 2019 - 2:52:32 PM | $84,000.00 | i23219 |
| Jan 30, 2019 - 2:52:32 PM | $83,000.00 | i28636 |
| Jan 30, 2019 - 2:52:17 PM | $82,000.00 | i23219 |
| Jan 30, 2019 - 2:52:17 PM | $81,000.00 | i28636 |
| Jan 30, 2019 - 2:51:55 PM | $80,000.00 | i23219 |
| Jan 30, 2019 - 2:51:55 PM | $79,000.00 | i28636 |
| Jan 30, 2019 - 2:51:06 PM | $76,000.00 | i23219 |
| Jan 30, 2019 - 2:51:06 PM | $75,000.00 | i28636 |
| Jan 30, 2019 - 2:07:01 PM | $71,005.00 | i23219 |
| Jan 30, 2019 - 2:07:01 PM | $70,005.00 | i5422 |
| Jan 30, 2019 - 2:06:18 PM | $61,005.00 | i23219 |
| Jan 30, 2019 - 2:06:18 PM | $60,005.00 | i5422 |
| Jan 30, 2019 - 2:05:43 PM | $59,000.00 | i23219 |
| Jan 30, 2019 - 2:05:43 PM | $58,000.00 | i5422 |
| Jan 29, 2019 - 7:58:32 PM | $56,250.00 | i23219 |
| Jan 29, 2019 - 7:58:32 PM | $55,250.00 | i28636 |
| Jan 29, 2019 - 12:54:53 PM | $54,500.00 | i28636 |
| Jan 28, 2019 - 3:09:27 PM | $53,500.00 | i5422 |
| Jan 28, 2019 - 3:08:07 PM | $52,500.00 | iRocketMan1 |
| Jan 28, 2019 - 3:08:07 PM | $51,500.00 | i5422 |
| Jan 26, 2019 - 8:07:33 AM | $50,500.00 | iRocketMan1 |
| Jan 26, 2019 - 8:07:33 AM | $50,000.00 | i28636 |
| Jan 26, 2019 - 6:43:16 AM | $48,000.00 | i28636 |
| Jan 26, 2019 - 6:43:16 AM | $47,500.00 | iRocketMan1 |
| Jan 25, 2019 - 10:00:15 PM | $43,000.00 | i28636 |
| Jan 25, 2019 - 10:00:15 PM | $42,500.00 | iRocketMan1 |
| Jan 25, 2019 - 3:28:05 PM | $37,000.00 | i28636 |
| Jan 25, 2019 - 3:28:05 PM | $36,500.00 | iRocketMan1 |
| Jan 25, 2019 - 3:23:07 PM | $33,000.00 | i28636 |
| Jan 25, 2019 - 3:23:00 PM | $32,500.00 | iRocketMan1 |
| Jan 25, 2019 - 3:23:00 PM | $32,000.00 | i28636 |
| Jan 25, 2019 - 3:05:12 PM | $31,500.00 | iRocketMan1 |
| Jan 25, 2019 - 3:05:12 PM | $31,000.00 | i28636 |
| Jan 25, 2019 - 10:16:14 AM | $26,000.00 | i28636 |
| Jan 25, 2019 - 10:16:14 AM | $25,500.00 | iRocketMan1 |
| Jan 25, 2019 - 9:34:18 AM | $25,250.00 | iRocketMan1 |
| Jan 25, 2019 - 9:34:18 AM | $25,000.00 | i28636 |
| Jan 25, 2019 - 8:45:17 AM | $20,750.00 | i28636 |
| Jan 25, 2019 - 8:45:17 AM | $20,500.00 | iRocketMan1 |
| Jan 25, 2019 - 8:44:54 AM | $20,250.00 | iRocketMan1 |
| Jan 25, 2019 - 8:44:54 AM | $20,000.00 | i28636 |
| Jan 24, 2019 - 5:29:12 PM | $15,250.00 | iRocketMan1 |
| Jan 24, 2019 - 3:01:05 PM | $15,000.00 | i28636 |
| Jan 24, 2019 - 3:01:06 PM | $15,000.00 | i5422 |
| Jan 24, 2019 - 2:26:45 PM | $14,250.00 | i28636 |
| Jan 24, 2019 - 2:26:45 PM | $14,000.00 | i5422 |
| Jan 24, 2019 - 2:26:23 PM | $13,250.00 | i28636 |
| Jan 24, 2019 - 2:26:23 PM | $13,000.00 | i5422 |
| Jan 24, 2019 - 2:18:13 PM | $12,750.00 | i28636 |
| Jan 24, 2019 - 2:18:13 PM | $12,500.00 | iRocketMan1 |
| Jan 24, 2019 - 10:56:37 AM | $12,250.00 | i28636 |
| Jan 24, 2019 - 10:56:37 AM | $12,000.00 | iTet3501 |
| Jan 22, 2019 - 9:10:53 PM | $10,350.00 | i28636 |
| Jan 22, 2019 - 2:19:10 PM | $10,100.00 | i5422 |
| Jan 21, 2019 - 2:57:45 PM | $10,000.00 | i28636 |
| Jan 21, 2019 - 2:57:46 PM | $10,000.00 | i5422 |
| Jan 21, 2019 - 2:57:12 PM | $9,105.00 | i28636 |
| Jan 21, 2019 - 2:57:12 PM | $9,005.00 | i5422 |
| Jan 21, 2019 - 2:56:43 PM | $8,800.00 | i28636 |
| Jan 21, 2019 - 2:56:43 PM | $8,700.00 | i5422 |
| Jan 21, 2019 - 2:56:24 PM | $8,600.00 | i28636 |
| Jan 21, 2019 - 2:56:24 PM | $8,500.00 | i5422 |
| Jan 20, 2019 - 11:35:08 AM | $8,100.00 | i28636 |
| Jan 20, 2019 - 11:35:08 AM | $8,000.00 | ieabringman |
| Jan 20, 2019 - 11:34:41 AM | $7,500.00 | i28636 |
| Jan 20, 2019 - 11:34:41 AM | $7,400.00 | ieabringman |
| Jan 20, 2019 - 11:34:06 AM | $6,900.00 | i28636 |
| Jan 20, 2019 - 11:34:06 AM | $6,800.00 | ieabringman |
| Jan 20, 2019 - 11:33:37 AM | $6,600.00 | i28636 |
| Jan 20, 2019 - 11:33:37 AM | $6,500.00 | ieabringman |
| Jan 18, 2019 - 2:04:22 PM | $6,000.00 | i28636 |
| Jan 18, 2019 - 2:04:22 PM | $5,900.00 | i5422 |
| Jan 18, 2019 - 2:04:02 PM | $5,800.00 | i28636 |
| Jan 18, 2019 - 2:04:02 PM | $5,700.00 | i5422 |
| Jan 18, 2019 - 2:03:26 PM | $5,600.00 | i28636 |
| Jan 18, 2019 - 2:03:26 PM | $5,500.00 | i5422 |
| Jan 18, 2019 - 2:03:09 PM | $5,350.00 | i28636 |
| Jan 18, 2019 - 2:03:09 PM | $5,250.00 | i5422 |
| Jan 18, 2019 - 1:50:04 PM | $5,150.00 | i28636 |
| Jan 18, 2019 - 1:00:38 PM | $5,050.00 | i5422 |
| Jan 18, 2019 - 8:39:47 AM | $5,000.00 | i28636 |
| Jan 18, 2019 - 8:39:48 AM | $5,000.00 | i5422 |
| Jan 18, 2019 - 8:39:05 AM | $2,550.00 | i28636 |
| Jan 18, 2019 - 8:39:05 AM | $2,500.00 | i5422 |
| Jan 18, 2019 - 8:34:22 AM | $2,050.00 | i28636 |
| Jan 18, 2019 - 8:34:22 AM | $2,000.00 | i5422 |
| Jan 18, 2019 - 8:33:58 AM | $1,550.00 | i28636 |
| Jan 18, 2019 - 8:33:58 AM | $1,500.00 | i5422 |
| Jan 18, 2019 - 8:32:45 AM | $1,025.00 | i28636 |
| Jan 18, 2019 - 8:32:45 AM | $1,000.00 | i5422 |
| Jan 17, 2019 - 9:26:49 AM | $335.00 | i28636 |
| Jan 17, 2019 - 9:26:49 AM | $325.00 | iHarper1982 |
| Jan 17, 2019 - 9:20:03 AM | $310.00 | iHarper1982 |
| Jan 17, 2019 - 9:19:56 AM | $300.00 | i28636 |
| Jan 17, 2019 - 9:19:57 AM | $300.00 | iHarper1982 |
| Jan 17, 2019 - 9:19:48 AM | $260.00 | i28636 |
| Jan 17, 2019 - 9:19:48 AM | $250.00 | iHarper1982 |
| Jan 15, 2019 - 3:57:28 PM | $210.00 | i28636 |
| Jan 15, 2019 - 3:57:01 PM | $200.00 | iHarper1982 |
| Jan 15, 2019 - 3:57:02 PM | $200.00 | i28636 |
| Jan 15, 2019 - 3:14:13 PM | $105.00 | iHarper1982 |
| Jan 15, 2019 - 3:14:04 PM | $100.00 | itomz82vette |
| Jan 15, 2019 - 3:14:05 PM | $100.00 | iHarper1982 |
| Jan 15, 2019 - 3:13:55 PM | $55.00 | itomz82vette |
| Jan 15, 2019 - 3:13:55 PM | $50.00 | iHarper1982 |
| Jan 15, 2019 - 3:13:45 PM | $22.00 | itomz82vette |
| Jan 15, 2019 - 3:13:45 PM | $20.00 | iHarper1982 |
| Jan 15, 2019 - 3:13:31 PM | $17.00 | itomz82vette |
| Jan 15, 2019 - 3:13:31 PM | $15.00 | iHarper1982 |
| Jan 15, 2019 - 1:53:18 PM | $1.00 | itomz82vette |