675± Acres in 5 Tracts near Annona, TX (Red River County) (5)
All items closed

McLemore Auction Company, LLC is pleased to offer this 675± acre ranch at online auction in 5 tracts. The property offers extensive frontage on US 82 and County Rd 3300. Several tracts have significant stands of pine. The property offers two excellent ponds and extensive frontage along Kickapoo Creek. The property had most recently been in hay production. The property offers a rare opportunity to acquire a large tract with excellent recreational possibilities. Offered in conjunction with Better Homes and Gardens Real Estate Bradfield Properties, TX RE Firm 472568, James Earl Hawkins, TX RE Broker 403326.

Auction Manager:
Will McLemore
(615) 235-0865
will@mclemoreauction.com

« Back to list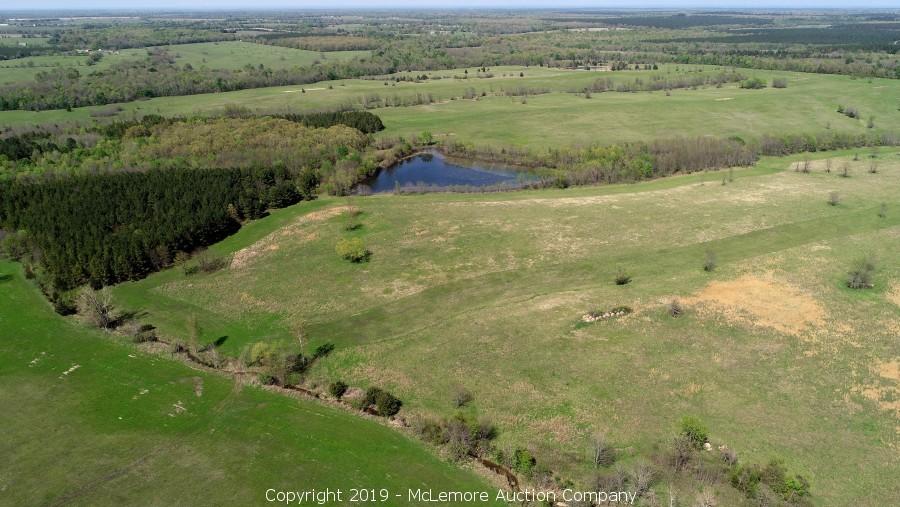 Lot #0004:
273± Acres - Reserve Met - Now Selling Absolute
Bidding is

closed

.
High Bid:
$525,000.00
NA
Bidding Ended:
Thu, Apr 25 1:29:19 pm CT
High Bidder:
kminter32
Bid Increment:
$10,000.00
Starting Bid:
$1.00
Item Location:

U.S. 82

,

Annona

,

TX

75550

Item has been viewed 1,331 times.

Pond
Previously in Hay Production
Frontage on Hwy 82
50' Easement to Tract 3 Runs East From Northeast Corner along Northern Border for Approximately 700'
Pine Timber
Public Water - Red River County Water Supply Company

Water Tap in Place (East of Home on Tract 5)
4" Water Line Along North Side of Hwy 82
| | | |
| --- | --- | --- |
| Bid Date | Bid Amount | Bidder |
| Apr 25, 2019 - 12:56:55 PM | $525,000.00 | ikminter32 |
| Apr 25, 2019 - 12:56:45 PM | $515,000.00 | i3527Oaks |
| Apr 25, 2019 - 12:49:12 PM | $505,000.00 | ikminter32 |
| Apr 25, 2019 - 12:45:37 PM | $500,000.00 | i3527Oaks |
| Apr 25, 2019 - 12:44:12 PM | $495,000.00 | ikminter32 |
| Apr 25, 2019 - 12:43:59 PM | $490,000.00 | i3527Oaks |
| Apr 25, 2019 - 12:42:48 PM | $485,000.00 | ikminter32 |
| Apr 25, 2019 - 12:09:09 PM | $480,000.00 | i3527Oaks |
| Apr 25, 2019 - 12:09:09 PM | $477,750.00 | iCCL |
| Apr 25, 2019 - 12:08:21 PM | $475,000.00 | iCCL |
| Apr 25, 2019 - 12:07:49 PM | $470,000.00 | ikminter32 |
| Apr 25, 2019 - 12:03:46 PM | $465,000.00 | i3527Oaks |
| Apr 25, 2019 - 12:01:34 PM | $460,000.00 | iCCL |
| Apr 25, 2019 - 12:01:21 PM | $455,000.00 | ikminter32 |
| Apr 25, 2019 - 12:00:07 PM | $450,000.00 | iCCL |
| Apr 25, 2019 - 11:59:47 AM | $445,000.00 | ikminter32 |
| Apr 25, 2019 - 11:59:08 AM | $440,000.00 | iCCL |
| Apr 25, 2019 - 11:58:57 AM | $435,000.00 | ikminter32 |
| Apr 25, 2019 - 11:56:17 AM | $430,000.00 | iCCL |
| Apr 25, 2019 - 11:55:44 AM | $425,000.00 | ikminter32 |
| Apr 25, 2019 - 11:55:22 AM | $420,000.00 | iCCL |
| Apr 25, 2019 - 11:53:37 AM | $415,000.00 | ikminter32 |
| Apr 25, 2019 - 11:53:22 AM | $410,000.00 | iCCL |
| Apr 25, 2019 - 11:53:01 AM | $405,000.00 | ikminter32 |
| Apr 25, 2019 - 11:52:40 AM | $400,000.00 | iSam2012 |
| Apr 25, 2019 - 11:52:24 AM | $395,000.00 | i3527Oaks |
| Apr 25, 2019 - 11:46:30 AM | $390,000.00 | ikminter32 |
| Apr 25, 2019 - 11:45:22 AM | $385,000.00 | i3527Oaks |
| Apr 25, 2019 - 11:43:56 AM | $380,000.00 | ikminter32 |
| Apr 25, 2019 - 11:40:39 AM | $375,000.00 | iSam2012 |
| Apr 25, 2019 - 11:40:17 AM | $370,000.00 | i3527Oaks |
| Apr 25, 2019 - 11:37:16 AM | $365,000.00 | iPACO19 |
| Apr 25, 2019 - 11:35:15 AM | $360,000.00 | imrichardson |
| Apr 25, 2019 - 11:31:53 AM | $355,000.00 | i3527Oaks |
| Apr 25, 2019 - 11:30:41 AM | $350,000.00 | iPACO19 |
| Apr 25, 2019 - 11:30:41 AM | $345,000.00 | i3527Oaks |
| Apr 25, 2019 - 11:21:34 AM | $340,000.00 | iPACO19 |
| Apr 25, 2019 - 11:00:56 AM | $335,000.00 | i3527Oaks |
| Apr 25, 2019 - 10:59:57 AM | $330,000.00 | iPACO19 |
| Apr 25, 2019 - 10:59:58 AM | $330,000.00 | i3527Oaks |
| Apr 25, 2019 - 10:39:31 AM | $325,000.00 | iPACO19 |
| Apr 25, 2019 - 10:17:38 AM | $320,000.00 | imrichardson |
| Apr 25, 2019 - 10:17:23 AM | $315,000.00 | iPACO19 |
| Apr 25, 2019 - 10:17:24 AM | $315,000.00 | imrichardson |
| Apr 24, 2019 - 3:31:18 PM | $310,000.00 | iPACO19 |
| Apr 24, 2019 - 2:10:34 PM | $305,000.00 | imountainman |
| Apr 23, 2019 - 4:04:56 PM | $300,000.00 | iPACO19 |
| Apr 23, 2019 - 4:04:56 PM | $298,000.00 | iCCL |
| Apr 23, 2019 - 4:04:49 PM | $293,000.00 | iPACO19 |
| Apr 23, 2019 - 4:04:49 PM | $288,000.00 | iCCL |
| Apr 23, 2019 - 1:47:13 PM | $283,000.00 | iPACO19 |
| Apr 23, 2019 - 1:40:04 PM | $278,000.00 | iSam2012 |
| Apr 23, 2019 - 1:39:59 PM | $273,000.00 | iAllen1978 |
| Apr 23, 2019 - 1:39:59 PM | $271,000.00 | iSam2012 |
| Apr 23, 2019 - 1:39:50 PM | $266,000.00 | iAllen1978 |
| Apr 23, 2019 - 1:39:50 PM | $261,000.00 | iSam2012 |
| Apr 23, 2019 - 1:39:44 PM | $256,000.00 | iAllen1978 |
| Apr 23, 2019 - 1:39:44 PM | $251,000.00 | iSam2012 |
| Apr 23, 2019 - 1:39:38 PM | $248,500.00 | iAllen1978 |
| Apr 23, 2019 - 1:39:38 PM | $246,000.00 | iSam2012 |
| Apr 23, 2019 - 1:39:31 PM | $243,500.00 | iAllen1978 |
| Apr 23, 2019 - 1:39:31 PM | $241,000.00 | iSam2012 |
| Apr 23, 2019 - 1:39:27 PM | $238,500.00 | iAllen1978 |
| Apr 23, 2019 - 1:39:27 PM | $236,000.00 | iSam2012 |
| Apr 23, 2019 - 1:39:24 PM | $233,500.00 | iAllen1978 |
| Apr 23, 2019 - 1:39:24 PM | $231,000.00 | iSam2012 |
| Apr 23, 2019 - 1:39:19 PM | $228,500.00 | iAllen1978 |
| Apr 23, 2019 - 1:39:19 PM | $226,000.00 | iSam2012 |
| Apr 23, 2019 - 1:26:15 PM | $223,500.00 | iAllen1978 |
| Apr 23, 2019 - 1:09:14 PM | $221,000.00 | iSam2012 |
| Apr 23, 2019 - 1:09:14 PM | $220,000.00 | iPACO19 |
| Apr 23, 2019 - 1:09:09 PM | $218,500.00 | iPACO19 |
| Apr 23, 2019 - 1:09:09 PM | $216,000.00 | iSam2012 |
| Apr 23, 2019 - 1:09:04 PM | $213,500.00 | iPACO19 |
| Apr 23, 2019 - 1:09:04 PM | $211,000.00 | iSam2012 |
| Apr 23, 2019 - 1:09:01 PM | $208,500.00 | iPACO19 |
| Apr 23, 2019 - 1:09:01 PM | $206,000.00 | iSam2012 |
| Apr 23, 2019 - 12:19:08 PM | $203,500.00 | iPACO19 |
| Apr 23, 2019 - 11:55:50 AM | $201,000.00 | iSam2012 |
| Apr 23, 2019 - 11:55:50 AM | $200,000.00 | iPACO19 |
| Apr 23, 2019 - 11:55:46 AM | $198,500.00 | iPACO19 |
| Apr 23, 2019 - 11:55:46 AM | $196,000.00 | iSam2012 |
| Apr 23, 2019 - 11:55:42 AM | $193,500.00 | iPACO19 |
| Apr 23, 2019 - 11:55:42 AM | $191,000.00 | iSam2012 |
| Apr 23, 2019 - 11:55:36 AM | $188,500.00 | iPACO19 |
| Apr 23, 2019 - 11:55:36 AM | $186,000.00 | iSam2012 |
| Apr 23, 2019 - 10:56:20 AM | $183,500.00 | iPACO19 |
| Apr 23, 2019 - 9:05:06 AM | $181,000.00 | iCCL |
| Apr 23, 2019 - 9:05:06 AM | $180,000.00 | iPACO19 |
| Apr 23, 2019 - 7:54:20 AM | $178,500.00 | iPACO19 |
| Apr 22, 2019 - 3:35:48 PM | $176,000.00 | iSam2012 |
| Apr 22, 2019 - 3:35:48 PM | $175,000.00 | imrichardson |
| Apr 22, 2019 - 3:35:35 PM | $173,500.00 | imrichardson |
| Apr 22, 2019 - 3:35:35 PM | $171,000.00 | iSam2012 |
| Apr 22, 2019 - 3:35:05 PM | $168,500.00 | imrichardson |
| Apr 22, 2019 - 3:35:05 PM | $166,000.00 | iSam2012 |
| Apr 22, 2019 - 3:34:29 PM | $163,500.00 | imrichardson |
| Apr 22, 2019 - 3:34:29 PM | $161,000.00 | iSam2012 |
| Apr 22, 2019 - 3:34:00 PM | $158,500.00 | imrichardson |
| Apr 22, 2019 - 3:34:00 PM | $156,000.00 | iSam2012 |
| Apr 20, 2019 - 5:10:31 PM | $153,500.00 | imrichardson |
| Apr 20, 2019 - 5:09:12 PM | $151,000.00 | idpowell |
| Apr 20, 2019 - 5:09:12 PM | $150,000.00 | imrichardson |
| Apr 20, 2019 - 5:08:16 PM | $137,500.00 | idpowell |
| Apr 20, 2019 - 5:08:16 PM | $135,000.00 | imrichardson |
| Apr 19, 2019 - 12:32:52 PM | $132,500.00 | idpowell |
| Apr 19, 2019 - 12:32:52 PM | $130,000.00 | imrichardson |
| Apr 18, 2019 - 1:03:50 PM | $122,500.00 | imrichardson |
| Apr 18, 2019 - 1:03:50 PM | $120,000.00 | iPeralez1 |
| Apr 17, 2019 - 8:20:40 AM | $101,000.00 | imrichardson |
| Apr 17, 2019 - 8:20:40 AM | $100,000.00 | iPeralez1 |
| Apr 16, 2019 - 6:17:42 PM | $76,000.00 | iPeralez1 |
| Apr 16, 2019 - 6:17:42 PM | $75,000.00 | imrichardson |
| Apr 16, 2019 - 4:05:02 PM | $11,600.00 | imrichardson |
| Apr 16, 2019 - 4:05:02 PM | $11,350.00 | islw001 |
| Apr 13, 2019 - 11:01:29 PM | $11,100.00 | imrichardson |
| Apr 13, 2019 - 11:01:29 PM | $10,850.00 | iWade |
| Apr 13, 2019 - 10:32:10 PM | $10,600.00 | imrichardson |
| Apr 13, 2019 - 10:32:10 PM | $10,350.00 | iPACO19 |
| Apr 13, 2019 - 8:20:24 PM | $10,100.00 | imrichardson |
| Apr 13, 2019 - 8:20:24 PM | $10,000.00 | iPeralez1 |
| Apr 13, 2019 - 8:20:00 PM | $5,050.00 | imrichardson |
| Apr 13, 2019 - 8:20:00 PM | $5,000.00 | iPeralez1 |
| Apr 13, 2019 - 8:19:43 PM | $4,050.00 | imrichardson |
| Apr 13, 2019 - 8:19:43 PM | $4,000.00 | iPeralez1 |
| Apr 13, 2019 - 8:19:32 PM | $3,648.00 | imrichardson |
| Apr 13, 2019 - 8:19:32 PM | $3,598.00 | iPeralez1 |
| Apr 13, 2019 - 8:19:18 PM | $3,548.00 | imrichardson |
| Apr 13, 2019 - 8:19:18 PM | $3,498.00 | iPeralez1 |
| Apr 13, 2019 - 8:17:03 PM | $3,448.00 | imrichardson |
| Apr 13, 2019 - 8:17:03 PM | $3,398.00 | iPeralez1 |
| Apr 13, 2019 - 8:16:24 PM | $3,348.00 | imrichardson |
| Apr 13, 2019 - 8:16:24 PM | $3,298.00 | iPeralez1 |
| Apr 10, 2019 - 9:16:30 PM | $3,248.00 | imrichardson |
| Apr 10, 2019 - 9:16:30 PM | $3,198.00 | idwdrummer06 |
| Apr 10, 2019 - 12:12:03 PM | $1,550.00 | imrichardson |
| Apr 10, 2019 - 12:12:03 PM | $1,500.00 | igladys |
| Apr 10, 2019 - 12:11:44 PM | $1,400.00 | imrichardson |
| Apr 10, 2019 - 12:11:44 PM | $1,350.00 | igladys |
| Apr 10, 2019 - 7:38:25 AM | $1,300.00 | imrichardson |
| Apr 10, 2019 - 7:38:25 AM | $1,250.00 | igladys |
| Apr 10, 2019 - 7:37:53 AM | $1,125.00 | imrichardson |
| Apr 10, 2019 - 7:37:53 AM | $1,075.00 | igladys |
| Apr 9, 2019 - 11:36:38 PM | $1,025.00 | imrichardson |
| Apr 9, 2019 - 11:36:38 PM | $1,000.00 | i28943 |
| Apr 9, 2019 - 11:35:56 PM | $625.00 | imrichardson |
| Apr 9, 2019 - 11:35:56 PM | $600.00 | i28943 |
| Apr 9, 2019 - 11:35:40 PM | $310.00 | imrichardson |
| Apr 9, 2019 - 11:35:40 PM | $300.00 | i28943 |
| Apr 9, 2019 - 11:35:20 PM | $235.00 | imrichardson |
| Apr 9, 2019 - 11:35:20 PM | $225.00 | i28943 |
| Apr 9, 2019 - 8:58:57 PM | $215.00 | imrichardson |
| Apr 9, 2019 - 6:25:28 PM | $205.00 | iNotme |
| Apr 9, 2019 - 6:25:28 PM | $200.00 | iibidbigbids69 |
| Apr 9, 2019 - 6:25:24 PM | $195.00 | iibidbigbids69 |
| Apr 9, 2019 - 6:25:24 PM | $185.00 | iNotme |
| Apr 9, 2019 - 6:25:19 PM | $175.00 | iibidbigbids69 |
| Apr 9, 2019 - 6:25:19 PM | $165.00 | iNotme |
| Apr 9, 2019 - 6:25:06 PM | $155.00 | iibidbigbids69 |
| Apr 9, 2019 - 6:25:06 PM | $145.00 | iNotme |
| Apr 9, 2019 - 2:57:48 AM | $135.00 | iibidbigbids69 |
| Apr 9, 2019 - 2:57:48 AM | $125.88 | igladys |
| Apr 9, 2019 - 2:57:44 AM | $125.00 | igladys |
| Apr 9, 2019 - 2:57:44 AM | $115.00 | iibidbigbids69 |
| Apr 8, 2019 - 7:03:06 PM | $105.00 | igladys |
| Apr 8, 2019 - 7:03:06 PM | $100.00 | iibidbigbids69 |
| Apr 8, 2019 - 7:02:51 PM | $97.88 | iibidbigbids69 |
| Apr 8, 2019 - 7:02:51 PM | $92.88 | igladys |
| Apr 8, 2019 - 3:55:43 PM | $85.88 | iibidbigbids69 |
| Apr 7, 2019 - 10:47:50 AM | $80.88 | igladys |
| Apr 7, 2019 - 8:23:57 AM | $75.88 | iibidbigbids69 |
| Apr 7, 2019 - 7:45:38 AM | $70.88 | iNotme |
| Apr 7, 2019 - 6:12:47 AM | $65.88 | iibidbigbids69 |
| Apr 7, 2019 - 6:12:45 AM | $60.88 | igladys |
| Apr 7, 2019 - 6:12:46 AM | $60.88 | iibidbigbids69 |
| Apr 5, 2019 - 4:30:36 PM | $55.88 | igladys |
| Apr 5, 2019 - 3:21:10 PM | $50.88 | iibidbigbids69 |
| Apr 4, 2019 - 7:19:48 AM | $45.88 | igladys |
| Apr 3, 2019 - 1:40:58 PM | $40.88 | iibidbigbids69 |
| Apr 3, 2019 - 1:40:53 PM | $35.88 | igladys |
| Apr 3, 2019 - 1:40:54 PM | $35.88 | iibidbigbids69 |
| Apr 3, 2019 - 1:36:48 PM | $30.88 | igladys |
| Apr 3, 2019 - 10:43:25 AM | $25.88 | iibidbigbids69 |
| Apr 3, 2019 - 10:43:25 AM | $25.00 | igladys |
| Apr 3, 2019 - 10:43:22 AM | $23.88 | igladys |
| Apr 3, 2019 - 10:43:22 AM | $21.88 | iibidbigbids69 |
| Apr 3, 2019 - 10:34:09 AM | $19.88 | igladys |
| Apr 3, 2019 - 9:22:38 AM | $17.88 | iibidbigbids69 |
| Apr 3, 2019 - 9:22:32 AM | $15.88 | igladys |
| Apr 3, 2019 - 9:22:32 AM | $15.00 | iibidbigbids69 |
| Apr 2, 2019 - 11:03:57 AM | $13.00 | igladys |
| Apr 2, 2019 - 6:07:27 AM | $11.00 | ijason.lieber |
| Apr 2, 2019 - 6:07:21 AM | $10.00 | igladys |
| Apr 2, 2019 - 6:07:21 AM | $9.00 | ijason.lieber |
| Apr 1, 2019 - 6:58:54 PM | $8.00 | igladys |
| Apr 1, 2019 - 6:58:54 PM | $7.00 | iPACO19 |
| Apr 1, 2019 - 5:38:32 PM | $6.00 | iPACO19 |
| Apr 1, 2019 - 5:38:18 PM | $5.00 | igladys |
| Apr 1, 2019 - 5:38:18 PM | $4.00 | iPACO19 |
| Apr 1, 2019 - 5:37:56 PM | $3.00 | igladys |
| Apr 1, 2019 - 4:52:32 PM | $2.00 | iPACO19 |
| Mar 28, 2019 - 10:07:08 AM | $1.00 | igladys |