204± Acres in 2 Tracts near Natchez Trace State Park, Henderson County, TN (2)
All items closed

McLemore Auction Company, LLC and Heritage Auction and Real Estate, Inc. are pleased to offer this beautiful farm in two tracts. This property features rolling pasture ground with above average fencing. It has been used for cattle farm for the past few years. The property offers beautiful building sites with a barn, shed and lake. Approximately 30± acres of mature timber enhance the property. The property features a common boundary with Natchez Trace State Park for more than 2,000 ft. Property taxes are only $725.49 annually with city water, electric and gas available on black top State Hwy 114. Located just 6 miles northeast of Lexington, TN and 8 miles south of I-40.
Auction Manager:
Jeff Wilkes
(731) 438-4782
jeff@mclemoreauction.com

« Back to list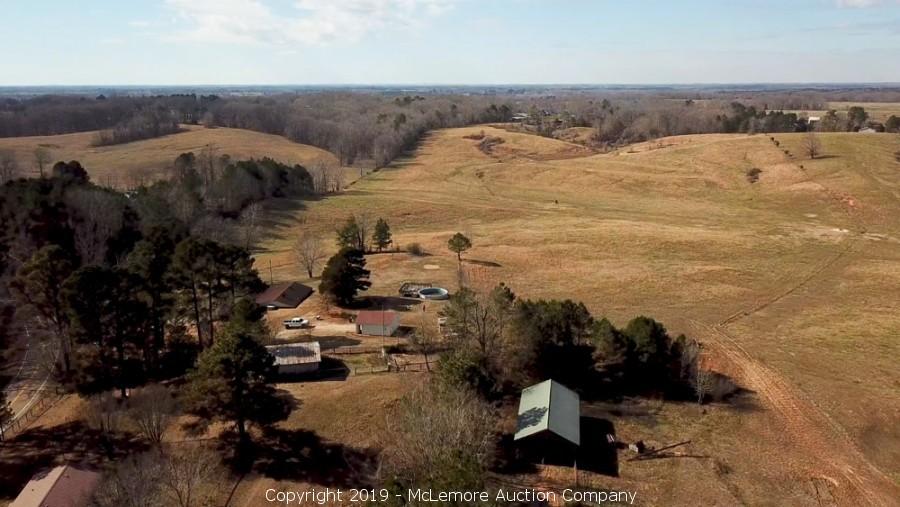 Lot #0002:
54.4± Acres
Bidding is

closed

.
High Bid:
$86,984.00
NA
Bidding Ended:
Thu, Mar 21 12:22:07 pm CT
High Bidder:
25541
Bid Increment:
$1,000.00
Starting Bid:
$1.00
Item Location:

21019 Natchez Trace Rd

,

Wildersville

,

TN

38388

Item has been viewed 1,343 times.

Above Average Fencing
Rolling Pasture
Near Natchez Trace State Park
Access to Electricity, Public Water and Gas
| | | |
| --- | --- | --- |
| Bid Date | Bid Amount | Bidder |
| Mar 21, 2019 - 12:17:07 PM | $86,984.00 | i25541 |
| Mar 21, 2019 - 12:16:42 PM | $85,984.00 | i86199 |
| Mar 21, 2019 - 12:16:00 PM | $84,984.00 | i25541 |
| Mar 21, 2019 - 12:14:39 PM | $83,984.00 | i86199 |
| Mar 21, 2019 - 12:13:25 PM | $82,984.00 | i25541 |
| Mar 21, 2019 - 12:10:14 PM | $81,984.00 | i86199 |
| Mar 21, 2019 - 12:08:55 PM | $80,984.00 | i25541 |
| Mar 21, 2019 - 12:01:44 PM | $79,984.00 | i86199 |
| Mar 21, 2019 - 12:01:37 PM | $78,984.00 | i25541 |
| Mar 21, 2019 - 12:00:10 PM | $77,984.00 | i86199 |
| Mar 21, 2019 - 11:59:50 AM | $76,984.00 | i25541 |
| Mar 21, 2019 - 10:04:41 AM | $75,984.00 | i86199 |
| Mar 21, 2019 - 10:04:41 AM | $75,000.00 | i987901 |
| Mar 20, 2019 - 6:00:14 PM | $74,984.00 | i987901 |
| Mar 20, 2019 - 6:00:14 PM | $73,984.00 | iJIMMINOR |
| Mar 20, 2019 - 5:59:57 PM | $71,000.00 | iJIMMINOR |
| Mar 20, 2019 - 5:59:57 PM | $70,000.00 | i987901 |
| Mar 20, 2019 - 12:33:32 PM | $64,560.00 | iJIMMINOR |
| Mar 19, 2019 - 8:29:52 PM | $63,560.00 | i28636 |
| Mar 19, 2019 - 8:29:47 PM | $62,560.00 | iJIMMINOR |
| Mar 19, 2019 - 8:29:47 PM | $62,500.00 | i28636 |
| Mar 18, 2019 - 3:52:53 PM | $61,500.00 | iJIMMINOR |
| Mar 18, 2019 - 10:49:02 AM | $60,500.00 | i8971 |
| Mar 17, 2019 - 7:55:48 AM | $59,500.00 | i86199 |
| Mar 17, 2019 - 7:55:48 AM | $59,400.00 | iJIMMINOR |
| Mar 17, 2019 - 7:55:15 AM | $58,500.00 | iJIMMINOR |
| Mar 17, 2019 - 7:55:15 AM | $57,500.00 | i86199 |
| Mar 16, 2019 - 11:17:06 AM | $56,500.00 | iJIMMINOR |
| Mar 15, 2019 - 9:25:37 PM | $55,500.00 | i25541 |
| Mar 15, 2019 - 9:25:37 PM | $55,000.00 | iJIMMINOR |
| Mar 15, 2019 - 9:25:32 PM | $54,500.00 | iJIMMINOR |
| Mar 15, 2019 - 9:25:32 PM | $53,500.00 | i25541 |
| Mar 15, 2019 - 9:25:26 PM | $52,500.00 | iJIMMINOR |
| Mar 15, 2019 - 9:25:26 PM | $51,500.00 | i25541 |
| Mar 15, 2019 - 9:25:21 PM | $50,500.00 | iJIMMINOR |
| Mar 15, 2019 - 9:25:21 PM | $50,000.00 | i25541 |
| Mar 15, 2019 - 9:25:16 PM | $49,500.00 | iJIMMINOR |
| Mar 15, 2019 - 9:25:16 PM | $49,000.00 | i25541 |
| Mar 15, 2019 - 9:25:11 PM | $48,500.00 | iJIMMINOR |
| Mar 15, 2019 - 9:25:11 PM | $48,000.00 | i25541 |
| Mar 15, 2019 - 9:25:07 PM | $47,500.00 | iJIMMINOR |
| Mar 15, 2019 - 9:25:07 PM | $47,000.00 | i25541 |
| Mar 15, 2019 - 9:25:00 PM | $46,500.00 | iJIMMINOR |
| Mar 15, 2019 - 9:25:00 PM | $46,000.00 | i25541 |
| Mar 15, 2019 - 9:24:55 PM | $45,500.00 | iJIMMINOR |
| Mar 15, 2019 - 9:24:55 PM | $45,000.00 | i25541 |
| Mar 15, 2019 - 9:24:50 PM | $44,500.00 | iJIMMINOR |
| Mar 15, 2019 - 9:24:50 PM | $44,000.00 | i25541 |
| Mar 15, 2019 - 9:24:45 PM | $43,500.00 | iJIMMINOR |
| Mar 15, 2019 - 9:24:45 PM | $43,000.00 | i25541 |
| Mar 15, 2019 - 9:24:40 PM | $42,500.00 | iJIMMINOR |
| Mar 15, 2019 - 9:24:40 PM | $42,000.00 | i25541 |
| Mar 15, 2019 - 9:24:36 PM | $41,500.00 | iJIMMINOR |
| Mar 15, 2019 - 9:24:36 PM | $41,000.00 | i25541 |
| Mar 15, 2019 - 8:55:47 PM | $40,500.00 | iJIMMINOR |
| Mar 15, 2019 - 8:55:47 PM | $40,000.00 | i86199 |
| Mar 15, 2019 - 8:53:04 PM | $35,500.00 | iJIMMINOR |
| Mar 15, 2019 - 8:53:04 PM | $35,000.00 | i86199 |
| Mar 15, 2019 - 8:49:52 PM | $32,750.00 | iJIMMINOR |
| Mar 15, 2019 - 8:49:52 PM | $32,250.00 | i86199 |
| Mar 15, 2019 - 8:49:33 PM | $31,750.00 | iJIMMINOR |
| Mar 15, 2019 - 8:49:33 PM | $31,250.00 | i86199 |
| Mar 15, 2019 - 7:26:57 PM | $30,750.00 | iJIMMINOR |
| Mar 12, 2019 - 8:10:08 PM | $30,250.00 | i28636 |
| Mar 12, 2019 - 8:10:08 PM | $30,000.00 | i8971 |
| Mar 12, 2019 - 8:10:05 PM | $29,750.00 | i8971 |
| Mar 12, 2019 - 8:10:05 PM | $29,250.00 | i28636 |
| Mar 12, 2019 - 8:10:01 PM | $28,750.00 | i8971 |
| Mar 12, 2019 - 8:10:01 PM | $28,250.00 | i28636 |
| Mar 12, 2019 - 8:09:40 PM | $27,750.00 | i8971 |
| Mar 12, 2019 - 8:09:40 PM | $27,250.00 | i28636 |
| Mar 12, 2019 - 8:09:35 PM | $26,750.00 | i8971 |
| Mar 12, 2019 - 8:09:35 PM | $26,250.00 | i28636 |
| Mar 12, 2019 - 11:13:15 AM | $25,750.00 | i8971 |
| Mar 11, 2019 - 3:32:14 PM | $25,250.00 | i28636 |
| Mar 11, 2019 - 3:32:07 PM | $25,000.00 | i25541 |
| Mar 11, 2019 - 3:32:07 PM | $24,750.00 | i28636 |
| Mar 11, 2019 - 3:32:04 PM | $24,500.00 | i25541 |
| Mar 11, 2019 - 3:32:04 PM | $24,250.00 | i28636 |
| Mar 11, 2019 - 3:32:01 PM | $24,000.00 | i25541 |
| Mar 11, 2019 - 3:32:01 PM | $23,750.00 | i28636 |
| Mar 11, 2019 - 3:31:58 PM | $23,500.00 | i25541 |
| Mar 11, 2019 - 3:31:58 PM | $23,250.00 | i28636 |
| Mar 11, 2019 - 3:31:55 PM | $23,000.00 | i25541 |
| Mar 11, 2019 - 3:31:55 PM | $22,750.00 | i28636 |
| Mar 11, 2019 - 3:31:52 PM | $22,500.00 | i25541 |
| Mar 11, 2019 - 3:31:52 PM | $22,250.00 | i28636 |
| Mar 11, 2019 - 3:31:49 PM | $22,000.00 | i25541 |
| Mar 11, 2019 - 3:31:49 PM | $21,750.00 | i28636 |
| Mar 11, 2019 - 3:31:46 PM | $21,500.00 | i25541 |
| Mar 11, 2019 - 3:31:46 PM | $21,250.00 | i28636 |
| Mar 11, 2019 - 3:31:41 PM | $21,000.00 | i25541 |
| Mar 11, 2019 - 3:31:41 PM | $20,750.00 | i28636 |
| Mar 11, 2019 - 3:31:38 PM | $20,500.00 | i25541 |
| Mar 11, 2019 - 3:31:38 PM | $20,250.00 | i28636 |
| Mar 11, 2019 - 3:31:35 PM | $20,000.00 | i25541 |
| Mar 11, 2019 - 3:31:35 PM | $19,750.00 | i28636 |
| Mar 11, 2019 - 3:31:31 PM | $19,500.00 | i25541 |
| Mar 11, 2019 - 3:31:31 PM | $19,250.00 | i28636 |
| Mar 11, 2019 - 3:31:28 PM | $19,000.00 | i25541 |
| Mar 11, 2019 - 3:31:28 PM | $18,750.00 | i28636 |
| Mar 11, 2019 - 3:31:26 PM | $18,500.00 | i25541 |
| Mar 11, 2019 - 3:31:26 PM | $18,250.00 | i28636 |
| Mar 11, 2019 - 3:31:22 PM | $18,000.00 | i25541 |
| Mar 11, 2019 - 3:31:22 PM | $17,750.00 | i28636 |
| Mar 11, 2019 - 3:31:19 PM | $17,500.00 | i25541 |
| Mar 11, 2019 - 3:31:19 PM | $17,250.00 | i28636 |
| Mar 11, 2019 - 3:31:14 PM | $17,000.00 | i25541 |
| Mar 11, 2019 - 3:31:14 PM | $16,750.00 | i28636 |
| Mar 11, 2019 - 2:40:28 PM | $16,500.00 | i25541 |
| Mar 10, 2019 - 2:57:31 PM | $16,250.00 | i28636 |
| Mar 10, 2019 - 2:57:26 PM | $16,000.00 | iKwmyracle |
| Mar 10, 2019 - 2:57:26 PM | $15,750.00 | i28636 |
| Mar 10, 2019 - 2:24:09 PM | $15,500.00 | iKwmyracle |
| Mar 8, 2019 - 8:53:20 PM | $15,250.00 | i28636 |
| Mar 8, 2019 - 8:53:16 PM | $15,000.00 | i17516 Old Gringo |
| Mar 8, 2019 - 8:53:16 PM | $14,850.00 | i28636 |
| Mar 8, 2019 - 8:53:13 PM | $14,600.00 | i17516 Old Gringo |
| Mar 8, 2019 - 8:53:13 PM | $14,350.00 | i28636 |
| Mar 8, 2019 - 8:53:08 PM | $14,100.00 | i17516 Old Gringo |
| Mar 8, 2019 - 8:53:08 PM | $13,850.00 | i28636 |
| Mar 8, 2019 - 8:53:04 PM | $13,600.00 | i17516 Old Gringo |
| Mar 8, 2019 - 8:53:04 PM | $13,350.00 | i28636 |
| Mar 8, 2019 - 8:53:01 PM | $13,100.00 | i17516 Old Gringo |
| Mar 8, 2019 - 8:53:01 PM | $12,850.00 | i28636 |
| Mar 8, 2019 - 8:52:57 PM | $12,600.00 | i17516 Old Gringo |
| Mar 8, 2019 - 8:52:57 PM | $12,350.00 | i28636 |
| Mar 8, 2019 - 8:52:54 PM | $12,100.00 | i17516 Old Gringo |
| Mar 8, 2019 - 8:52:54 PM | $11,850.00 | i28636 |
| Mar 8, 2019 - 8:52:50 PM | $11,600.00 | i17516 Old Gringo |
| Mar 8, 2019 - 8:52:50 PM | $11,350.00 | i28636 |
| Mar 8, 2019 - 8:52:47 PM | $11,100.00 | i17516 Old Gringo |
| Mar 8, 2019 - 8:52:47 PM | $10,850.00 | i28636 |
| Mar 8, 2019 - 8:52:42 PM | $10,600.00 | i17516 Old Gringo |
| Mar 8, 2019 - 8:52:42 PM | $10,350.00 | i28636 |
| Feb 28, 2019 - 3:17:31 PM | $10,100.00 | i17516 Old Gringo |
| Feb 28, 2019 - 3:17:08 PM | $10,000.00 | i8971 |
| Feb 28, 2019 - 3:17:09 PM | $10,000.00 | i17516 Old Gringo |
| Feb 21, 2019 - 12:21:57 PM | $5,250.00 | i8971 |
| Feb 21, 2019 - 12:21:57 PM | $5,150.00 | i28636 |
| Feb 21, 2019 - 12:21:14 PM | $5,050.00 | i8971 |
| Feb 21, 2019 - 12:21:14 PM | $5,000.00 | i28636 |
| Feb 21, 2019 - 12:21:00 PM | $4,950.00 | i8971 |
| Feb 21, 2019 - 12:21:00 PM | $4,900.00 | i28636 |
| Feb 21, 2019 - 12:20:22 PM | $4,850.00 | i8971 |
| Feb 21, 2019 - 12:20:22 PM | $4,800.00 | i28636 |
| Feb 21, 2019 - 12:20:01 PM | $4,650.00 | i8971 |
| Feb 21, 2019 - 12:20:01 PM | $4,600.00 | i28636 |
| Feb 21, 2019 - 12:19:43 PM | $4,350.00 | i8971 |
| Feb 21, 2019 - 12:19:43 PM | $4,300.00 | i28636 |
| Feb 21, 2019 - 12:19:32 PM | $4,250.00 | i8971 |
| Feb 21, 2019 - 12:19:32 PM | $4,200.00 | i28636 |
| Feb 21, 2019 - 12:19:23 PM | $4,150.00 | i8971 |
| Feb 21, 2019 - 12:19:23 PM | $4,100.00 | i28636 |
| Feb 21, 2019 - 12:19:08 PM | $4,050.00 | i8971 |
| Feb 21, 2019 - 12:19:08 PM | $4,000.00 | i28636 |
| Feb 21, 2019 - 12:18:56 PM | $3,650.00 | i8971 |
| Feb 21, 2019 - 12:18:56 PM | $3,600.00 | i28636 |
| Feb 21, 2019 - 12:18:30 PM | $3,550.00 | i8971 |
| Feb 21, 2019 - 12:18:30 PM | $3,500.00 | i28636 |
| Feb 21, 2019 - 12:18:12 PM | $3,050.00 | i8971 |
| Feb 21, 2019 - 12:18:12 PM | $3,000.00 | i28636 |
| Feb 21, 2019 - 12:17:33 PM | $2,550.00 | i8971 |
| Feb 21, 2019 - 12:17:33 PM | $2,500.00 | i28636 |
| Feb 21, 2019 - 12:17:10 PM | $1,425.00 | i8971 |
| Feb 21, 2019 - 12:17:10 PM | $1,375.00 | i28636 |
| Feb 21, 2019 - 12:17:04 PM | $1,325.00 | i8971 |
| Feb 21, 2019 - 12:17:04 PM | $1,275.00 | i28636 |
| Feb 21, 2019 - 12:16:59 PM | $1,225.00 | i8971 |
| Feb 21, 2019 - 12:16:59 PM | $1,175.00 | i28636 |
| Feb 21, 2019 - 12:16:50 PM | $1,125.00 | i8971 |
| Feb 21, 2019 - 12:16:50 PM | $1,075.00 | i28636 |
| Feb 20, 2019 - 12:50:44 PM | $1,025.00 | i8971 |
| Feb 20, 2019 - 12:50:44 PM | $1,000.00 | ijf578573 |
| Feb 13, 2019 - 2:41:32 PM | $105.00 | i8971 |
| Feb 13, 2019 - 2:41:32 PM | $100.00 | iclaygaudet |
| Feb 13, 2019 - 2:40:56 PM | $11.00 | i8971 |
| Feb 13, 2019 - 2:40:56 PM | $10.00 | iclaygaudet |
| Feb 12, 2019 - 8:43:18 PM | $1.00 | i8971 |