Mini Farm Liquidation in Williamson County, TN
Farm Equipment, Tools, Furniture, Electronics, Appliances, Glassware, and Collectibles (505)
All items closed
A Massey Ferguson 261 with front end loader, and more than 300 lots of farm equipment, a horse trailer, tools, appliances, glassware, collectibles and more from a home in the Bethesda area in Williamson County, TN will sell to the highest bidders regardless of price.
Auction Manager:
Dwayne Smith
(615) 509-2428
dwayne@mclemoreauction.com
« Back to list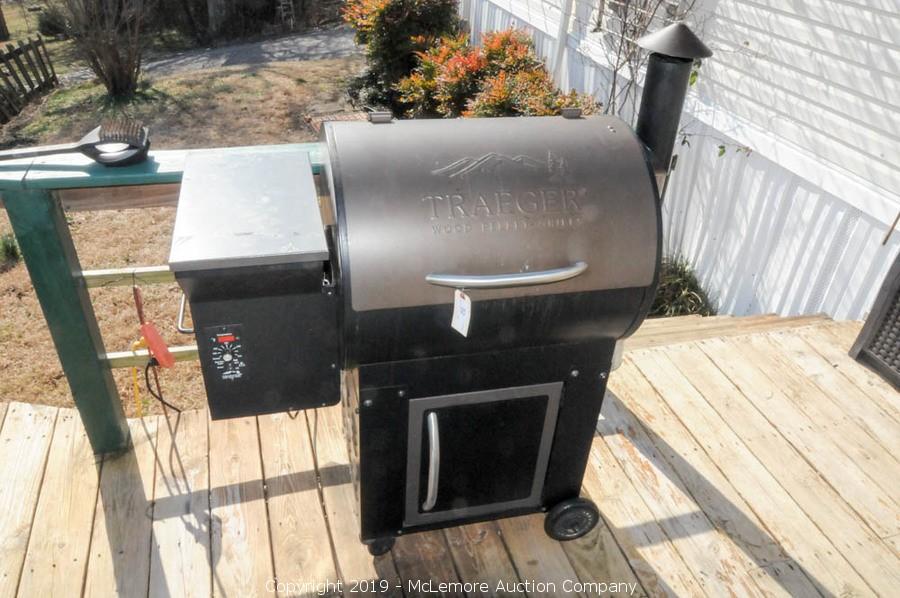 Lot #0082:
Traeger Wood Pellet Grill with Cover
Bidding is

closed

.
High Bid:
$410.00
NA
Bidding Ended:
Thu, Feb 28 2:24:58 pm CT
High Bidder:
jakec2719
Bid Increment:
$10.00
Starting Bid:
$1.00
Item Location:

6800 Lane Rd

,

College Grove

,

TN

37046

Item has been viewed 480 times.

| | | |
| --- | --- | --- |
| Bid Date | Bid Amount | Bidder |
| Feb 24, 2019 - 8:07:03 PM | $410.00 | ijakec2719 |
| Feb 24, 2019 - 8:07:03 PM | $400.00 | iPtomlin |
| Feb 21, 2019 - 11:44:57 AM | $396.00 | iPtomlin |
| Feb 21, 2019 - 11:44:57 AM | $386.00 | ijakec2719 |
| Feb 20, 2019 - 8:18:25 PM | $346.00 | ijakec2719 |
| Feb 20, 2019 - 8:17:56 PM | $336.00 | iPtomlin |
| Feb 20, 2019 - 8:17:56 PM | $326.00 | ijakec2719 |
| Feb 20, 2019 - 4:52:17 PM | $316.00 | iPtomlin |
| Feb 13, 2019 - 5:19:11 PM | $306.00 | i25358 |
| Feb 13, 2019 - 5:19:11 PM | $300.00 | iPtomlin |
| Feb 12, 2019 - 12:04:29 PM | $287.00 | iPtomlin |
| Feb 12, 2019 - 12:04:29 PM | $277.00 | i25358 |
| Feb 11, 2019 - 11:59:16 AM | $260.00 | i25358 |
| Feb 11, 2019 - 11:58:50 AM | $250.00 | iscovianjr |
| Feb 11, 2019 - 11:58:50 AM | $246.00 | i25358 |
| Feb 6, 2019 - 2:50:31 PM | $210.00 | iscovianjr |
| Feb 5, 2019 - 3:49:02 PM | $200.00 | iwinningbidder99 |
| Feb 5, 2019 - 3:49:03 PM | $200.00 | iscovianjr |
| Feb 5, 2019 - 3:48:46 PM | $160.00 | iwinningbidder99 |
| Feb 5, 2019 - 3:48:46 PM | $150.00 | iscovianjr |
| Feb 5, 2019 - 3:48:31 PM | $105.00 | iwinningbidder99 |
| Feb 5, 2019 - 3:48:31 PM | $100.00 | iscovianjr |
| Feb 5, 2019 - 1:17:09 PM | $6.00 | iwinningbidder99 |
| Feb 5, 2019 - 12:04:51 PM | $5.00 | i24573 |
| Feb 5, 2019 - 12:04:52 PM | $5.00 | i29629 |
| Feb 5, 2019 - 11:25:18 AM | $4.00 | i24573 |
| Feb 5, 2019 - 11:25:18 AM | $3.00 | i28750 |
| Feb 5, 2019 - 10:19:29 AM | $2.00 | i24573 |
| Feb 5, 2019 - 8:50:41 AM | $1.00 | iwgwalker |