Complete Liquidation of Thiel Audio Products Co., LLC Including Speakers, Audio Equipment, Components and Furniture (742)
All items closed
McLemore Auction Company will conduct the complete liquidation of Thiel Audio Products Company, LLC for Bankruptcy Trustee, T. Larry Edmondson, in Case #18-0710. Long known as one of the preeminent manufacturers of speakers for hi-fi enthusiasts and audiophiles, Thiel closed in 2018 after 40 years in business. This auction includes more than 500 lots of high performance speakers and audio equipment, speaker components, stage lights, instruments, electronics, furniture, art and tools. The auction also features more than 1,100 Aurora by Thiel Lifestream Home battery powered bluetooth speakers.
Auction Manager:
Blake Kimball
(615) 686-1954
blake@mclemoreauction.com
« Back to list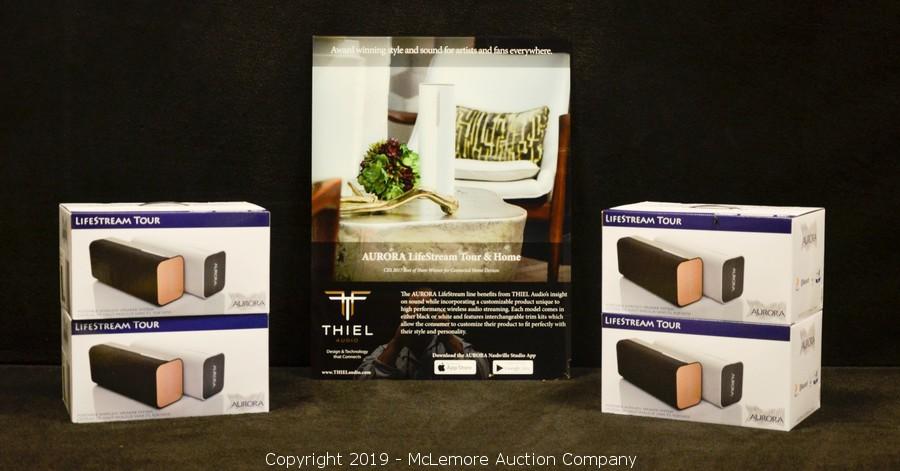 Lot #0378:
(4) Aurora by Thiel, LifeStream Tour / White

 Thiel Audio Official website information here.
 Read the Touch of Modern article here.
 See Video Tutorial
| | | |
| --- | --- | --- |
| Bid Date | Bid Amount | Bidder |
| Jun 20, 2019 - 6:24:18 PM | $320.00 | idjkaz |
| Jun 20, 2019 - 5:31:03 PM | $310.00 | iNashTom |
| Jun 20, 2019 - 4:32:23 PM | $300.00 | i21029 |
| Jun 20, 2019 - 4:32:24 PM | $300.00 | iRobros |
| Jun 20, 2019 - 3:27:57 PM | $270.00 | i21029 |
| Jun 20, 2019 - 3:27:42 PM | $260.00 | iJbj80 |
| Jun 20, 2019 - 3:27:42 PM | $250.00 | i21029 |
| Jun 20, 2019 - 3:19:06 PM | $221.00 | i21029 |
| Jun 20, 2019 - 3:19:06 PM | $211.00 | iwgwalker |
| Jun 20, 2019 - 3:10:53 PM | $201.00 | i21029 |
| Jun 20, 2019 - 3:10:53 PM | $191.00 | i30721 |
| Jun 20, 2019 - 2:55:42 PM | $181.00 | i21029 |
| Jun 20, 2019 - 2:55:42 PM | $171.00 | icaptcutt9 |
| Jun 20, 2019 - 2:09:34 PM | $160.00 | i21029 |
| Jun 20, 2019 - 2:09:34 PM | $150.00 | i24295 |
| Jun 20, 2019 - 12:59:37 PM | $140.00 | i21029 |
| Jun 20, 2019 - 12:59:37 PM | $130.00 | iEarnetwork |
| Jun 20, 2019 - 9:05:38 AM | $120.00 | i21029 |
| Jun 20, 2019 - 9:05:38 AM | $110.00 | iEarnetwork |
| Jun 20, 2019 - 8:02:43 AM | $105.00 | iEarnetwork |
| Jun 20, 2019 - 12:08:38 AM | $100.00 | itrosclairjason |
| Jun 20, 2019 - 12:08:39 AM | $100.00 | i23864 |
| Jun 19, 2019 - 3:46:59 PM | $81.00 | itrosclairjason |
| Jun 19, 2019 - 3:46:59 PM | $76.00 | iEarnetwork |
| Jun 19, 2019 - 9:32:46 AM | $71.00 | itrosclairjason |
| Jun 19, 2019 - 9:32:46 AM | $66.00 | icaptcutt9 |
| Jun 18, 2019 - 8:13:45 AM | $65.00 | icaptcutt9 |
| Jun 17, 2019 - 9:26:44 AM | $60.00 | iskinkbait |
| Jun 15, 2019 - 12:56:37 AM | $55.00 | i13193 |
| Jun 15, 2019 - 12:56:37 AM | $50.00 | iskinkbait |
| Jun 11, 2019 - 8:15:15 PM | $41.00 | iskinkbait |
| Jun 11, 2019 - 8:15:15 PM | $36.00 | iSbechtel101 |
| Jun 11, 2019 - 8:13:22 PM | $31.00 | iskinkbait |
| Jun 11, 2019 - 8:13:22 PM | $26.00 | iSbechtel101 |
| Jun 11, 2019 - 7:37:19 PM | $24.00 | iskinkbait |
| Jun 9, 2019 - 6:20:03 PM | $22.00 | iSbechtel101 |
| Jun 9, 2019 - 6:19:56 PM | $20.00 | iwalkerkc |
| Jun 9, 2019 - 6:19:56 PM | $19.00 | iSbechtel101 |
| Jun 9, 2019 - 4:24:46 AM | $17.00 | iwalkerkc |
| Jun 9, 2019 - 4:24:46 AM | $15.00 | iSbechtel101 |
| Jun 7, 2019 - 3:36:14 PM | $13.00 | iwalkerkc |
| Jun 7, 2019 - 3:36:14 PM | $11.00 | iPekka35 |
| Jun 6, 2019 - 11:44:58 AM | $10.22 | iPekka35 |
| Jun 1, 2019 - 4:54:57 PM | $9.22 | iMrFong |
| Jun 1, 2019 - 4:54:57 PM | $9.00 | iSnape |
| Jun 1, 2019 - 4:54:46 PM | $8.22 | iSnape |
| Jun 1, 2019 - 4:54:46 PM | $7.22 | iMrFong |
| Jun 1, 2019 - 4:54:38 PM | $6.22 | iSnape |
| Jun 1, 2019 - 4:54:38 PM | $5.22 | iMrFong |
| Jun 1, 2019 - 2:03:15 PM | $4.22 | iSnape |
| May 31, 2019 - 10:09:21 PM | $3.22 | i13193 |
| May 28, 2019 - 10:54:11 AM | $2.22 | i13275 |
| May 28, 2019 - 10:54:11 AM | $2.00 | i22023 |
| May 21, 2019 - 10:53:22 AM | $1.00 | i13275 |