6,536± sf Commercial Building on .6± Acres in Springfield, TN
All items closed
McLemore Auction Company, LLC is pleased to offer this commercial building in Springfield, TN at online auction. Redevelop or renovate the property to acquire an income producing asset in a prime location. The property is served by all utilities. In conjunction with Keller Williams Realty, Dunn Commercial Group.
Auction Manager:
Will McLemore
(615) 235-0549
will@mclemoreauction.com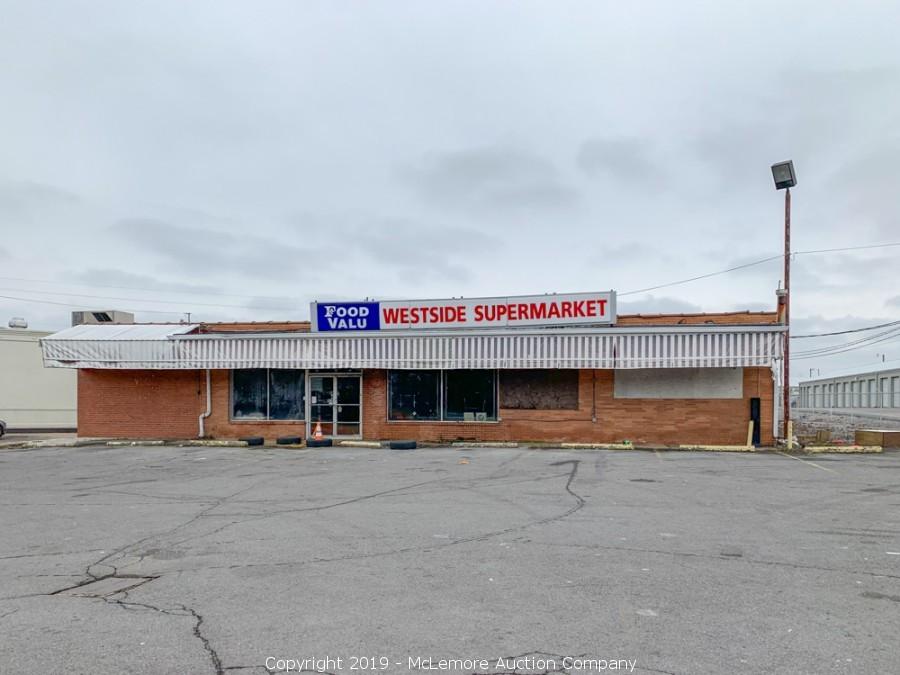 6,536± sf Commercial Building on .6± Acres Zoned CS
Bidding is

closed

.
High Bid:
$180,000.00
NA
Bidding Ended:
Wed, May 1 12:11:19 pm CT
High Bidder:
13141
Bid Increment:
$2,500.00
Starting Bid:
$1.00
Item Location:

1302 TN-49

,

Springfield

,

TN

37172

Item has been viewed 7,854 times.

ASK ABOUT THIS ITEM

Robertson County Tax ID: 080P A 012.00
Zoned CS
| | | |
| --- | --- | --- |
| Bid Date | Bid Amount | Bidder |
| May 1, 2019 - 12:06:19 PM | $180,000.00 | i13141 |
| May 1, 2019 - 12:02:03 PM | $177,500.00 | i17605 |
| May 1, 2019 - 12:01:33 PM | $175,000.00 | i13141 |
| May 1, 2019 - 11:58:45 AM | $172,500.00 | i17605 |
| May 1, 2019 - 11:57:14 AM | $170,000.00 | i13141 |
| May 1, 2019 - 11:57:15 AM | $170,000.00 | i17605 |
| May 1, 2019 - 11:55:46 AM | $167,500.00 | i13141 |
| May 1, 2019 - 11:54:56 AM | $165,000.00 | i17605 |
| May 1, 2019 - 11:54:57 AM | $165,000.00 | i13141 |
| May 1, 2019 - 11:14:20 AM | $157,000.00 | i17605 |
| May 1, 2019 - 11:14:20 AM | $155,000.00 | i13141 |
| May 1, 2019 - 11:12:45 AM | $154,500.00 | i13141 |
| May 1, 2019 - 11:12:45 AM | $152,000.00 | i17605 |
| May 1, 2019 - 11:12:40 AM | $149,500.00 | i13141 |
| May 1, 2019 - 11:12:40 AM | $147,000.00 | i17605 |
| May 1, 2019 - 11:12:33 AM | $144,500.00 | i13141 |
| May 1, 2019 - 11:12:33 AM | $142,000.00 | i17605 |
| May 1, 2019 - 11:12:22 AM | $139,500.00 | i13141 |
| May 1, 2019 - 11:12:22 AM | $137,000.00 | i17605 |
| May 1, 2019 - 11:12:00 AM | $134,500.00 | i13141 |
| May 1, 2019 - 11:12:00 AM | $132,000.00 | i17605 |
| May 1, 2019 - 8:42:52 AM | $129,500.00 | i13141 |
| May 1, 2019 - 8:31:44 AM | $127,000.00 | iOrange |
| May 1, 2019 - 8:31:44 AM | $125,000.00 | i13141 |
| May 1, 2019 - 8:23:04 AM | $124,500.00 | i13141 |
| Apr 30, 2019 - 10:54:02 PM | $122,000.00 | iKR |
| Apr 30, 2019 - 10:54:02 PM | $120,000.00 | i17605 |
| Apr 30, 2019 - 8:25:36 PM | $119,500.00 | i17605 |
| Apr 30, 2019 - 8:25:36 PM | $117,000.00 | iKR |
| Apr 30, 2019 - 8:19:26 PM | $114,500.00 | i17605 |
| Apr 30, 2019 - 8:06:50 PM | $112,000.00 | iKR |
| Apr 30, 2019 - 8:06:50 PM | $110,000.00 | i17605 |
| Apr 30, 2019 - 8:05:25 PM | $109,500.00 | i17605 |
| Apr 30, 2019 - 8:05:25 PM | $107,000.00 | iKR |
| Apr 30, 2019 - 8:04:28 PM | $104,500.00 | i17605 |
| Apr 30, 2019 - 8:04:28 PM | $102,000.00 | iKR |
| Apr 30, 2019 - 8:03:35 PM | $101,000.00 | iKR |
| Apr 30, 2019 - 7:58:00 PM | $100,000.00 | i17605 |
| Apr 30, 2019 - 7:58:00 PM | $99,000.00 | iKR |
| Apr 30, 2019 - 7:57:42 PM | $96,000.00 | iKR |
| Apr 30, 2019 - 7:56:53 PM | $95,000.00 | i17605 |
| Apr 30, 2019 - 7:56:54 PM | $95,000.00 | iKR |
| Apr 30, 2019 - 7:56:14 PM | $91,000.00 | i17605 |
| Apr 30, 2019 - 7:56:14 PM | $90,000.00 | iKR |
| Apr 30, 2019 - 7:47:17 PM | $85,000.00 | i17605 |
| Apr 30, 2019 - 7:47:17 PM | $84,000.00 | iKR |
| Apr 30, 2019 - 7:46:32 PM | $81,000.00 | i17605 |
| Apr 30, 2019 - 7:46:32 PM | $80,000.00 | iKR |
| Apr 30, 2019 - 7:21:25 PM | $76,000.00 | i17605 |
| Apr 30, 2019 - 7:21:25 PM | $75,000.00 | iKR |
| Apr 30, 2019 - 7:20:04 PM | $73,000.00 | i17605 |
| Apr 30, 2019 - 7:20:04 PM | $72,000.00 | iKR |
| Apr 30, 2019 - 7:19:27 PM | $70,000.00 | i17605 |
| Apr 30, 2019 - 7:19:27 PM | $69,000.00 | iKR |
| Apr 30, 2019 - 7:18:57 PM | $66,000.00 | iKR |
| Apr 30, 2019 - 7:18:57 PM | $65,000.00 | i17605 |
| Apr 30, 2019 - 7:16:11 PM | $45,500.00 | i17605 |
| Apr 30, 2019 - 6:05:32 PM | $45,000.00 | i13141 |
| Apr 30, 2019 - 6:05:33 PM | $45,000.00 | iKR |
| Apr 30, 2019 - 6:04:41 PM | $44,500.00 | i13141 |
| Apr 30, 2019 - 6:04:41 PM | $44,000.00 | iKR |
| Apr 30, 2019 - 6:04:01 PM | $43,000.00 | i13141 |
| Apr 30, 2019 - 6:04:01 PM | $42,500.00 | iKR |
| Apr 30, 2019 - 2:38:30 PM | $42,000.00 | i13141 |
| Apr 30, 2019 - 2:38:30 PM | $41,500.00 | iKR |
| Apr 29, 2019 - 1:03:26 AM | $41,000.00 | iKR |
| Apr 28, 2019 - 8:07:26 PM | $40,500.00 | iHamiddurani1 |
| Apr 28, 2019 - 8:07:12 PM | $40,000.00 | iKR |
| Apr 28, 2019 - 8:07:13 PM | $40,000.00 | iHamiddurani1 |
| Apr 27, 2019 - 4:51:15 PM | $39,500.00 | iKR |
| Apr 27, 2019 - 4:51:15 PM | $39,000.00 | igirgisbadr |
| Apr 27, 2019 - 12:34:35 AM | $38,500.00 | igirgisbadr |
| Apr 27, 2019 - 12:34:30 AM | $38,000.00 | iKR |
| Apr 27, 2019 - 12:34:30 AM | $37,500.00 | igirgisbadr |
| Apr 27, 2019 - 12:34:24 AM | $37,000.00 | iKR |
| Apr 27, 2019 - 12:34:24 AM | $36,500.00 | igirgisbadr |
| Apr 26, 2019 - 11:52:34 PM | $36,000.00 | iKR |
| Apr 26, 2019 - 4:19:50 PM | $35,500.00 | igirgisbadr |
| Apr 26, 2019 - 4:19:45 PM | $35,000.00 | iKR |
| Apr 26, 2019 - 4:19:45 PM | $34,500.00 | igirgisbadr |
| Apr 26, 2019 - 4:19:39 PM | $34,000.00 | iKR |
| Apr 26, 2019 - 4:19:39 PM | $33,500.00 | igirgisbadr |
| Apr 26, 2019 - 4:19:26 PM | $33,000.00 | iKR |
| Apr 26, 2019 - 4:19:26 PM | $32,500.00 | igirgisbadr |
| Apr 26, 2019 - 4:19:01 PM | $32,000.00 | iKR |
| Apr 26, 2019 - 4:19:01 PM | $31,500.00 | igirgisbadr |
| Apr 26, 2019 - 12:23:55 PM | $31,000.00 | iKR |
| Apr 26, 2019 - 12:23:55 PM | $30,500.00 | igirgisbadr |
| Apr 25, 2019 - 3:56:46 AM | $30,000.00 | igirgisbadr |
| Apr 25, 2019 - 3:56:20 AM | $29,500.00 | iKR |
| Apr 25, 2019 - 3:56:20 AM | $29,000.00 | igirgisbadr |
| Apr 25, 2019 - 3:45:58 AM | $28,500.00 | iKR |
| Apr 24, 2019 - 9:12:39 PM | $28,000.00 | igirgisbadr |
| Apr 24, 2019 - 9:12:30 PM | $27,500.00 | iKR |
| Apr 24, 2019 - 9:12:30 PM | $27,000.00 | igirgisbadr |
| Apr 24, 2019 - 9:12:05 PM | $26,500.00 | iKR |
| Apr 24, 2019 - 9:12:05 PM | $26,000.00 | igirgisbadr |
| Apr 20, 2019 - 12:14:12 AM | $25,250.00 | iKR |
| Apr 20, 2019 - 12:13:38 AM | $25,000.00 | i27349 |
| Apr 20, 2019 - 12:13:39 AM | $25,000.00 | iKR |
| Apr 19, 2019 - 4:06:04 PM | $17,250.00 | i27349 |
| Apr 19, 2019 - 4:06:04 PM | $17,000.00 | iKR |
| Apr 19, 2019 - 3:22:09 PM | $16,250.00 | i27349 |
| Apr 19, 2019 - 3:22:09 PM | $16,000.00 | iKR |
| Apr 19, 2019 - 3:20:46 PM | $15,250.00 | i27349 |
| Apr 19, 2019 - 3:20:46 PM | $15,000.00 | iKR |
| Apr 19, 2019 - 3:20:06 PM | $14,750.00 | i27349 |
| Apr 19, 2019 - 3:20:06 PM | $14,500.00 | iKR |
| Apr 17, 2019 - 9:52:42 PM | $14,250.00 | i27349 |
| Apr 17, 2019 - 9:52:42 PM | $14,000.00 | iTmcdermott |
| Apr 16, 2019 - 11:00:06 PM | $13,750.00 | i27349 |
| Apr 16, 2019 - 11:00:06 PM | $13,500.00 | iSamal |
| Apr 16, 2019 - 10:57:48 PM | $13,250.00 | i27349 |
| Apr 16, 2019 - 10:57:48 PM | $13,000.00 | iSamal |
| Apr 16, 2019 - 10:57:33 PM | $12,750.00 | i27349 |
| Apr 16, 2019 - 10:57:33 PM | $12,500.00 | iSamal |
| Apr 16, 2019 - 10:57:18 PM | $12,250.00 | i27349 |
| Apr 16, 2019 - 10:57:18 PM | $12,000.00 | iSamal |
| Apr 16, 2019 - 10:57:01 PM | $11,750.00 | i27349 |
| Apr 16, 2019 - 10:57:01 PM | $11,500.00 | iSamal |
| Apr 9, 2019 - 10:50:18 PM | $11,250.00 | i27349 |
| Apr 9, 2019 - 10:50:18 PM | $11,000.00 | iish5551@att |
| Apr 3, 2019 - 9:37:40 PM | $10,501.00 | i27349 |
| Apr 2, 2019 - 6:43:05 PM | $10,251.00 | i18036 |
| Apr 2, 2019 - 12:56:06 PM | $10,001.00 | i24620 |
| Apr 2, 2019 - 12:56:06 PM | $10,000.00 | i27349 |
| Apr 2, 2019 - 12:23:38 PM | $5,050.00 | i27349 |
| Apr 2, 2019 - 12:22:51 PM | $5,000.00 | i20960 |
| Apr 2, 2019 - 12:22:52 PM | $5,000.00 | i27349 |
| Apr 2, 2019 - 12:18:31 PM | $1.00 | i20960 |