3 BR, 2 BA, 1,540± sq ft Home on 1± Acre in Tullahoma, TN
All items closed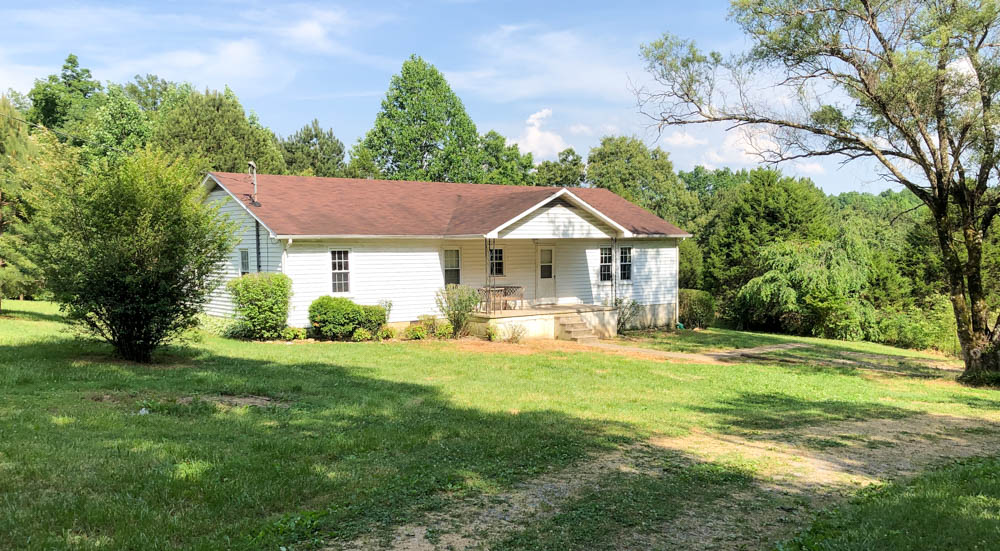 McLemore Auction Company, LLC is pleased to offer this 1,540± sf, 3 bedroom, 2 bath home on 1± acre in Tullahoma, TN in Moore County. This property is on a private large lot with mature trees, conveniently located to Tullahoma commercial district, and is only 3 miles to the boat ramp on Tims Ford Lake. This is a great opportunity for investors, flippers or someone to make their home as the property will sell to the highest bidder regardless of price.
Auction Manager:
Dwayne Smith
(615) 307-6980
dwayne@mclemoreauction.com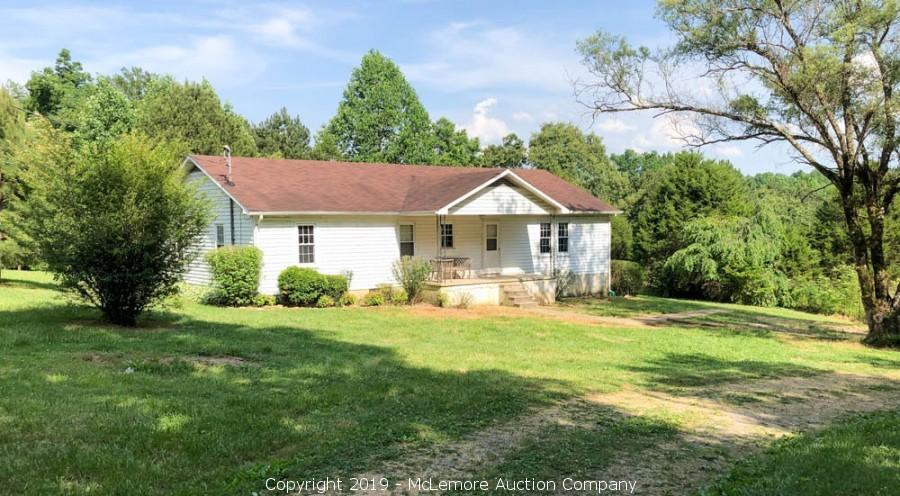 3 Bedroom, 2 Bath, 1,540± sq ft Home on 1± Acre
Bidding is

closed

.
High Bid:
$86,700.00
NA
Bidding Ended:
Fri, Jun 14 12:11:21 pm CT
High Bidder:
boatman
Bid Increment:
$1,000.00
Starting Bid:
$1.00
Item Location:

627 Warner Smith Rd

,

Tullahoma

,

TN

37388

Item has been viewed 5,195 times.

ASK ABOUT THIS ITEM

Moore County Tax ID: 024 008.02
2018 Taxes: $578.00
Built in 1988
2.6 Miles to Tims Ford Lake boat ramp at Neal Bridge on Ridgeville Rd.
10 Miles to Lynchburg
15 Miles to Winchester
Carpet and pad have been removed
Needs a some repairs
Selling as is
Attic space for storage with pull down stairs partially floored
1 acre lot with mature trees and landscaping
Washer, dryer and refrigerator included
Open for inspection on Sunday, June 9, 1PM Sharp
Open for inspection Thursday, June 13, 11AM Sharp
| | | |
| --- | --- | --- |
| Bid Date | Bid Amount | Bidder |
| Jun 14, 2019 - 12:06:21 PM | $86,700.00 | iboatman |
| Jun 14, 2019 - 12:02:55 PM | $85,700.00 | iwd930 |
| Jun 14, 2019 - 12:02:55 PM | $85,000.00 | iboatman |
| Jun 14, 2019 - 12:02:15 PM | $84,700.00 | iboatman |
| Jun 14, 2019 - 12:01:31 PM | $83,700.00 | iwd930 |
| Jun 14, 2019 - 12:01:31 PM | $83,000.00 | iboatman |
| Jun 14, 2019 - 12:00:05 PM | $82,700.00 | iboatman |
| Jun 14, 2019 - 12:00:05 PM | $81,700.00 | iwd930 |
| Jun 14, 2019 - 11:59:23 AM | $81,500.00 | iwd930 |
| Jun 14, 2019 - 11:59:23 AM | $80,500.00 | iboatman |
| Jun 14, 2019 - 11:56:32 AM | $80,250.00 | iboatman |
| Jun 14, 2019 - 11:56:32 AM | $79,250.00 | iwd930 |
| Jun 14, 2019 - 11:55:54 AM | $79,000.00 | iwd930 |
| Jun 14, 2019 - 11:55:27 AM | $78,000.00 | iboatman |
| Jun 14, 2019 - 11:55:27 AM | $77,500.00 | iwd930 |
| Jun 14, 2019 - 11:18:01 AM | $76,000.00 | iwd930 |
| Jun 14, 2019 - 11:18:01 AM | $75,250.00 | iBigmark15 |
| Jun 14, 2019 - 11:17:38 AM | $74,000.00 | iwd930 |
| Jun 14, 2019 - 11:17:38 AM | $73,000.00 | iBigmark15 |
| Jun 14, 2019 - 8:38:28 AM | $72,000.00 | iwd930 |
| Jun 14, 2019 - 8:38:29 AM | $72,000.00 | i19252 |
| Jun 14, 2019 - 7:13:32 AM | $71,000.00 | iwd930 |
| Jun 13, 2019 - 10:03:00 PM | $70,000.00 | iboatman |
| Jun 13, 2019 - 10:01:23 PM | $69,000.00 | iwd930 |
| Jun 13, 2019 - 10:01:24 PM | $69,000.00 | iboatman |
| Jun 13, 2019 - 9:57:00 PM | $67,500.00 | iwd930 |
| Jun 13, 2019 - 9:57:00 PM | $66,500.00 | iboatman |
| Jun 13, 2019 - 9:54:42 PM | $65,500.00 | iwd930 |
| Jun 13, 2019 - 9:54:42 PM | $64,500.00 | iboatman |
| Jun 13, 2019 - 9:20:37 PM | $63,500.00 | iwd930 |
| Jun 13, 2019 - 9:20:37 PM | $62,500.00 | iBigmark15 |
| Jun 13, 2019 - 7:39:44 PM | $61,500.00 | iwd930 |
| Jun 13, 2019 - 6:32:26 PM | $60,500.00 | iBigmark15 |
| Jun 13, 2019 - 6:32:26 PM | $60,250.00 | iwd930 |
| Jun 13, 2019 - 6:24:16 PM | $57,000.00 | iwd930 |
| Jun 13, 2019 - 6:24:16 PM | $56,000.00 | iBigmark15 |
| Jun 13, 2019 - 6:23:57 PM | $53,001.00 | iwd930 |
| Jun 13, 2019 - 6:23:57 PM | $52,001.00 | iBigmark15 |
| Jun 13, 2019 - 12:15:04 PM | $51,001.00 | iwd930 |
| Jun 13, 2019 - 11:17:33 AM | $50,001.00 | iBigmark15 |
| Jun 13, 2019 - 11:17:33 AM | $50,000.00 | iwd930 |
| Jun 13, 2019 - 11:15:06 AM | $49,000.03 | iwd930 |
| Jun 13, 2019 - 11:15:06 AM | $48,500.03 | iBigmark15 |
| Jun 13, 2019 - 11:14:05 AM | $48,000.03 | iwd930 |
| Jun 13, 2019 - 11:14:05 AM | $47,500.03 | iBigmark15 |
| Jun 12, 2019 - 10:21:47 AM | $47,000.03 | iwd930 |
| Jun 11, 2019 - 2:54:24 PM | $46,500.03 | iTheyarb |
| Jun 11, 2019 - 2:51:34 PM | $46,000.03 | iSkinnyPete |
| Jun 11, 2019 - 2:51:34 PM | $46,000.00 | iTheyarb |
| Jun 11, 2019 - 2:51:03 PM | $45,500.02 | iTheyarb |
| Jun 11, 2019 - 2:51:03 PM | $45,000.02 | iSkinnyPete |
| Jun 11, 2019 - 2:49:51 PM | $44,500.01 | iTheyarb |
| Jun 11, 2019 - 2:49:51 PM | $44,000.01 | iSkinnyPete |
| Jun 11, 2019 - 2:45:11 PM | $44,000.00 | iSkinnyPete |
| Jun 11, 2019 - 2:44:49 PM | $43,500.00 | iTheyarb |
| Jun 11, 2019 - 2:44:49 PM | $43,000.01 | iSkinnyPete |
| Jun 11, 2019 - 2:44:17 PM | $43,000.00 | iSkinnyPete |
| Jun 11, 2019 - 2:42:08 PM | $42,500.00 | iTheyarb |
| Jun 11, 2019 - 2:42:08 PM | $42,136.71 | iSkinnyPete |
| Jun 11, 2019 - 2:42:05 PM | $42,000.00 | iSkinnyPete |
| Jun 11, 2019 - 2:42:05 PM | $41,500.00 | iTheyarb |
| Jun 11, 2019 - 2:42:01 PM | $41,000.00 | iSkinnyPete |
| Jun 11, 2019 - 2:42:01 PM | $40,500.00 | iTheyarb |
| Jun 11, 2019 - 2:41:53 PM | $40,000.00 | iSkinnyPete |
| Jun 11, 2019 - 2:41:53 PM | $39,500.00 | iTheyarb |
| Jun 11, 2019 - 2:41:48 PM | $39,000.00 | iSkinnyPete |
| Jun 11, 2019 - 2:41:48 PM | $38,500.00 | iTheyarb |
| Jun 11, 2019 - 2:41:44 PM | $38,000.00 | iSkinnyPete |
| Jun 11, 2019 - 2:41:44 PM | $37,500.00 | iTheyarb |
| Jun 11, 2019 - 2:41:38 PM | $37,000.00 | iSkinnyPete |
| Jun 11, 2019 - 2:41:38 PM | $36,500.00 | iTheyarb |
| Jun 11, 2019 - 2:36:06 PM | $36,000.00 | iSkinnyPete |
| Jun 11, 2019 - 1:31:17 PM | $35,500.00 | iTheyarb |
| Jun 11, 2019 - 1:29:43 PM | $35,000.00 | iSkinnyPete |
| Jun 11, 2019 - 1:29:44 PM | $35,000.00 | iTheyarb |
| Jun 11, 2019 - 1:01:49 PM | $30,500.00 | iSkinnyPete |
| Jun 11, 2019 - 1:01:49 PM | $30,000.00 | i19252 |
| Jun 10, 2019 - 11:43:26 AM | $28,250.00 | iSkinnyPete |
| Jun 10, 2019 - 11:43:26 AM | $27,750.00 | iTheyarb |
| Jun 10, 2019 - 11:41:35 AM | $27,250.00 | iSkinnyPete |
| Jun 10, 2019 - 11:41:35 AM | $26,750.00 | iTheyarb |
| Jun 10, 2019 - 11:41:19 AM | $26,250.00 | iSkinnyPete |
| Jun 10, 2019 - 11:41:19 AM | $25,750.00 | iTheyarb |
| Jun 10, 2019 - 10:10:29 AM | $25,250.00 | iSkinnyPete |
| Jun 10, 2019 - 10:10:29 AM | $25,000.00 | iWunny |
| Jun 10, 2019 - 10:10:18 AM | $24,750.00 | iSkinnyPete |
| Jun 10, 2019 - 10:10:18 AM | $24,500.00 | iWunny |
| Jun 10, 2019 - 10:09:14 AM | $24,250.00 | iSkinnyPete |
| Jun 10, 2019 - 10:09:14 AM | $24,000.00 | iWunny |
| Jun 10, 2019 - 10:08:59 AM | $23,750.00 | iSkinnyPete |
| Jun 10, 2019 - 10:08:59 AM | $23,500.00 | iWunny |
| Jun 10, 2019 - 10:08:51 AM | $23,250.00 | iSkinnyPete |
| Jun 10, 2019 - 10:08:51 AM | $23,000.00 | iWunny |
| Jun 10, 2019 - 10:08:39 AM | $22,750.00 | iSkinnyPete |
| Jun 10, 2019 - 10:08:39 AM | $22,500.00 | iWunny |
| Jun 10, 2019 - 10:08:25 AM | $22,250.00 | iSkinnyPete |
| Jun 10, 2019 - 10:08:25 AM | $22,000.00 | iWunny |
| Jun 10, 2019 - 10:08:11 AM | $21,750.00 | iSkinnyPete |
| Jun 10, 2019 - 10:08:11 AM | $21,500.00 | iWunny |
| Jun 10, 2019 - 10:07:47 AM | $21,250.00 | iSkinnyPete |
| Jun 10, 2019 - 10:07:47 AM | $21,000.00 | iWunny |
| Jun 7, 2019 - 3:04:58 PM | $20,750.00 | iSkinnyPete |
| Jun 7, 2019 - 3:04:58 PM | $20,500.00 | iMcDADDY |
| Jun 1, 2019 - 8:19:17 PM | $19,750.00 | iMcDADDY |
| Jun 1, 2019 - 8:19:17 PM | $19,500.00 | icthurman61 |
| Jun 1, 2019 - 8:18:51 PM | $19,250.00 | iMcDADDY |
| Jun 1, 2019 - 8:18:51 PM | $19,000.00 | icthurman61 |
| Jun 1, 2019 - 8:17:43 PM | $18,750.00 | iMcDADDY |
| Jun 1, 2019 - 8:17:43 PM | $18,500.00 | icthurman61 |
| Jun 1, 2019 - 8:17:16 PM | $18,250.00 | iMcDADDY |
| Jun 1, 2019 - 8:17:16 PM | $18,000.00 | icthurman61 |
| Jun 1, 2019 - 8:16:49 PM | $17,750.00 | iMcDADDY |
| Jun 1, 2019 - 8:16:49 PM | $17,500.00 | icthurman61 |
| Jun 1, 2019 - 3:32:42 PM | $17,250.00 | iMcDADDY |
| Jun 1, 2019 - 3:32:42 PM | $17,000.00 | icthurman61 |
| Jun 1, 2019 - 3:32:20 PM | $16,750.00 | iMcDADDY |
| Jun 1, 2019 - 3:32:20 PM | $16,500.00 | icthurman61 |
| Jun 1, 2019 - 3:31:38 PM | $16,250.00 | iMcDADDY |
| Jun 1, 2019 - 3:31:38 PM | $16,000.00 | icthurman61 |
| Jun 1, 2019 - 3:29:53 PM | $15,750.00 | iMcDADDY |
| Jun 1, 2019 - 3:29:53 PM | $15,500.00 | icthurman61 |
| May 31, 2019 - 1:20:09 PM | $15,250.00 | iMcDADDY |
| May 31, 2019 - 1:20:09 PM | $15,000.00 | ianything1 |
| May 31, 2019 - 1:11:23 PM | $10,100.00 | iMcDADDY |
| May 31, 2019 - 1:11:23 PM | $10,000.00 | ianything1 |
| May 31, 2019 - 1:10:38 PM | $6,600.00 | iMcDADDY |
| May 31, 2019 - 1:10:38 PM | $6,500.00 | ianything1 |
| May 31, 2019 - 1:09:42 PM | $6,300.00 | iMcDADDY |
| May 31, 2019 - 1:09:42 PM | $6,200.00 | ianything1 |
| May 29, 2019 - 6:34:33 PM | $6,100.00 | iMcDADDY |
| May 29, 2019 - 6:34:33 PM | $6,000.00 | iprh4ntic |
| May 29, 2019 - 1:55:45 PM | $5,700.00 | iprh4ntic |
| May 28, 2019 - 4:58:37 PM | $5,600.00 | ianything1 |
| May 28, 2019 - 12:34:06 AM | $5,500.00 | icthurman61 |
| May 27, 2019 - 6:18:28 PM | $5,400.00 | i30721 |
| May 26, 2019 - 1:04:56 PM | $5,300.00 | icthurman61 |
| May 25, 2019 - 7:00:20 PM | $5,200.00 | i30721 |
| May 22, 2019 - 11:18:54 PM | $5,100.00 | icthurman61 |
| May 22, 2019 - 11:18:54 PM | $5,055.00 | i24999 |
| May 22, 2019 - 11:18:42 PM | $4,150.00 | i24999 |
| May 22, 2019 - 11:18:42 PM | $4,100.00 | icthurman61 |
| May 22, 2019 - 11:18:24 PM | $3,650.00 | i24999 |
| May 22, 2019 - 11:18:24 PM | $3,600.00 | icthurman61 |
| May 22, 2019 - 8:40:04 PM | $3,550.00 | i24999 |
| May 22, 2019 - 8:40:04 PM | $3,500.00 | iTkeel1994 |
| May 22, 2019 - 7:12:50 PM | $2,051.00 | iTkeel1994 |
| May 22, 2019 - 7:12:50 PM | $2,001.00 | iWeigert |
| May 22, 2019 - 1:55:05 PM | $1.00 | iTkeel1994 |