1,196± sf 3 Bedroom, 2 Bath Home on .72± Acres in Hohenwald, TN
All items closed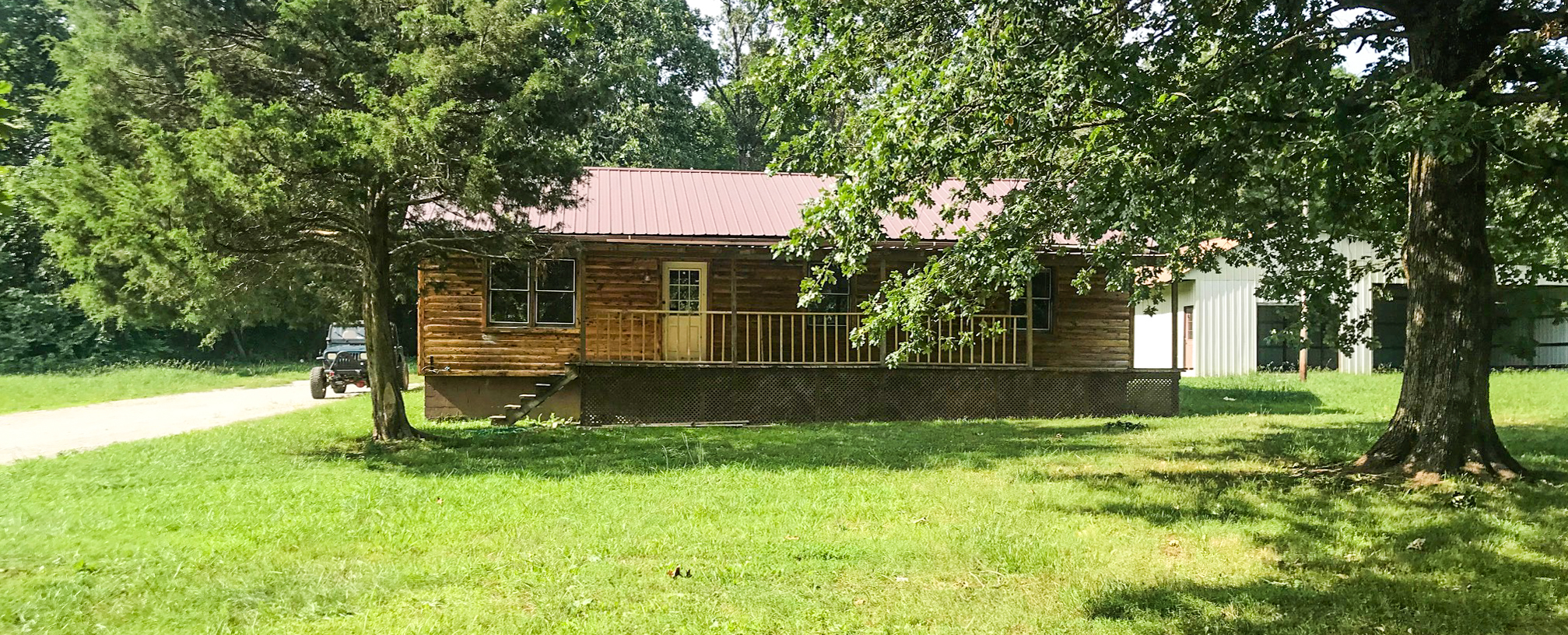 McLemore Auction Company, LLC, in conjunction with Heritage Auction and Real Estate, Inc. is pleased to offer this single family home in the New Switzerland Estates Subdivision in Hohenwald, TN.
Auction Manager:
Will McLemore
(615) 235-3401
will@mclemoreauction.com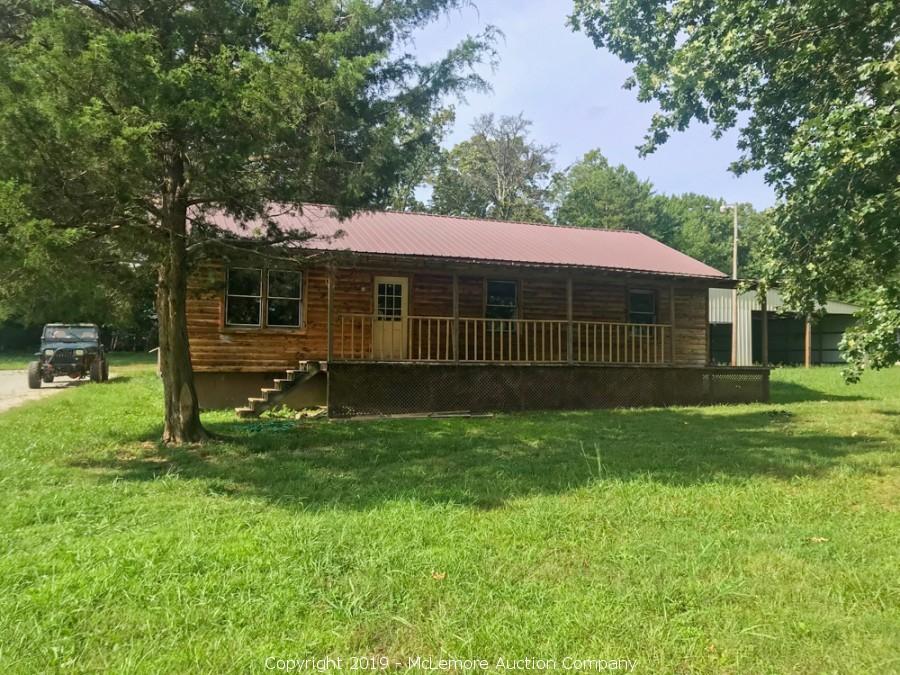 1,196± sf 3 Bedroom,2 Bath Home on .72± Acres
Bidding is

closed

.
High Bid:
$41,500.00
NA
Bidding Ended:
Wed, Jul 17 1:11:43 pm CT
High Bidder:
38464
Bid Increment:
$500.00
Starting Bid:
$1.00
Item Location:

165 Swiss Road

,

Hohenwald

,

TN

38462

Item has been viewed 3,360 times.

ASK ABOUT THIS ITEM

Roof on home replaced 2 years ago.
Includes metal clad storage building / garage.
Nice mature trees
Gravel driveway
| | | |
| --- | --- | --- |
| Bid Date | Bid Amount | Bidder |
| Jul 17, 2019 - 1:06:43 PM | $41,500.00 | i38464 |
| Jul 17, 2019 - 1:06:43 PM | $41,000.00 | i25531 |
| Jul 17, 2019 - 1:01:47 PM | $40,500.00 | i38464 |
| Jul 17, 2019 - 1:01:47 PM | $40,000.00 | i25531 |
| Jul 17, 2019 - 12:57:50 PM | $39,500.00 | i38464 |
| Jul 17, 2019 - 12:57:50 PM | $39,000.00 | i25531 |
| Jul 17, 2019 - 12:53:43 PM | $38,500.00 | i38464 |
| Jul 17, 2019 - 12:53:43 PM | $38,000.00 | ijames4 |
| Jul 17, 2019 - 12:40:09 PM | $37,500.00 | i38464 |
| Jul 17, 2019 - 12:40:09 PM | $37,000.00 | ijames4 |
| Jul 17, 2019 - 12:39:51 PM | $36,500.00 | i38464 |
| Jul 17, 2019 - 12:39:51 PM | $36,000.00 | ijames4 |
| Jul 17, 2019 - 12:39:35 PM | $35,500.00 | i38464 |
| Jul 17, 2019 - 12:39:35 PM | $35,000.00 | ijames4 |
| Jul 17, 2019 - 12:39:22 PM | $34,500.00 | i38464 |
| Jul 17, 2019 - 12:39:22 PM | $34,000.00 | ijames4 |
| Jul 17, 2019 - 12:39:16 PM | $33,500.00 | i38464 |
| Jul 17, 2019 - 12:39:16 PM | $33,000.00 | ijames4 |
| Jul 17, 2019 - 12:37:57 PM | $32,500.00 | i38464 |
| Jul 17, 2019 - 12:37:57 PM | $32,000.00 | ijames4 |
| Jul 17, 2019 - 12:37:49 PM | $31,500.00 | i38464 |
| Jul 17, 2019 - 12:37:49 PM | $31,000.00 | ijames4 |
| Jul 17, 2019 - 12:37:42 PM | $30,500.00 | i38464 |
| Jul 17, 2019 - 12:37:42 PM | $30,000.00 | ijames4 |
| Jul 17, 2019 - 12:37:36 PM | $29,500.00 | i38464 |
| Jul 17, 2019 - 12:37:36 PM | $29,000.00 | ijames4 |
| Jul 17, 2019 - 12:37:29 PM | $28,500.00 | i38464 |
| Jul 17, 2019 - 12:37:29 PM | $28,000.00 | ijames4 |
| Jul 17, 2019 - 10:00:48 AM | $27,500.00 | i38464 |
| Jul 17, 2019 - 3:26:43 AM | $27,000.00 | iSHAR/dan13 |
| Jul 16, 2019 - 2:01:23 PM | $26,500.00 | ijames4 |
| Jul 16, 2019 - 12:42:39 PM | $26,000.00 | iNichole38462 |
| Jul 16, 2019 - 12:42:39 PM | $25,500.00 | iMichaelp |
| Jul 15, 2019 - 6:59:34 AM | $24,500.00 | iNichole38462 |
| Jul 14, 2019 - 8:32:20 PM | $24,250.00 | i25531 |
| Jul 14, 2019 - 8:31:05 PM | $24,000.00 | iNichole38462 |
| Jul 14, 2019 - 8:31:05 PM | $23,750.00 | i25531 |
| Jul 14, 2019 - 8:28:14 PM | $23,250.00 | iNichole38462 |
| Jul 14, 2019 - 8:28:14 PM | $23,000.00 | i25531 |
| Jul 14, 2019 - 8:23:19 PM | $22,350.00 | iNichole38462 |
| Jul 14, 2019 - 8:23:19 PM | $22,100.00 | i25531 |
| Jul 12, 2019 - 10:26:00 PM | $21,850.00 | iNichole38462 |
| Jul 12, 2019 - 10:26:00 PM | $21,600.00 | ijames4 |
| Jul 12, 2019 - 10:25:55 PM | $21,350.00 | iNichole38462 |
| Jul 12, 2019 - 10:25:55 PM | $21,100.00 | ijames4 |
| Jul 12, 2019 - 10:25:43 PM | $20,850.00 | iNichole38462 |
| Jul 12, 2019 - 10:25:43 PM | $20,600.00 | ijames4 |
| Jul 11, 2019 - 1:03:56 PM | $20,350.00 | iNichole38462 |
| Jul 2, 2019 - 6:42:05 PM | $20,100.00 | ijames4 |
| Jul 2, 2019 - 6:42:05 PM | $20,000.00 | iNichole38462 |
| Jul 2, 2019 - 6:42:01 PM | $19,850.00 | iNichole38462 |
| Jul 2, 2019 - 6:42:01 PM | $19,600.00 | ijames4 |
| Jul 2, 2019 - 6:41:58 PM | $19,350.00 | iNichole38462 |
| Jul 2, 2019 - 6:41:58 PM | $19,100.00 | ijames4 |
| Jul 2, 2019 - 6:41:55 PM | $18,850.00 | iNichole38462 |
| Jul 2, 2019 - 6:41:55 PM | $18,600.00 | ijames4 |
| Jul 2, 2019 - 6:41:50 PM | $18,350.00 | iNichole38462 |
| Jul 2, 2019 - 6:41:50 PM | $18,100.00 | ijames4 |
| Jul 2, 2019 - 6:41:47 PM | $17,850.00 | iNichole38462 |
| Jul 2, 2019 - 6:41:47 PM | $17,600.00 | ijames4 |
| Jul 2, 2019 - 6:41:44 PM | $17,350.00 | iNichole38462 |
| Jul 2, 2019 - 6:41:44 PM | $17,100.00 | ijames4 |
| Jul 2, 2019 - 6:41:40 PM | $16,850.00 | iNichole38462 |
| Jul 2, 2019 - 6:41:40 PM | $16,600.00 | ijames4 |
| Jul 1, 2019 - 7:37:31 PM | $16,350.00 | iNichole38462 |
| Jul 1, 2019 - 7:37:31 PM | $16,100.00 | ijames4 |
| Jul 1, 2019 - 7:37:24 PM | $15,850.00 | iNichole38462 |
| Jul 1, 2019 - 7:37:24 PM | $15,600.00 | ijames4 |
| Jul 1, 2019 - 5:04:18 PM | $15,350.00 | iNichole38462 |
| Jun 29, 2019 - 12:31:35 PM | $15,100.00 | ijames4 |
| Jun 29, 2019 - 12:31:35 PM | $15,000.00 | iNichole38462 |
| Jun 29, 2019 - 12:31:30 PM | $14,850.00 | iNichole38462 |
| Jun 29, 2019 - 12:31:30 PM | $14,600.00 | ijames4 |
| Jun 29, 2019 - 12:31:24 PM | $14,350.00 | iNichole38462 |
| Jun 29, 2019 - 12:31:24 PM | $14,100.00 | ijames4 |
| Jun 29, 2019 - 12:31:19 PM | $13,850.00 | iNichole38462 |
| Jun 29, 2019 - 12:31:19 PM | $13,600.00 | ijames4 |
| Jun 29, 2019 - 12:31:14 PM | $13,350.00 | iNichole38462 |
| Jun 29, 2019 - 12:31:14 PM | $13,100.00 | ijames4 |
| Jun 29, 2019 - 12:31:05 PM | $12,850.00 | iNichole38462 |
| Jun 29, 2019 - 12:31:05 PM | $12,600.00 | ijames4 |
| Jun 29, 2019 - 12:30:59 PM | $12,350.00 | iNichole38462 |
| Jun 29, 2019 - 12:30:59 PM | $12,100.00 | ijames4 |
| Jun 29, 2019 - 12:30:54 PM | $11,850.00 | iNichole38462 |
| Jun 29, 2019 - 12:30:54 PM | $11,600.00 | ijames4 |
| Jun 29, 2019 - 12:30:47 PM | $11,350.00 | iNichole38462 |
| Jun 29, 2019 - 12:30:47 PM | $11,100.00 | ijames4 |
| Jun 29, 2019 - 12:30:36 PM | $10,850.00 | iNichole38462 |
| Jun 29, 2019 - 12:30:36 PM | $10,600.00 | ijames4 |
| Jun 29, 2019 - 11:54:15 AM | $10,350.00 | iNichole38462 |
| Jun 28, 2019 - 10:56:25 PM | $10,100.00 | ijames4 |
| Jun 28, 2019 - 10:56:21 PM | $10,000.00 | icsmarker |
| Jun 28, 2019 - 10:56:21 PM | $9,900.00 | ijames4 |
| Jun 28, 2019 - 10:56:17 PM | $9,800.00 | icsmarker |
| Jun 28, 2019 - 10:56:17 PM | $9,700.00 | ijames4 |
| Jun 28, 2019 - 10:56:13 PM | $9,600.00 | icsmarker |
| Jun 28, 2019 - 10:56:13 PM | $9,500.00 | ijames4 |
| Jun 28, 2019 - 7:24:49 PM | $9,400.00 | icsmarker |
| Jun 28, 2019 - 7:18:50 PM | $9,300.00 | ijames4 |
| Jun 28, 2019 - 7:18:45 PM | $9,200.00 | icsmarker |
| Jun 28, 2019 - 7:18:46 PM | $9,200.00 | ijames4 |
| Jun 28, 2019 - 7:12:01 PM | $9,100.00 | icsmarker |
| Jun 28, 2019 - 7:12:01 PM | $9,000.00 | iNichole38462 |
| Jun 28, 2019 - 7:11:49 PM | $8,600.00 | iNichole38462 |
| Jun 28, 2019 - 7:11:49 PM | $8,500.00 | icsmarker |
| Jun 28, 2019 - 7:11:37 PM | $8,100.00 | iNichole38462 |
| Jun 28, 2019 - 7:11:37 PM | $8,000.00 | icsmarker |
| Jun 28, 2019 - 7:11:07 PM | $7,600.00 | iNichole38462 |
| Jun 28, 2019 - 7:11:07 PM | $7,500.00 | icsmarker |
| Jun 28, 2019 - 7:10:57 PM | $7,100.00 | iNichole38462 |
| Jun 28, 2019 - 7:10:57 PM | $7,000.00 | icsmarker |
| Jun 28, 2019 - 7:10:43 PM | $6,600.00 | iNichole38462 |
| Jun 28, 2019 - 7:10:43 PM | $6,500.00 | icsmarker |
| Jun 28, 2019 - 7:10:34 PM | $6,300.00 | iNichole38462 |
| Jun 28, 2019 - 7:10:34 PM | $6,200.00 | icsmarker |
| Jun 28, 2019 - 7:10:22 PM | $5,900.00 | iNichole38462 |
| Jun 28, 2019 - 7:10:22 PM | $5,800.00 | icsmarker |
| Jun 28, 2019 - 7:10:11 PM | $5,300.00 | iNichole38462 |
| Jun 28, 2019 - 7:10:11 PM | $5,200.00 | icsmarker |
| Jun 28, 2019 - 7:10:00 PM | $5,050.00 | iNichole38462 |
| Jun 28, 2019 - 7:10:00 PM | $5,000.00 | icsmarker |
| Jun 28, 2019 - 7:09:49 PM | $4,650.00 | iNichole38462 |
| Jun 28, 2019 - 7:09:49 PM | $4,600.00 | icsmarker |
| Jun 28, 2019 - 7:09:38 PM | $4,350.00 | iNichole38462 |
| Jun 28, 2019 - 7:09:38 PM | $4,300.00 | icsmarker |
| Jun 28, 2019 - 7:09:27 PM | $4,050.00 | iNichole38462 |
| Jun 28, 2019 - 7:09:27 PM | $4,000.00 | icsmarker |
| Jun 28, 2019 - 7:09:12 PM | $3,800.00 | iNichole38462 |
| Jun 28, 2019 - 7:09:12 PM | $3,750.00 | icsmarker |
| Jun 28, 2019 - 7:08:55 PM | $3,550.00 | iNichole38462 |
| Jun 28, 2019 - 7:08:55 PM | $3,500.00 | icsmarker |
| Jun 28, 2019 - 7:08:41 PM | $3,350.00 | iNichole38462 |
| Jun 28, 2019 - 7:08:41 PM | $3,300.00 | icsmarker |
| Jun 28, 2019 - 7:08:21 PM | $3,200.00 | iNichole38462 |
| Jun 28, 2019 - 7:08:21 PM | $3,150.00 | icsmarker |
| Jun 28, 2019 - 6:48:16 PM | $3,050.00 | iNichole38462 |
| Jun 28, 2019 - 6:48:16 PM | $3,000.00 | ijames4 |
| Jun 28, 2019 - 6:48:12 PM | $2,950.00 | iNichole38462 |
| Jun 28, 2019 - 6:48:12 PM | $2,900.00 | ijames4 |
| Jun 28, 2019 - 6:48:08 PM | $2,850.00 | iNichole38462 |
| Jun 28, 2019 - 6:48:08 PM | $2,800.00 | ijames4 |
| Jun 28, 2019 - 6:48:03 PM | $2,750.00 | iNichole38462 |
| Jun 28, 2019 - 6:48:03 PM | $2,700.00 | ijames4 |
| Jun 28, 2019 - 6:47:58 PM | $2,650.00 | iNichole38462 |
| Jun 28, 2019 - 6:47:58 PM | $2,600.00 | ijames4 |
| Jun 28, 2019 - 6:31:21 PM | $2,550.00 | iNichole38462 |
| Jun 28, 2019 - 6:31:21 PM | $2,500.00 | i18036 |
| Jun 28, 2019 - 5:11:40 PM | $2,351.00 | iNichole38462 |
| Jun 27, 2019 - 5:17:33 PM | $2,301.00 | ijames4 |
| Jun 27, 2019 - 4:18:18 PM | $2,251.00 | i30355 |
| Jun 26, 2019 - 8:30:59 PM | $2,201.00 | ijames4 |
| Jun 26, 2019 - 8:30:59 PM | $2,200.00 | icsmarker |
| Jun 26, 2019 - 3:46:12 PM | $2,151.00 | icsmarker |
| Jun 26, 2019 - 1:57:47 PM | $2,101.00 | ijames4 |
| Jun 26, 2019 - 1:55:41 PM | $2,051.00 | i30355 |
| Jun 26, 2019 - 1:53:40 PM | $2,001.00 | ijames4 |
| Jun 26, 2019 - 1:53:40 PM | $2,000.00 | i17516 Old Gringo |
| Jun 26, 2019 - 1:53:35 PM | $1,951.00 | i17516 Old Gringo |
| Jun 26, 2019 - 1:53:35 PM | $1,901.00 | ijames4 |
| Jun 26, 2019 - 1:53:26 PM | $1,851.00 | i17516 Old Gringo |
| Jun 26, 2019 - 1:53:26 PM | $1,801.00 | ijames4 |
| Jun 26, 2019 - 1:53:17 PM | $1,751.00 | i17516 Old Gringo |
| Jun 26, 2019 - 1:53:17 PM | $1,701.00 | ijames4 |
| Jun 26, 2019 - 1:53:03 PM | $1,651.00 | i17516 Old Gringo |
| Jun 26, 2019 - 1:53:03 PM | $1,601.00 | ijames4 |
| Jun 26, 2019 - 1:52:20 PM | $1,551.00 | i17516 Old Gringo |
| Jun 26, 2019 - 1:52:20 PM | $1,501.00 | ijames4 |
| Jun 26, 2019 - 1:52:04 PM | $1,451.00 | i17516 Old Gringo |
| Jun 26, 2019 - 1:52:04 PM | $1,401.00 | ijames4 |
| Jun 26, 2019 - 10:27:26 AM | $1,351.00 | i17516 Old Gringo |
| Jun 26, 2019 - 10:14:23 AM | $1,301.00 | ijames4 |
| Jun 26, 2019 - 10:14:12 AM | $1,251.00 | icsmarker |
| Jun 26, 2019 - 10:14:12 AM | $1,201.00 | ijames4 |
| Jun 26, 2019 - 9:06:48 AM | $1,151.00 | icsmarker |
| Jun 26, 2019 - 1:23:32 AM | $1,101.00 | ijames4 |
| Jun 25, 2019 - 8:30:50 PM | $1,051.00 | icsmarker |
| Jun 25, 2019 - 12:17:11 PM | $1,001.00 | iWeigert |
| Jun 25, 2019 - 12:17:11 PM | $1,000.00 | iJoe ciprian |
| Jun 25, 2019 - 11:32:39 AM | $1.00 | iJoe ciprian |