1996 Mercedes-Benz SL600 Convertible Roadster
Bidding Now! -
ends Thu, Aug 29 at 02:00:00 pm
This 1996 Mercedes-Benz SL600 convertible roadster from a private owner will sell to the highest bidder regardless of price.
Auction Manager:
Ron Daniel, II
(731) 607-0789
ron@mclemoreauction.com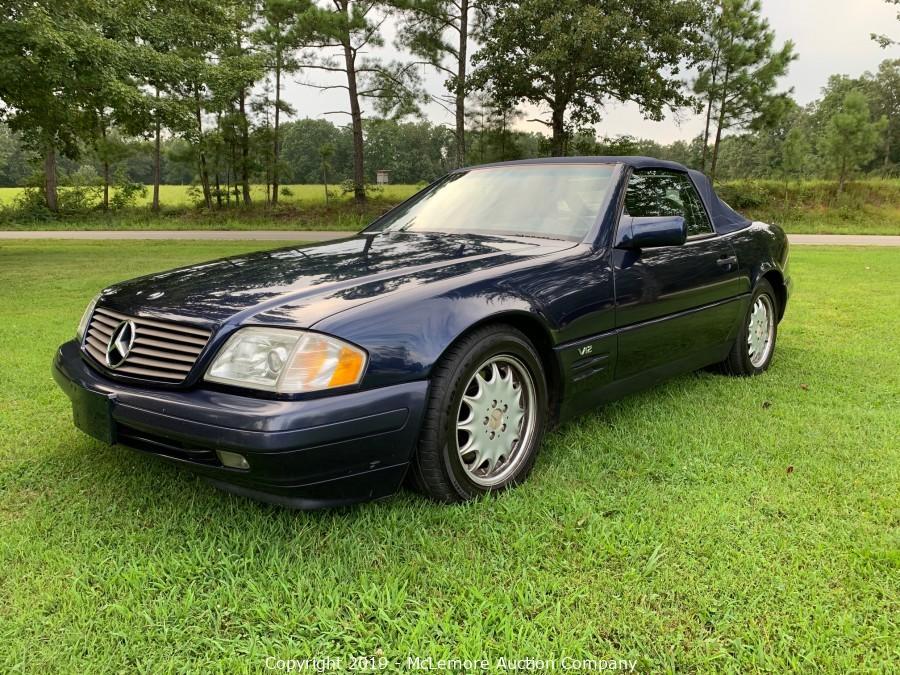 1996 Mercedes-Benz SL600 Convertible Roadster
Current Bid
$4,100.00
NA
Time Remaining:
9 days, 1 hour, 51 minutes
Extended Bidding:
i
Bidding Ends:
Thu, Aug 29 2:00:00 pm CT
High Bidder:
spikeintn
Bid Increment:
$50.00
Starting Bid:
$1.00
Item Location:

Westpoint

,

TN

38486

Item has been viewed 2,104 times.

ASK ABOUT THIS ITEM

80,800 miles on odometer
6.0L V12 DOHC 48V engine

Leather seats, Bose speakers

Airbags replaced in 2011

VIN: WDBFA76F6TF134345
Clear title will be provided upon payment from bidder.
Starts, runs, and drives. This is a used vehicle. We recommend that you inspect it, or have a mechanic inspect it. Sold as is.
Winning bidder pays sales tax when vehicle is registered at your county clerk's office. 
| | | |
| --- | --- | --- |
| Bid Date | Bid Amount | Bidder |
| Aug 15, 2019 - 6:48:23 PM | $4,100.00 | ispikeintn |
| Aug 15, 2019 - 6:25:56 PM | $4,050.00 | iRosemelillo |
| Aug 14, 2019 - 4:05:29 PM | $4,000.00 | ispikeintn |
| Aug 14, 2019 - 4:05:29 PM | $3,951.01 | icarolyntn |
| Aug 14, 2019 - 4:04:24 PM | $3,901.00 | ispikeintn |
| Aug 14, 2019 - 4:04:24 PM | $3,851.00 | icarolyntn |
| Aug 14, 2019 - 4:03:13 PM | $3,801.00 | ispikeintn |
| Aug 14, 2019 - 4:03:13 PM | $3,751.00 | icarolyntn |
| Aug 14, 2019 - 4:02:40 PM | $3,700.00 | ispikeintn |
| Aug 14, 2019 - 4:02:40 PM | $3,650.00 | icarolyntn |
| Aug 14, 2019 - 4:02:14 PM | $3,551.00 | ispikeintn |
| Aug 14, 2019 - 4:02:14 PM | $3,501.00 | icarolyntn |
| Aug 14, 2019 - 4:00:23 PM | $3,451.00 | ispikeintn |
| Aug 14, 2019 - 4:00:23 PM | $3,401.00 | icarolyntn |
| Aug 14, 2019 - 3:59:14 PM | $3,351.00 | ispikeintn |
| Aug 14, 2019 - 3:59:14 PM | $3,301.00 | icarolyntn |
| Aug 13, 2019 - 3:36:03 PM | $3,050.00 | ispikeintn |
| Aug 13, 2019 - 3:36:03 PM | $3,000.00 | iSKarich |
| Aug 13, 2019 - 2:25:15 PM | $2,751.00 | iSKarich |
| Aug 13, 2019 - 2:25:15 PM | $2,701.00 | iMeanstreak |
| Aug 13, 2019 - 10:58:03 AM | $2,651.00 | iSKarich |
| Aug 13, 2019 - 10:58:03 AM | $2,601.00 | iAllenjason |
| Aug 13, 2019 - 10:57:53 AM | $2,551.00 | iSKarich |
| Aug 13, 2019 - 10:57:53 AM | $2,501.00 | iAllenjason |
| Aug 13, 2019 - 10:57:48 AM | $2,451.00 | iSKarich |
| Aug 13, 2019 - 10:57:48 AM | $2,401.00 | iAllenjason |
| Aug 13, 2019 - 10:57:45 AM | $2,351.00 | iSKarich |
| Aug 13, 2019 - 10:57:45 AM | $2,301.00 | iAllenjason |
| Aug 13, 2019 - 10:57:42 AM | $2,251.00 | iSKarich |
| Aug 13, 2019 - 10:57:42 AM | $2,201.00 | iAllenjason |
| Aug 13, 2019 - 10:57:38 AM | $2,151.00 | iSKarich |
| Aug 13, 2019 - 10:57:38 AM | $2,101.00 | iAllenjason |
| Aug 13, 2019 - 10:34:53 AM | $2,051.00 | iSKarich |
| Aug 13, 2019 - 10:23:29 AM | $2,001.00 | iAllenjason |
| Aug 13, 2019 - 10:23:29 AM | $2,000.00 | iSKarich |
| Aug 13, 2019 - 10:23:25 AM | $1,951.00 | iSKarich |
| Aug 13, 2019 - 10:23:25 AM | $1,901.00 | iAllenjason |
| Aug 13, 2019 - 10:23:21 AM | $1,851.00 | iSKarich |
| Aug 13, 2019 - 10:23:21 AM | $1,801.00 | iAllenjason |
| Aug 13, 2019 - 10:23:18 AM | $1,751.00 | iSKarich |
| Aug 13, 2019 - 10:23:18 AM | $1,701.00 | iAllenjason |
| Aug 13, 2019 - 10:23:16 AM | $1,651.00 | iSKarich |
| Aug 13, 2019 - 10:23:16 AM | $1,601.00 | iAllenjason |
| Aug 13, 2019 - 10:23:13 AM | $1,551.00 | iSKarich |
| Aug 13, 2019 - 10:23:13 AM | $1,501.00 | iAllenjason |
| Aug 13, 2019 - 10:23:11 AM | $1,451.00 | iSKarich |
| Aug 13, 2019 - 10:23:11 AM | $1,401.00 | iAllenjason |
| Aug 13, 2019 - 10:23:08 AM | $1,351.00 | iSKarich |
| Aug 13, 2019 - 10:23:08 AM | $1,301.00 | iAllenjason |
| Aug 13, 2019 - 10:23:05 AM | $1,251.00 | iSKarich |
| Aug 13, 2019 - 10:23:05 AM | $1,201.00 | iAllenjason |
| Aug 13, 2019 - 10:22:53 AM | $1,151.00 | iSKarich |
| Aug 13, 2019 - 10:22:53 AM | $1,101.00 | iAllenjason |
| Aug 13, 2019 - 9:45:41 AM | $1,051.00 | iSKarich |
| Aug 13, 2019 - 9:45:41 AM | $1,001.00 | iWendel |
| Aug 13, 2019 - 9:43:40 AM | $3.00 | iSKarich |
| Aug 13, 2019 - 9:43:40 AM | $2.00 | isyrilla27 |
| Aug 13, 2019 - 9:40:16 AM | $1.00 | iSKarich |