34 Building Lots in Eagle Bluff Estates in Monteagle, TN (34)
All items closed

McLemore Auction Company, LLC is pleased to offer these 34 lots in Eagle Bluff Estates subdivision at online auction. Eagle Bluff Estates is a residential development featuring mountain property and bluff lots atop the Cumberland Plateau. These majestic mountain properties and bluff lots offer residents spectacular views. All lots are secluded and gated yet are only 3 miles off I-24 near Monteagle, TN. Lots 34, 35, 37, 40, 41, 42 and 44 include water taps already in place.
Auction Manager:
Will McLemore
(615) 205-2511
will@mclemoreauction.com

« Back to list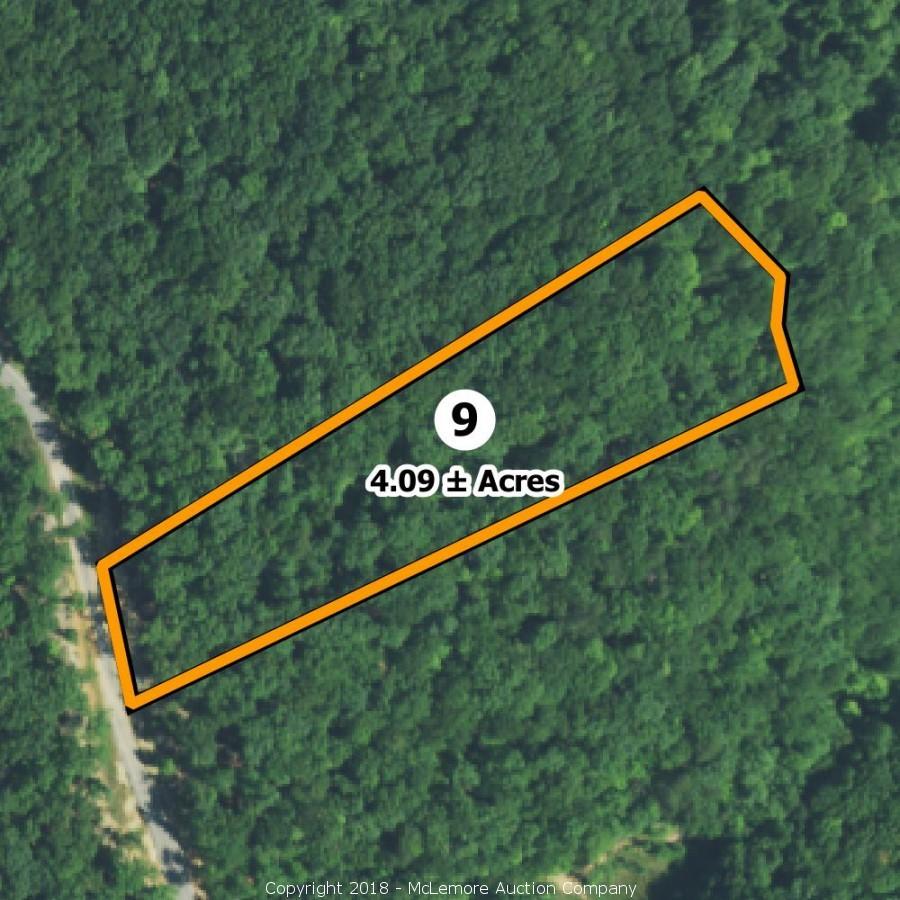 Lot #0009:
4.09± Acre Building Lot in Eagle Bluff Estates
Bidding period not set.
NA
High Bidder:
VLC2016
Bid Increment:
$250.00
Starting Bid:
$1.00
Item Location:

Monteagle

,

TN

37356

Item has been viewed 509 times.

Marion County, TN Tax ID: 44 004.12
Utilities

Telephone, Internet and TV - Ben Lomand
Electricity - SVEC (Sequachee Valley Electric Cooperative)
Water - Monteagle Public Utility Board
Septic - Approved for 3 Bedroom Home

Amenities
    * Gated
    * Access to Common Areas
        * Lot 12 - Pond stocked with fish
        * Lot 31A - Rock Outcropping Site with Excellent Views
Subdivision Activity
    * Home Built on Lot 18
    * New Homes Planned and Foundations Located on Lots 32 and 45
Note: Photos in photo gallery do not necessarily depict an individual lot in the subdivision. Photos may depict other lots, common areas, and previously sold lots. We encourage all bidders to make a personal inspection of the property.
| | | |
| --- | --- | --- |
| Bid Date | Bid Amount | Bidder |
| Nov 29, 2018 - 1:28:01 PM | $22,000.00 | iVLC2016 |
| Nov 29, 2018 - 1:27:59 PM | $21,750.00 | i13261 |
| Nov 29, 2018 - 1:28:00 PM | $21,750.00 | iVLC2016 |
| Nov 29, 2018 - 1:27:58 PM | $21,500.00 | i13261 |
| Nov 29, 2018 - 1:27:58 PM | $21,250.00 | iVLC2016 |
| Nov 29, 2018 - 1:27:56 PM | $21,000.00 | i13261 |
| Nov 29, 2018 - 1:27:56 PM | $20,750.00 | iVLC2016 |
| Nov 29, 2018 - 1:23:28 PM | $20,500.00 | i13261 |
| Nov 29, 2018 - 1:23:28 PM | $20,250.00 | iVLC2016 |
| Nov 29, 2018 - 1:06:40 PM | $20,000.00 | iVLC2016 |
| Nov 29, 2018 - 1:06:41 PM | $20,000.00 | i13261 |
| Nov 29, 2018 - 1:06:20 PM | $19,750.00 | iVLC2016 |
| Nov 29, 2018 - 1:06:20 PM | $19,500.00 | i13261 |
| Nov 29, 2018 - 1:06:10 PM | $19,250.00 | iVLC2016 |
| Nov 29, 2018 - 1:06:10 PM | $19,000.00 | i13261 |
| Nov 29, 2018 - 1:06:06 PM | $18,750.00 | iVLC2016 |
| Nov 29, 2018 - 1:06:06 PM | $18,500.00 | i13261 |
| Nov 29, 2018 - 1:06:03 PM | $18,250.00 | iVLC2016 |
| Nov 29, 2018 - 1:06:03 PM | $18,000.00 | i13261 |
| Nov 29, 2018 - 1:06:00 PM | $17,750.00 | iVLC2016 |
| Nov 29, 2018 - 1:06:00 PM | $17,500.00 | i13261 |
| Nov 29, 2018 - 1:05:57 PM | $17,250.00 | iVLC2016 |
| Nov 29, 2018 - 1:05:57 PM | $17,000.00 | i13261 |
| Nov 29, 2018 - 1:04:31 PM | $16,750.00 | iVLC2016 |
| Nov 29, 2018 - 1:04:31 PM | $16,500.00 | i13261 |
| Nov 29, 2018 - 1:01:54 PM | $16,250.00 | iVLC2016 |
| Nov 29, 2018 - 1:01:54 PM | $16,000.00 | i13261 |
| Nov 29, 2018 - 12:41:04 PM | $14,500.00 | i13261 |
| Nov 29, 2018 - 12:41:04 PM | $14,250.00 | iVLC2016 |
| Nov 29, 2018 - 12:33:00 PM | $14,000.00 | iVLC2016 |
| Nov 29, 2018 - 12:33:01 PM | $14,000.00 | i13261 |
| Nov 29, 2018 - 12:26:51 PM | $11,750.00 | iVLC2016 |
| Nov 29, 2018 - 12:26:51 PM | $11,500.00 | i321zeke |
| Nov 29, 2018 - 12:24:01 PM | $11,250.00 | iVLC2016 |
| Nov 29, 2018 - 12:23:16 PM | $11,000.00 | i13261 |
| Nov 29, 2018 - 12:23:16 PM | $10,850.00 | iVLC2016 |
| Nov 29, 2018 - 12:18:29 PM | $10,600.00 | i13261 |
| Nov 29, 2018 - 12:18:29 PM | $10,350.00 | iVLC2016 |
| Nov 29, 2018 - 12:15:15 PM | $10,100.00 | i13261 |
| Nov 29, 2018 - 12:15:15 PM | $10,000.00 | iVLC2016 |
| Nov 29, 2018 - 12:00:58 PM | $6,100.00 | iVLC2016 |
| Nov 29, 2018 - 12:00:58 PM | $6,000.00 | igizmodelayed |
| Nov 29, 2018 - 12:00:48 PM | $5,600.00 | iVLC2016 |
| Nov 29, 2018 - 12:00:48 PM | $5,500.00 | igizmodelayed |
| Nov 29, 2018 - 12:00:39 PM | $5,050.00 | iVLC2016 |
| Nov 29, 2018 - 12:00:39 PM | $5,000.00 | igizmodelayed |
| Nov 29, 2018 - 12:00:30 PM | $4,050.00 | iVLC2016 |
| Nov 29, 2018 - 12:00:30 PM | $4,000.00 | igizmodelayed |
| Nov 29, 2018 - 12:00:05 PM | $3,262.00 | iVLC2016 |
| Nov 29, 2018 - 12:00:05 PM | $3,212.00 | i2242 |
| Nov 29, 2018 - 11:48:23 AM | $2,663.00 | iVLC2016 |
| Nov 29, 2018 - 11:48:23 AM | $2,613.00 | i2242 |
| Nov 29, 2018 - 11:47:58 AM | $2,563.00 | iVLC2016 |
| Nov 29, 2018 - 11:47:58 AM | $2,513.00 | i2242 |
| Nov 29, 2018 - 11:47:33 AM | $1,650.00 | i2242 |
| Nov 29, 2018 - 11:47:33 AM | $1,600.00 | iCarletta57 |
| Nov 29, 2018 - 11:33:58 AM | $1,500.00 | iCarletta57 |
| Nov 29, 2018 - 11:33:59 AM | $1,500.00 | ifatguy |
| Nov 29, 2018 - 10:34:24 AM | $1,300.09 | iCarletta57 |
| Nov 29, 2018 - 10:34:24 AM | $1,250.09 | i23599 |
| Nov 29, 2018 - 10:34:01 AM | $1,250.00 | i23599 |
| Nov 29, 2018 - 10:34:01 AM | $1,200.00 | iCarletta57 |
| Nov 28, 2018 - 9:00:18 PM | $1,013.00 | i23599 |
| Nov 28, 2018 - 9:00:18 PM | $988.00 | iOscarlerma1 |
| Nov 28, 2018 - 7:44:39 AM | $825.00 | iOscarlerma1 |
| Nov 28, 2018 - 7:44:39 AM | $800.00 | iCarletta57 |
| Nov 28, 2018 - 7:42:44 AM | $725.00 | iCarletta57 |
| Nov 28, 2018 - 7:42:44 AM | $700.00 | iOscarlerma1 |
| Nov 27, 2018 - 7:39:46 PM | $626.00 | iOscarlerma1 |
| Nov 27, 2018 - 7:39:46 PM | $601.00 | istkennedy2 |
| Nov 27, 2018 - 6:44:11 PM | $576.00 | iOscarlerma1 |
| Nov 27, 2018 - 6:02:06 PM | $551.00 | istkennedy2 |
| Nov 27, 2018 - 6:02:06 PM | $530.00 | iOscarlerma1 |
| Nov 27, 2018 - 2:21:49 PM | $526.00 | iOscarlerma1 |
| Nov 27, 2018 - 7:28:38 AM | $501.00 | istkennedy2 |
| Nov 27, 2018 - 7:28:38 AM | $500.00 | iMtwallace |
| Nov 27, 2018 - 7:26:52 AM | $430.00 | iMtwallace |
| Nov 27, 2018 - 7:26:52 AM | $420.00 | istkennedy2 |
| Nov 27, 2018 - 7:26:22 AM | $410.00 | iMtwallace |
| Nov 27, 2018 - 7:26:22 AM | $400.00 | istkennedy2 |
| Nov 22, 2018 - 8:36:10 AM | $310.00 | iMtwallace |
| Nov 22, 2018 - 8:35:59 AM | $300.00 | ijameson Fults |
| Nov 22, 2018 - 8:36:00 AM | $300.00 | iMtwallace |
| Nov 22, 2018 - 8:35:45 AM | $260.00 | ijameson Fults |
| Nov 22, 2018 - 8:35:45 AM | $250.00 | iMtwallace |
| Nov 14, 2018 - 12:15:03 AM | $52.00 | ijameson Fults |
| Nov 14, 2018 - 12:15:03 AM | $47.00 | iamfalcon |
| Nov 14, 2018 - 12:14:31 AM | $42.00 | ijameson Fults |
| Nov 14, 2018 - 12:14:31 AM | $37.00 | iamfalcon |
| Nov 14, 2018 - 12:14:16 AM | $32.00 | ijameson Fults |
| Nov 14, 2018 - 12:14:16 AM | $27.00 | iamfalcon |
| Nov 14, 2018 - 12:13:35 AM | $25.00 | ijameson Fults |
| Nov 14, 2018 - 12:13:35 AM | $23.00 | iamfalcon |
| Nov 14, 2018 - 12:13:31 AM | $21.00 | ijameson Fults |
| Nov 14, 2018 - 12:13:31 AM | $19.00 | iamfalcon |
| Nov 14, 2018 - 12:13:13 AM | $17.00 | ijameson Fults |
| Nov 14, 2018 - 12:13:13 AM | $15.00 | iamfalcon |
| Nov 14, 2018 - 12:13:03 AM | $13.00 | ijameson Fults |
| Nov 14, 2018 - 12:13:03 AM | $11.00 | iamfalcon |
| Nov 14, 2018 - 12:12:56 AM | $10.00 | ijameson Fults |
| Nov 14, 2018 - 12:12:56 AM | $9.00 | iamfalcon |
| Nov 14, 2018 - 12:12:42 AM | $8.00 | ijameson Fults |
| Nov 14, 2018 - 12:12:42 AM | $7.00 | iamfalcon |
| Nov 13, 2018 - 6:07:32 PM | $6.00 | ijameson Fults |
| Nov 11, 2018 - 9:00:42 PM | $5.00 | iVLC2016 |
| Nov 6, 2018 - 2:59:00 PM | $4.00 | irichmorgan232 |
| Nov 6, 2018 - 2:37:33 PM | $3.00 | i16732 |
| Nov 2, 2018 - 8:07:08 PM | $2.00 | irichmorgan232 |
| Oct 31, 2018 - 7:17:04 AM | $1.00 | i16732 |