Forklift, Reclaimed Wood, Equipment and Materials from Good Wood Nashville (69)
All items closed
Good Wood Nashville is moving locations and is downsizing on materials and equipment. Almost 60 lots of reclaimed wood, equipment, a forklift and more will sell to the highest bidders regardless of price. 
Auction Manager:
Jamie Boyd
(615) 293-1108
jamie@mclemoreauction.com
« Back to list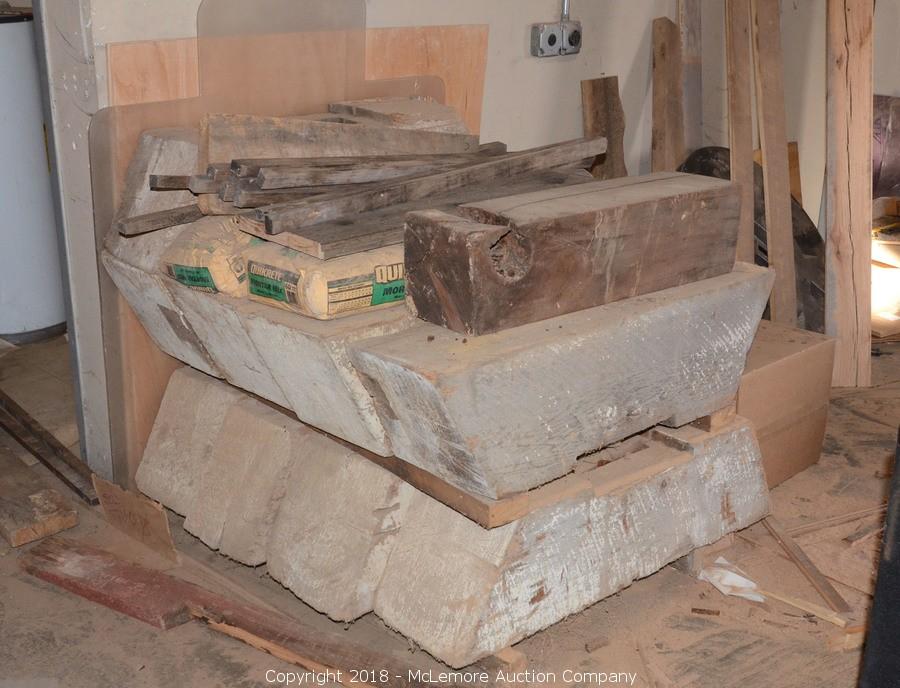 Lot #0043:
(8) Support Beam Buttresses with Other Wood Pieces
Bidding is

closed

.
High Bid:
$270.00
NA
Bidding Ended:
Thu, Dec 27 3:48:40 pm CT
High Bidder:
ctrlman
Bid Increment:
$10.00
Starting Bid:
$1.00
Item Location:

1015 W. Kirkland Ave

,

Nashville

,

TN

37216

Item has been viewed 531 times.

| | | |
| --- | --- | --- |
| Bid Date | Bid Amount | Bidder |
| Dec 27, 2018 - 3:31:09 PM | $270.00 | ictrlman |
| Dec 27, 2018 - 3:30:46 PM | $260.00 | iModemmax |
| Dec 27, 2018 - 3:30:39 PM | $250.00 | ictrlman |
| Dec 27, 2018 - 3:30:39 PM | $246.00 | iModemmax |
| Dec 27, 2018 - 3:30:33 PM | $236.00 | ictrlman |
| Dec 27, 2018 - 3:30:33 PM | $226.00 | iModemmax |
| Dec 27, 2018 - 3:29:02 PM | $216.00 | ictrlman |
| Dec 27, 2018 - 3:29:02 PM | $206.00 | iModemmax |
| Dec 27, 2018 - 3:11:39 PM | $196.00 | ictrlman |
| Dec 27, 2018 - 3:11:39 PM | $186.00 | i22886 |
| Dec 27, 2018 - 3:02:28 PM | $176.00 | ictrlman |
| Dec 27, 2018 - 3:02:28 PM | $166.00 | i22886 |
| Dec 27, 2018 - 3:02:23 PM | $156.00 | ictrlman |
| Dec 27, 2018 - 3:02:23 PM | $146.00 | i22886 |
| Dec 27, 2018 - 2:55:32 PM | $136.00 | ictrlman |
| Dec 27, 2018 - 2:55:32 PM | $126.00 | i14571 |
| Dec 27, 2018 - 2:55:14 PM | $115.00 | ictrlman |
| Dec 27, 2018 - 2:55:14 PM | $105.00 | i14571 |
| Dec 27, 2018 - 2:54:40 PM | $91.00 | ictrlman |
| Dec 27, 2018 - 2:54:40 PM | $86.00 | i14571 |
| Dec 27, 2018 - 2:45:04 PM | $70.00 | ictrlman |
| Dec 27, 2018 - 12:32:41 PM | $65.00 | iModemmax |
| Dec 27, 2018 - 12:21:39 PM | $60.00 | i22886 |
| Dec 25, 2018 - 11:00:40 AM | $55.00 | i28792 |
| Dec 25, 2018 - 11:00:32 AM | $50.00 | imattleealexander |
| Dec 25, 2018 - 11:00:32 AM | $47.00 | i28792 |
| Dec 25, 2018 - 11:00:23 AM | $42.00 | imattleealexander |
| Dec 25, 2018 - 11:00:23 AM | $37.00 | i28792 |
| Dec 25, 2018 - 11:00:10 AM | $32.00 | imattleealexander |
| Dec 25, 2018 - 11:00:10 AM | $27.00 | i28792 |
| Dec 25, 2018 - 11:00:01 AM | $25.00 | imattleealexander |
| Dec 25, 2018 - 11:00:01 AM | $23.00 | i28792 |
| Dec 16, 2018 - 4:42:37 PM | $21.00 | imattleealexander |
| Dec 16, 2018 - 4:42:37 PM | $19.00 | i22886 |
| Dec 16, 2018 - 4:42:32 PM | $17.00 | imattleealexander |
| Dec 16, 2018 - 4:42:32 PM | $15.00 | i22886 |
| Dec 16, 2018 - 4:42:29 PM | $13.00 | imattleealexander |
| Dec 16, 2018 - 4:42:29 PM | $11.00 | i22886 |
| Dec 16, 2018 - 4:42:25 PM | $10.00 | imattleealexander |
| Dec 16, 2018 - 4:42:25 PM | $9.00 | i22886 |
| Dec 16, 2018 - 4:42:22 PM | $8.00 | imattleealexander |
| Dec 16, 2018 - 4:42:22 PM | $7.00 | i22886 |
| Dec 16, 2018 - 4:42:18 PM | $6.00 | imattleealexander |
| Dec 16, 2018 - 4:42:18 PM | $5.00 | i22886 |
| Dec 16, 2018 - 4:42:14 PM | $4.00 | imattleealexander |
| Dec 16, 2018 - 4:42:14 PM | $3.00 | i22886 |
| Dec 13, 2018 - 7:59:30 AM | $2.00 | imattleealexander |
| Dec 11, 2018 - 5:11:13 PM | $1.00 | i22886 |